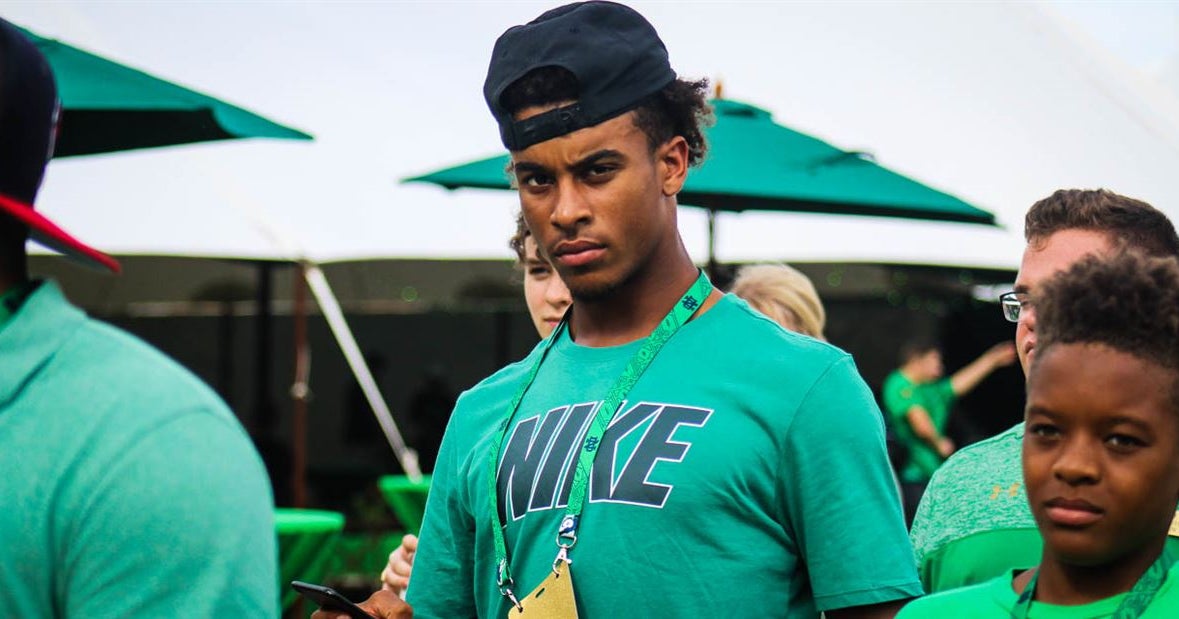 Edwardsville (Ill.) high school wide receiver Kendall Abdur-Rahman, a four-star wide receiver according to 247Sports and one of Illinois' top prospects from the class of 2019, has committed to Notre Dame. Today, he pledged to the Fighting Irish over offers from Illinois, Indiana, Iowa, Iowa State, Michigan State, Minnesota and Purdue.
Notre Dame already has one wide receiver committed from the 2019 class in Olney (Md.) Good Counsel three-star wide receiver Cam Hart, but has been pushing for a second for quite some time. Abdur-Rahman checks off every box wide receiver coach DelVaughn Alexander looks for in his receivers. The midwest talent has a ton of speed, is really put together at 6-1, 180 pounds and he's very intelligent.
"They've always been a top program in college football and the academics are amazing, which will help me out later in life if I don't go on to continue my football career after college," said Abdur-Rahman, when asked what he enjoys most about Notre Dame. "I really like that about them too."
Notre Dame hosted Abdur-Rahman and some family members during his official visit when the Fighting Irish played Michigan. Between this trip and his visit during the spring, it ended up being an easy decision for the Illinois native. 
"I went up to Notre Dame for the spring game it was really fun," said Abdur-Rahman. "When I got there, I got to talk with each and every coach. I went to coach Alexander's room and we just chopped it up. I got to try on a jersey and then we went to the game, which was amazing. There were so many people there and it was just a good atmosphere to be in."
So, what is Notre Dame getting in its latest commit? 247Sports National Analyst Allen Trieu previously spoke with Edwardsville high school head coach Matthew Martin over the offseason and he shed some light on why the Notre Dame coaching staff has been all over him for so long.
"The truth is, he's a special athlete," said Martin. "Our offensive coordinator Doug Heinz does a good job of running an offense that features a dual-threat quarterback. The kid is pretty special with the ball in his hands. He is able to make people miss in open space, has pretty good top end speed — once he gets in the open, very few are going to catch him, and he is strong too. He is able to break a lot of arm tackles."
According to the industry-generated 247Sports Composite Rankings, Abdur-Rahman is a three-star recruit. He is also the No. 46-ranked athlete nationally and No. 7 prospect in Illinois from the class of 2019. 247Sports has him ranked higher in its standalone rankings as the No. 36 athlete in the country and No. 6 recruit from Illinois this cycle.
Abdur-Rahman is commit No. 18 for Notre Dame this class, which further tightens up the numbers for the Fighting Irish in 2019. There are only a couple of spots left. Look for staff to continue looking for another offensive tackle this cycle and another defensive end. Beyond that, if there is room, the staff could pursue a third wide receiver and another cornerback.

As a junior, Abdur-Rahman accounted for nearly 2,000 total yards on offense and 34 combined touchdowns. He also received All-State honors.