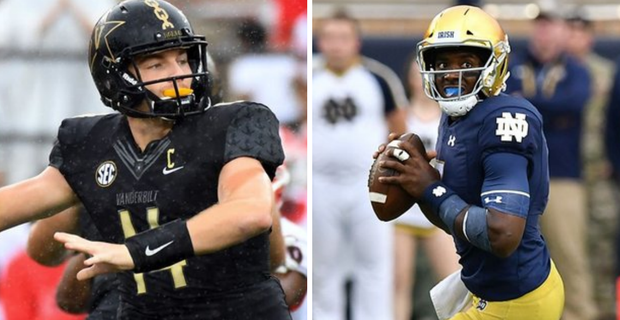 The Vanderbilt Commodores will take on the Notre Dame Fighting Irish on Saturday at 1:30 p.m. central. The game will be played at Notre Dame Stadium.
The game is being televised on NBC with Mike Tirico and Doug Flutie on the call, and is available on the radio via both Sirius and XM Radio on channel 129. The Vanderbilt radio broadcast can be found locally on WLAC 1510-AM with the voice of the Commodores Joe Fisher, color analyst Norman Jordan and sideline reporter Mitch Light on the call.
Both teams enter the contest with a 2-0 record. Vanderbilt beat Middle Tennessee 35-7 in Week 1 and Nevada 41-10 in Week 2. Both games were played at Vanderbilt Stadium. Notre Dame won its season opener against Michigan in Week 1 and beat Ball State in Week 2. Both Fighting Irish victories came at Notre Dame Stadium.
Notre Dame, which was favored by 13.5 points as kickoff approached, holds a 2-0 advantage in the all-time series between the programs. The Fighting Irish last beat Vanderbilt 14-7 in 1996 at Vanderbilt Stadium.
Follow along with Vandy247 and join the discussion on The Black Sea message board as we provide live updates, scores and highlights of the Commodores' trip to South Bend.
FIRST QUARTER
— Check back for live updates closer to the 1:30 p.m. kickoff.