Game 12: '"C'est La Vie," Say the Old Folks, It Goes to Show You Never Can Tell'
A spot in the College Football Playoff is on the line for Notre Dame. Can USC unexpectedly turn those dreams into just so much pulp fiction?
The USC Trojans (5-6, 4-5 Pac-12 South) wrap up their 2018 schedule when they host the third-ranked Notre Dame Fighting Irish (11-0) on Saturday, Nov. 24 at 5 p.m. PST in the Los Angeles Memorial Coliseum and in front of a national ABC television audience. As of Thursday, Notre Dame is an 11.5-point favorite. It's the 90th meeting in college football's greatest intersectional rivalry, with the Irish leading the series 47-37-5. Though the Trojans have won 11 of the past 16 contests, Notre Dame's five wins have come since 2010, including last season's 49-14 thumping in South Bend. USC has won the past two Coliseum contests, including a 45-27 victory in 2016.
Last Saturday, USC watched UCLA's Joshua Kelley rush for 289 yards and two TDs in a 34-27 loss at the Rose Bowl. Curiously, the Trojans had just 21 rushing attempts from their tailbacks against a defense that had previously allowed 215 rushing yards per game. USC has now scored a total of three points in their two most recent second-half efforts – a 22-yard Michael Brown field goal on the opening drive of the third quarter last week. Meanwhile, the Irish throttled then-No. 12 Syracuse, 36-3, at Yankee Stadium. The Orange entered averaging more than 44 points per game, but when ND tossed a shutout during the first three quarters, it marked the first time Syracuse failed to score in consecutive stanzas in 2018. Irish quarterback Ian Book threw for 292 yards and two TDs in his return to the lineup after missing Notre Dame's victory over Florida State on Nov. 10.
Depending on whom you listen to around the program, Trojan coach Clay Helton (32-16 at USC) could not find his seat much hotter – or be much more secure in the belief he will return for the 2019 campaign. Notre Dame headman Brian Kelly (80-34 in his ninth year in South Bend; 251-91-2 in 28-plus years as a college head coach) has the Irish on the verge of their second perfect regular season in his tenure (2012) and their first berth in the College Football Playoff.
Offensive coordinator Chip Long has brought a much more effective design to the Irish offense during his two years in South Bend. But where Notre Dame relied heavily on the run for most of 2017, the Irish have been much more balanced this season. Much of that can be credited to shifting Book to the starting QB role ahead of Brandon Wimbush in the season's fourth game. Book ranks second nationally in completion percentage (72.6) and seventh in pass efficiency, with 17 TDs and just five interceptions. He's also been effective enough as a runner (3.3 yards per carry on 71 totes) to maintain Long's preferred dual threat. Wimbush is the better runner (3.8 yards per carry on 68 tries) but struggles through the air, completing just 52.9 percent of his passes for four touchdowns against six interceptions. Overall, the Irish rank in the upper third of the nation – or better – in most team offensive categories. Notre Dame is 27th in S&P+ advanced metrics. The Irish are 39th in passing offense (257.7 yards per game; 30th in pass efficiency), 45th in rushing offense (196.8), 28th in total offense (454.5), and 27th in scoring (34.6 points per game). They've been solid on third down (44.7-percent success rate) and in the red zone (29th nationally), have allowed 16 sacks, and lost just three fumbles.  
Since serving a four-game suspension to open the season, senior running back Dexter Williams has electrified the Notre Dame rushing attack – apropos since his nickname is "Juice." He's averaged 6.7 yards per carry and better than 120 yards per game in his seven outings (161 vs. Stanford, 178 at Virginia Tech, and 202 vs. Florida State) with 11 TDs. He also has a receiving score among eight grabs. Redshirt sophomore Tony Jones Jr. (377 yards, 4.7, three TDs) has appeared in all 11, while redshirt freshman Jafar Armstrong (377 yards, 5.4, seven TDs, plus 12 receptions for 151 yards) missed three games at midseason with a knee injury but adds versatility to the Irish offense. 
A quartet of juniors has combined to register nearly 73 percent of Notre Dame's pass receptions – and three of the four are six-foot-four targets, including Miles Boykin, who leads the team with 51 catches and eight TDs while averaging 14.3 yards per grab. Chase Claypool has four scores among his 43 catches (13.0), and tight end Alizé Mack has 33 catches (10.1) and three TDs. Relative little guy Chris Finke (at five-foot-10) has added 40 grabs (11.5) and one score.
The Irish returned a trio of solid offensive linemen from last year's excellent group but lost perhaps the best of the three when senior left guard and captain Alex Bars suffered a season-ending knee injury on Sept. 29 vs. Stanford. After trying a few combinations, redshirt freshman Aaron Banks took over the spot on Oct. 27 vs. Navy. Senior center Sam Mustipher continues to be a leader, while the other returnee, sophomore guard Tommy Kraemer, has started eight and is currently listed as an "OR" first teamer at right guard with junior utility man Trevor Ruhland, who has started five. Sophomores Liam Eichenberg (LT) and Robert Hainsey (RT) have started all 11 at the tackle spots.
When Mike Elko left Notre Dame after one season to take over the DC job at Texas A&M, Kelly decided to give one of his protégés, Clark Lea, the Irish defensive coordinator gig. Lea was happy to have nine starters returning, but he's still done a stellar job of putting those players in position to succeed. Notre Dame's defense ranks third nationally in S&P+ ratings and has done most things well. The Irish rank 20th nationally in total defense (321.4 yards per game) and 15th in scoring defense (17.3 points per game). Notre Dame is 21st in passing yards allowed (184.3) but second in the country in pass efficiency defense, while ranking 39th in rushing defense (137.1). The Irish have forced 18 turnovers (41st nationally), rank 37th in turnover margin, and also have 29 sacks (ranking 30th in sacks per game). Notre Dame has held four opponents (Stanford, Pitt, Northwestern, and Syracuse) to fewer than 250 total yards each.
Senior defensive tackle Jerry Tillery has rounded into one of the best defensive linemen in the country. He counts a team-leading seven sacks among his 29 tackles (9.5 for loss) and has forced three fumbles. Senior nose guard Jonathan Bonner (19 stops) has started all 11, with sophomore Kurt Hinish (1.5 sacks, 11 tackles) behind him. A pair of juniors has wreaked havoc from the defensive end spots. Julian Okwara leads the Irish with 10.5 tackles for loss and has added 21 quarterback hurries to his six sacks. Across the way, Khalid Kareem has 10 tackles for loss (4.5 sacks) among 37 total stops, while also notching five pass breakups. Another junior end, Daelin Hayes (28 tackles, 4.5 for loss, two sacks), is a past starter and a solid rotation player.
Senior middle linebacker Te'von Coney is one of the nation's best. He leads the Irish with 99 tackles (nine for loss, 3.5 sacks) and has added three PBUs, an interception, and a fumble recovery. Senior captain Drue Tranquill shifted from safety to play ND's rover linebacker spot last year and has been just as good at the Buck (or weakside) position in 2018. He has 66 stops (nine for loss, 3.5 sacks). At rover, junior Asmar Bilal (42 tackles, three for loss) has stepped up as a first-year starter.
Junior cornerback Julian Love (49 tackles, three TFL, one interception, one fumble recovery) leads Notre Dame with 14 PBUs. At the other corner, junior Troy Pride Jr. has two picks and nine PBUs to go along with 36 tackles. Senior Nick Coleman (11 tackles, one INT) and freshman Houston Griffith (14 stops) have seen the most snaps at the nickel corner spot – both have struggled at times. Junior strong safety Jalen Elliott (59 stops) leads the Irish with four picks, while free safety Alohi Gilman (a junior with 66 tackles) was the Walter Camp National Defensive Player of the Week after snagging two interceptions vs. Syracuse.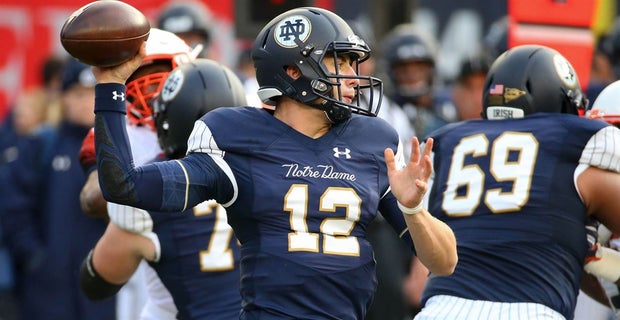 Senior Justin Yoon is Notre Dame's all-time scoring leader. He's made 15-of-19 field goal attempts in 2018 (long: 48) and 38-of-40 PATs. Sophomore Jonathan Doerer has handled 56 of 75 kickoffs, with 25 touchbacks – but the Irish rank 115th nationally in kick return defense, allowing 23.9 yards per. Senior Tyler Newsome is averaging 44.2 yards per punt on 41 opportunities (the Irish have allowed 7.8 yards per on 15 returns). Sophomore receiver Michael Young averages 21.2 yards on nine kickoff returns, while Finke averages 10.4 yards on 18 punt returns.
There was no way I could sit here and present my usual offensive and defensive gameplan thoughts. How many different ways can I write about the regression of this team, its lack of discipline or composure – and, yet, how it still might find a way to change its fortunes this coming weekend? This team, which is one seemingly inevitable loss away from becoming the first non-sanctioned USC team to miss a bowl game since 2000 – the same year the Trojans last fielded a sub-.500 team, finishing 5-7 after getting crushed by a highly ranked Irish squad at the Coliseum – has become a bizarro version of the Trojans' 2002 team, which improved by leaps and bounds every week during the final two months of Pete Carroll's second season.
Everyone knows where the USC football program stands. Yet no one seems to know where the USC athletic department stands regarding it. The phrase "The Helton Situation" has been uttered to me dozens of times in recent weeks and, in need of a laugh earlier this week, I let my mind wander to another "situation," one famous among movie fans: "The Bonnie Situation" in 1994's "Pulp Fiction." (Warning: language in that link may not be safe for all viewers). In the clip, I count at least three separate lines that my circle of friends still uses or references regularly – but the line I kept thinking about in relation to the Trojans was Samuel L. Jackson's: "You've got to appreciate what an explosive element this Bonnie situation is."
Based on reports on this website and by other outlets, there may be many inside the USC athletic department (and perhaps higher up the university ranks) who don't appreciate the challenges Trojan football could face going forward should the school retain Helton and his staff. There's no doubt that Helton is among the cream of the crop when it comes to human beings who operate a major college football program. Sadly, that's not all the paycheck covers. While we'd all love to see a great guy win – thanks to the excellence of Sam Darnold, among others on the field, we saw a Rose Bowl and a Pac-12 title won during the past two seasons – winning is the final measure, great guy or not. But it's not just the losing that rankles. It's how the team, more talented than just about every other on its schedule, has been mismanaged into those losses. Mistakes abound from the top of the coaching staff down through the players on the field – errors of omission and commission that not only have led to losses but also made the team nearly unwatchable at times. And that leads to ennui among alumni and fans.
Take a look at last week. While it's UCLA's job to sell tickets to its home games and Saturday's attendance of just more than 57,000 at the Rose Bowl points to a continuing apathy among Bruin football fans that runs counter to the popular storyline following the UCLA win, the decrease in attendance from the visitors was also concerning. The only thing worse than anger is indifference, so the saying goes, and Helton seems to have pushed much of the Trojan Family's emotional level well down the road to toward disinterest.
It's that looming disinterest that should grab the attention of those in the USC administration who control the almighty dollar. Yes, I understand that the school is in the midst of trying to resolve legal issues over major mistakes in judgment surrounding former health center gynecologist George Tyndall – a scandal that has shaken the university and will cost at least nine figures to even begin to band-aid. And, yes, I know the school is also searching for a replacement for Max Nikias, who was forced out following the Tyndall revelation, which was just the latest in a series of problems that took place under his watch while he seemingly remained laser focused on the university's record-breaking fundraising efforts.
But if USC does not move to replace Helton and his staff now – when it's become so clear that this team is not headed in the right direction, that it's bleeding recruiting commitments, and that it's about to miss it's first bowl game since the dreaded Paul Hackett error – it's actually risking even greater financial losses than the rumored buyout owed Helton should he be relieved. First, records show that alumni giving dips precipitously when the football program struggles. Second, USC would risk opening its newly renovated Coliseum next August against Fresno State in front of about 40,000 fans – not exactly the look (or the financial mess) anyone wants.
Can USC's administration recognize how explosive this Helton Situation has become? Can Lynn Swann – or Rick Caruso and the Board of Trustees – finally become Marsellus Wallace? And, if so, can they be trusted to bring in The Wolf – no, not Harvey Keitel, but also probably not Jack Del Rio either – to set USC football straight? The track record of USC's recent administrative leaders has been checkered, to put it kindly. Can they get it right this time, treat Helton with the personal respect he deserves, but still make the moves necessary to get Trojan football out of the decade-long rut in which it's been stuck? We shall see.
So what about this one, a game that should be a celebration of nine decades of nearly unparalleled college football success between these foes? Unfortunately, USC hasn't held up its end of the bargain in 2018. The only buzz around this week's Trojans-Irish meeting is regarding Notre Dame's chances at making the College Football Playoff.
Yes, the undefeated Irish belong in that conversation. (Do I think they'd stand much of a chance against Alabama or Clemson in a national semifinal? That's a question for another day.) However, they aren't some kind of super team. They're simply good, consistent, and mostly mistake-free in just about every aspect of the game. Kelly and the resuscitated staff leadership he brought in after the 2016 season have changed the game in South Bend. Yes, Notre Dame is everything USC has not been in 2018.
Still, USC has the old puncher's chance in this one – the Trojans' abundance of talent always gives them a chance should things mysteriously come together in a given week. The Trojans on the field have yet to wave a white flag of surrender – USC's players deserve recognition for continuing to play hard even as things have gone south. But a "puncher's chance" usually relies on an opponent that may be easily rattled. The Irish have shown no such tendency in 2018. Notre Dame jumps on teams early in each half (outscoring opponents 112-23 in the first quarter and 93-45 in the third). Can USC hang in early by connecting on a couple big plays? If the Trojans don't – especially given recent second-half showings – this one could get even uglier than I expect.
Notre Dame 38, USC 21
Tom Haire has been writing for USCFootball.com for 18 years. A 1994 USC graduate, he recently co-founded a media and events business, as well as a non-profit trade association, in the marketing industry. He's traveled from Honolulu to Palo Alto to South Bend to New York to Miami to watch college football, and has also covered the Pac-10/12 for both PigskinPost.com and CollegeFootballNews.com. He can be reached at thomas.haire@me.com or followed on Twitter at http://twitter.com/thrants (@THrants)