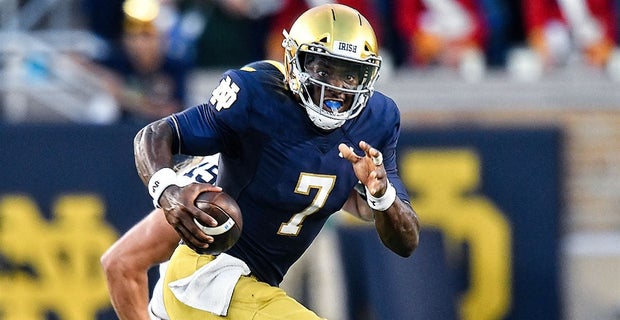 Notre Dame quarterback Brandon Wimbush said farewell to the school and its fans Wednesday in a heartfelt Instagram post that ends his four-year tenure.
After rumors swirled that Wimbush would leave Notre Dame as a graduate transfer following the team's stint in the College Football Playoffs, he made those plans official Wednesday, four days after Notre Dame's 30-3 loss to Clemson. Wimbush leaves Notre Dame after four seasons in South Bend.
"I can't begin to explain the feeling. There are no words to fill the void. There's something this place, & these people, do to you that no one can garner the words to explain unless you're a part of it. I guess Lou [Holtz] did say it best – "Those who know Notre Dame, no explanation is necessary. Those who don't, no explanation will suffice!" I THANK YOU! I THANK YOU! I THANK YOU for what you've given me these past 4 years," Wimbush posted. "I was probably only able to recognize a tenth of the people who have moved my life in a direction that I could never imagine on my own! From my immediate family, to my football family, to the red army, to the supportive & the non supportive fans, to my Stanford Hall brothers, to all the professors that've dedicated so much, my Clancey St brothers, my Prep family, to the friends! To the friends!! To the long Time friend's! to my Lady who's loved me unconditionally! to Jack Swarbrick, to the alumni that've help mold me (you know who you are), to Fr. Jenkins – I owe you all. An Instagram post does this school no justice. Thank you Notre Dame."
While rumors had swirled that Wimbush would transfer following the season to play his final season of eligibility elsewhere, the senior said he would announce his decision sometime following the end of the Fighting Irish's season.
Wimbush entered 2018 as Notre Dame's starting quarterback after starting 12 games during the 2017 season. During that junior season, Wimbush was the only FBS quarterback to lead his team to four wins against teams that finished in the AP Top-25. He completed 49.5 percent of his passes for 1,870 yards and 16 touchdowns to six interceptions while rushing for 803 yards and 14 touchdowns.
But after starting and winning the first three games this season, Wimbush was replaced by junior quarterback Ian Book. Wimbush did start and win a fourth game Nov. 10 against Florida State when Book couldn't go due to injury but it would be his final appearance.
Wimbush, who was a four-star recruit in the 2015 recruiting class according to the 247Sports Composite, could be one of a few highly sought after quarterbacks on the transfer market this winter. Rumors have swirled that Georgia freshman Justin Fields may transfer as might Alabama backup quarterback Jalen Hurts. Ohio State is reportedly a potential destination for any of the three.