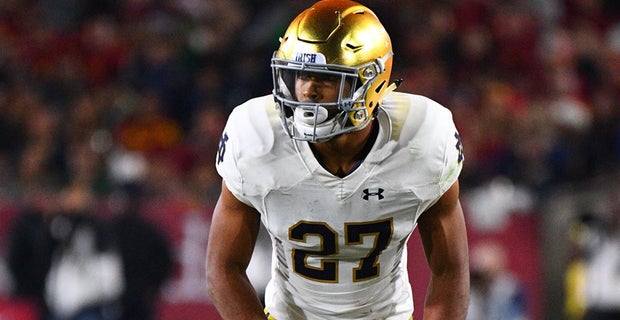 With his 43 passes defensed in three seasons, including an incredible 39 in 2017-18, Julian Love developed into one of Notre Dame's all-time cornerback greats.
Love's football/cornerback instincts compensated for what he lacked in pure speed. He knew the tendency of his opponents, anticipated their next move, and played the receivers aggressively and physically.
Love also was a top-notch run defender for the Irish with 174 tackles. He returned two interceptions for touchdowns, a fumble for a touchdown, and a blocked point after for two points.
The Domino Effect
With Love's departure, the Irish will have to find a boundary corner opposite field corner Troy Pride Jr.
Donte Vaughn – a senior in 2019 – had a strong rookie season in '16, a mostly dormant campaign in '17, and a mixed-bag junior season in '18 in which he lost his spot in the rotation to freshman TaRiq Bracy mid-season before reclaiming it for the Cotton Bowl.
To say Vaughn struggled against Clemson is an understatement. He was the defender against Justyn Ross on a 52-yard score and Tee Higgins on a 19-yard touchdown. One could say Vaughn's sketchy play also contributed to a 42-yard score by Ross against a conflicted Alohi Gilman.
Notre Dame does not have a natural heir apparent boundary cornerback. Pride could play it if fifth-year senior Shaun Crawford takes over on the field side, but Pride is not the physical run defender Love was.
Notre Dame's desire would be to have a healthy Crawford to play nickel, which means they'd keep Pride at field and find a boundary corner. Maybe Vaughn will develop, but his pass-coverage technique from start to finish is a bit of a mess.
Bracy has a very promising future at field cornerback, particularly once he gains some strength. Red-shirt freshman D.J. Brown — at 6-foot-1 – could develop into a good-sized boundary. Is Houston Griffith an option? He opened at cornerback before moving to safety and then nickel. His future is yet to be determined.
Red-shirt freshman Noah Boykin has the most raw football talent of all at 6-foot-2. He has field-side cornerback skills with boundary cornerback length.
Incoming freshman Isaiah Rutherford (6-foot-0, 175) and K.J. Wallace (5-foot-10, 187) will have a chance to get into the mix.
Love And The Draft
While it's been widely reported that Love confirmed the NFL projected him as a second-rounder, he also indicated elsewhere that he could have gotten a "return to school" grade. The bottom line is that Love has first-round cornerback skills with an undetermined 40-time that will go a long way toward deciding where he is selected in the NFL draft.
Love was one of college football's best cornerbacks in 2017-18. Ultimately, where he is drafted should reflect his overall prowess at the position, although cornerback is a "stopwatch-driven position" according to long-time NFL personnel evaluator Greg Gabriel.
For the record, the last Notre Dame cornerback drafted was KeiVarae Russell in the third round by the Kansas City Chiefs in 2016. The last Irish cornerback selected as high as the second round was Bobby Taylor by the Philadelphia Eagles in 1995. Notre Dame's last first-round draft choice at cornerback was Tom Carter by the Washington Redskins in 1993.