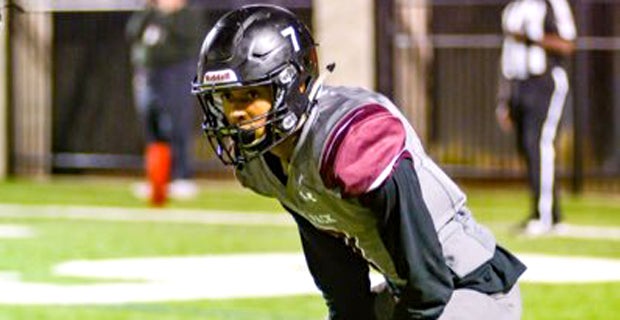 With roots in the Midwest and a connection to a current Irish pledge, Jalen Kimber is a prospect Notre Dame fans will likely be talking about plenty moving forward.
Kimber made some noise as a sophomore, showing an appealing blend of length, athleticism, and smarts at the cornerback position which led to camp invitations through the spring and summer.
In May, Houston presented the Arlington (Tx.) Mansfield Timberview 2020 standout his first offer while Baylor, Oklahoma State, SMU, Purdue, TCU, and Texas A&M followed through the summer before Penn State joined his list in September.
On Tuesday, Notre Dame cornerbacks coach and Texas area recruiter Todd Lyght dropped by Mansfield Timberview – a strong Texas 5A program – and following that stop, put an offer on the table.
"I had talked to coach Todd Lyght for about five minutes and he said he wanted to offer me a scholarship to Notre Dame," Kimber said. "It was kind of a surprise, really. I've been in contact with Notre Dame, but I didn't think it would happen (on Tuesday).
"(Lyght) seemed like a good dude. We're going to keep in touch and keep building our relationship, like he said. He has my number. I have his number so moving forward, we're going to keep in touch."
Although Kimber comes from the Lone Star State, a close connection to the Midwest sweetens the deal.
"My whole family is from Chicago," Kimber said. "My grandfather, my aunt, and my cousins, they all still live out there. My dad is from South Side Chicago and I believe my mom is too. Basically, my whole family is from Chicago.
"One, it's a good academic school for life after football. It just seems like a great place to be and it's close to my hometown. Everything like that means a lot to me."
In another interesting connection; at one of the camps Kimber was invited to, he meshed well with a current Notre Dame commit who turned out to be related to a close family friend.
"Well, the funny thing about it is my dad and Kyle (Hamilton's) dad knew each other before I even knew Kyle," Kimber said. "It was a coincidence because me and Kyle were at the U.S. Army Combine together and we just so happened to start talking and becoming cool – we became friends, basically. And it turned out to be a coincidence that his dad and my dad knew each other because we had never met."
A camp in which Kimber created waves was his trip to TCU where the three-star prospect clocked a 4.43 in the 40-yard dash, electronically timed.
With Notre Dame offering on Tuesday before Michigan and Missouri pushed his offer total into the double-digits on Wednesday, a busy recruitment appears to be in the works. It's worth noting that Ohio State, Northwestern, and others are in contact with Kimber currently.
Still, the Irish are shaping up to be a major player.
"Notre Dame is a powerhouse in college football right now," Kimber said. "It's pretty big for me and it's definitely something special.
"They're balling. Simple as that – they're balling. When Manti Te'o was there, I remember watching that game when they played Alabama.
"For me, (Notre Dame) will be in the discussion, yes."
The next step for the Irish will be luring Kimber to South Bend for a closer look at the program and University.
"I believe I'll be visiting Notre Dame soon – I hope so," Kimber said. "I want to get up there and check out how they are, the campus, and see how everything is. So, that's definitely something I'm wanting to do.
"I'm probably going to make a decision sometime around February. That's what I have in mind right now. I wanted to wait until after my season, after my film came out to see if I got anymore offers to see if anyone else would come to the table that I could explore. So, that's why I'm just taking my time right now."
As a junior, Kimber logged 39 tackles, one tackle for loss, six pass breakups, and three interceptions. With his raw talent, it would be no surprise if the young Texan shot up the rankings as his high school career develops.