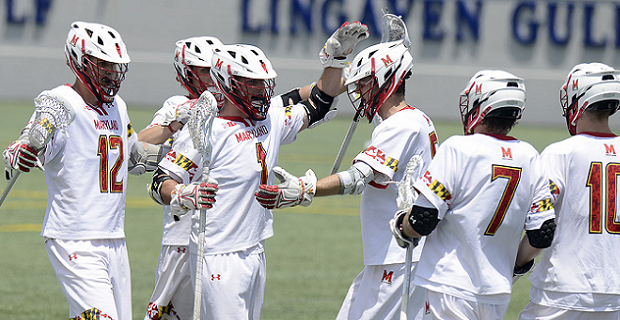 Men's Lacrosse – Game 6, at University of Notre Dame – Sunday at 12PM
Season Records: Maryland (5-0), Notre Dame (1-1)
Series Record: 6-5, Maryland
Last Meeting: 2018, Maryland 12-10
Media: ESPNU
Live Stats: Here
The University of Maryland Terrapins men's lacrosse team travels to Notre Dame on Sunday to renew its burgeoning rivalry with the Fighting Irish. The teams have met the past 3 seasons in what typically have been single-digit goal scoring affairs, with the exception of last season's 12-10 Maryland win that saw Connor Kelly total the most points (3g, 7a) in a single game for a Terrapin since 1979. Notre Dame has moved the game indoors to the Loftus Sports Center due to forecasts of temperatures in the teens for Sunday.
Indoors or outdoors in frigid or warm temperatures have little to do with low-scoring Notre Dame games. Under longtime head coach, Kevin Corrigan, Notre Dame hangs their proverbial hat on their defense. They play an aggressive style of defense where they will pressure ball carriers and adjacent passes – they average 13 caused turnovers a game. They will slide quickly to dodging threats from below goal-line extended (GLE) or from up top. They will switch picks and have their short-stick defensive midfielders (SSDMs) play opposing attackmen. It also helps that Notre Dame regularly fields elite goalies.
Notre Dame has one additional piece of size and experience on their defensive end in sophomore goalie, Matt Schmidt. Like many of his predecessors, Schmidt is big for a goalie at 6-feet, 200 pounds. He's athletic and will come out of the goal to get ground balls or jump passing lanes. Through 2 games this season, he sports just under a 54 percent save percentage on just over 7 goals per game. Against Richmond last week, he struggled with high shots.
On offense, Notre Dame uses formations that typically have multiple crease players. In their 2-3-1 and 1-3-2 sets, they like to set picks high in the midfield to get their big and athletic midfielders running downfield. While their midfielders run down the alleys, Notre Dame likes to replace those dodgers by popping players off of the crease. This creates pick-and-pop situations from 10 yards out from the crease. Similarly, Notre Dame likes to play two-man games behind the goal with pick-and-rolls.
??‍????‍????‍??

Gleason's fourth goal of the season was impressive, mazing his way through the Richmond defense. Irish trail 5-2 with 3 min left in the half.

??: https://t.co/IpAkHzoWMw
??: https://t.co/63uVl4UOa7#GoIrish?? pic.twitter.com/4vDiL3ffEo


— Notre Dame Lacrosse (@NDlacrosse) February 23, 2019
Last season, Notre Dame's offense struggled to score. Junior midfielder, Brian Costabile – a Mount Saint Joe's alum – uses his size and athleticism to run past LSMs that typically guard him. He leads the Fightin' Irish in goals and points (7g, 1a). Senior midfielder, Brendan Gleason (4g, 1a) will spend more time around the goal and in the crease. Notre Dame's 2 big attackmen – Connor Morin (3g, 2a) and Brian Willetts (4g) – might not have the fleetest of feet but both use their size to get to the front of the goal.
MORIN AGAIN!

The sophomore scores his 2nd of the game to cut the Spiders lead to 1 at 9-8! 4 minutes left in regulation. Take a look at his 1st goal of the day.

??: https://t.co/IpAkHzoWMw
??: https://t.co/9FfkuW7nHg#GoIrish?? pic.twitter.com/UGD59znlzT


— Notre Dame Lacrosse (@NDlacrosse) F
While Notre Dame's defensive scheme will present challenges, Maryland is accustomed to defensive schemes like Notre Dame's. Notre Dame's size and experience, however, takes their defense to a different level. Consider that Notre Dame returns 3 starters – Jack Kielty, Hugh Crance, and Arden Cohen – at close defense who all stand 6-feet or taller and weigh 200 pounds or greater. These aren't "feet in cement" defensemen. All three can cover in space, behind the goal or up top, and all 3 will slide with physicality.
Notre Dame's size and experience on the defensive side doesn't end with their close defense. Notre Dame's "rope unit" – SSDMs and long-stick midfielders (LSMs) – possesses similar traits. Their starting rope unit – SSDM Drew Schantz, SSDM Timmy Phillips, and LSM Eric Restic – all stand above 6-feet in height and weigh on average 194 pounds. Schantz, who has earned All-ACC and All-American accolades in previous seasons and enters this season with preseason All-ACC and All-American honors, is big and athletic. He will cover all positions anywhere on the field. SSDM Timmy Phillips provides a full-field game to the unit and will score in transition, but he does see more isolation dodges than does Schantz. Notre Dame's second rope unit – SSDM Nick Stinn, SSDM John Hallenbeck, and LSM Jose Boyer – has far less experience and size but all came to Notre Dame with elite high school lacrosse pedigrees. 
As their scoring totals show, Notre Dame scores more goals off of one-on-one dodging as opposed to ball movement and assists. They average 36 shots per game, with about 22 of those shots being on goal. Their big win against Detroit Mercy skews their goal average, as Richmond held them to just 8 goals. Notre Dame's man-up offense has scored on 50 percent of their opportunities, but their man-down defense has also allowed opponents to score on 50 percent of their opportunities. At the face-off X, junior Charles Leonard wins about 54 percent of the draws he's taken. He has also scored 2 goals off of draws he's won.
Four Wheels Keys
1 – Feed the crease – Notre Dame's aggressive defense and quick slides leave the crease open for opportunities. Maryland senior attackman, Louis Dubick is coming off of a career day against Navy, scoring 5 goals – all coming from the crease and all off of assists. Should Dubick have another multigoal game from the crease, Notre Dame will slow down their slides, which will leave more room for dodgers like Jared Bernhardt and Bubba Fairman.
2 – Shoot from distance – Notre Dame goalie, Matt Schmidt gave up multiple long-range goals against Richmond. Of late, Maryland's long-distance shooters – Bubba Fairman and Will Snider – have found more success closer to the goal. Given the attention drawing Dubick in the crease, low-to-high skip passes and a sagged in Notre Defense will give the Terps room to shoot from 12 yards and out. Can they bury some of those shots?
3 – Transition game – Both teams are known for sturdy half-field defenses and controlling the pace of games, but both teams also have athletes that can run and score in transition. So far this season, Maryland has selectively run their transition game. Notre Dame, too, will selectively run in transition. Can either team score some easy goals? Otherwise, we might see a very low scoring game.
4 – Get the lead – Through 5 games, the Terps have outscored their opponents 29-14 in the first half and 38-18 through 3 quarters. While it's always nice to win each quarter, jumping out to a healthy lead through 3 quarters against Notre Dame is imperative. Notre Dame's continued offensive production troubles suggest that they won't have enough firepower to overcome a multigoal deficit. Last week, Richmond jumped out to a quick 3-0 lead over the Irish and never looked back. A multigoal lead for the Terps at halftime or at the end of the 3rd quarter would bode well for a win.