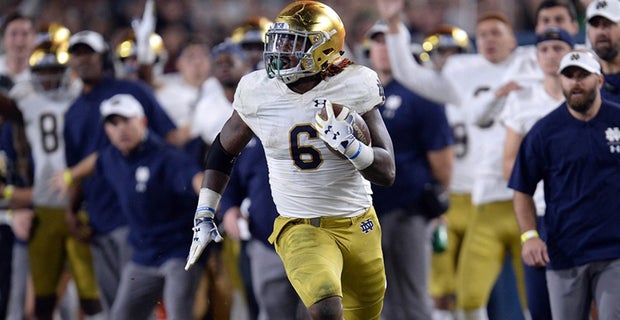 A relevant trend emerged over Notre Dame's final two contests—the running backs in the passing game.
Senior Dexter Williams received 11 of his 19 pass targets for the season against Syracuse and USC while junior backup Tony Jones caught a pair on two pass attempts—totaling 69 yards and a touchdown.
(Jones *nearly produced a "perfect season" as a pass catcher as detailed below.)
The complete breakdown of season targets is as follows, with the parenthetical showing receptions-yardage-touchdowns:
Jones caught two passes from Brandon Wimbush against Vanderbilt totaling 56 yards, two more a week later from Ian Book in his first start against Wake Forest for 32 yards, then one apiece vs. Syracuse and USC to conclude the season.
*Five of the six resulted in a first down (4) or touchdown.
THE LEADERS
Boykin was the top target against Ball State (8) Stanford (14) Virginia Tech (12) and Syracuse (10), while tying with Finke for the team lead against Florida State (7), and with Claypool vs. Northwestern (11).
Claypool led the way alone in the opener against Michigan (6).
In addition to his seven targets vs. the Seminoles, Finke was the weapon of choice in two other games, Vanderbilt (8) and USC (11).
Mack took the honors (8) in Winston-Salem (Book's first start) and tied Finke (8) in that regard against Pittsburgh. It was Jafar Armstrong—in his first game back from injury—to lead the pass-catching pack against Navy (6)…though he hasn't been targeted since, 0 in a four-game span.
Armstrong's immersion back into the passing attack is likely for the playoff-bound Irish.
Over his four starts and one relief appearance (*0-1), Wimbush targeted the following:
Boykin 21, Finke 21, Claypool *20, Mack 13, Armstrong 6, Kmet 4, Davis 4, Jones 2, Austin 2, Young 1, with Weishar and Wright 0 and likewise Williams 0, albeit in one start.
Wimbush was most successful finding Armstrong (5-for-6 for 72 yards, all in the first two contests) while conversely Boykin caught just 12 of his 21 total targets from his classmate with half of those catches coming against Ball State. His lone score from Wimbush occurred when the pair hooked up vs. Florida State on Senior Day.
Finke secured 14 of 21 catches (though five receptions vs. Vanderbilt totaled just 6 yards) with a touchdown while Claypool reeled in just 11 of his 20 targets, no scores.
Mack fared well, grabbing 9 of his 13 targets from Wimbush including two leaping touchdowns against Florida State.
The eight-game starter's favorite targets and completion percentage involving them broke down as such:
Miles Boykin 44 receptions on 65 targets with 7 touchdowns (67.6%)
Chris Finke 33 receptions on 54 targets with one touchdown (61.1%)
Chase Claypool 37 receptions on 52 targets with four touchdowns (71.1%)
Alize Mack 25 receptions on 37 targets with one touchdown (67.5%)
Dexter Williams 13 receptions on 19 targets with one touchdown (68.4%)
Cole Kmet 12 receptions on 14 targets (85.7%)
Michael Young 7 receptions on 9 targets with one touchdown (77.7%)
Jafar Armstrong 7 receptions on 8 targets (87.5%)
Tony Jones 4 receptions on 4 targets with one touchdown (100%)
Nic Weishar 3 receptions on 4 targets with two touchdowns (75.5%)
The 10 pass-catchers above represent 185 of Book's 197 completions on the season and 18 of his 19 touchdown tosses. Brock Wright (2-for-2 with a first down and touchdown) is the other notable recipient with Book at the helm.