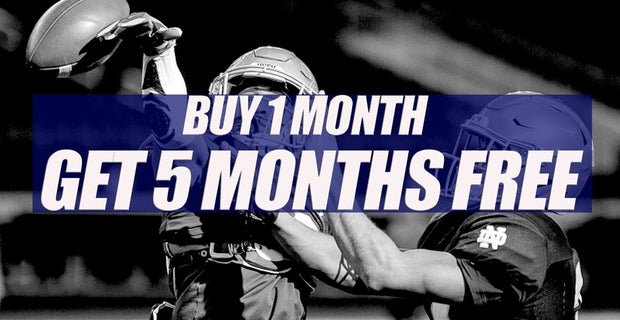 Get the most reliable recruiting news from Irish Illustrated
SPECIAL Buy 1 month and get 5 free- click here. No code required.
Since Friday, Notre Dame has extended ten scholarship offers.
Of those ten, seven are 2020 class athletes while three sophomores were added to the board. As far as positions, a blend of wide receivers, linemen, and defensive backs was offered.
Some of the offers stemmed from Notre Dame's regional Junior Day which took place on Saturday while an additional Junior Day for national prospects will take place in late February.
In this two-part review, we'll start with the offensive prospects who picked up offers.
Top offers: (21 total) Michigan, Notre Dame, Ohio State, Oklahoma, Oregon, Penn State, USC.
Not known to be a prime recruiting ground for Notre Dame, Colorado is becoming a key state for the Irish in 2020, targeting four-star linemen Aidan Keanaaina, Andrew Gentry, and now, Reece Atteberry.
Per reporting by Tom Loy, Todd Lyght had dropped by Eaglecrest High School to check in on Atteberry last May before returning recently. Jeff Quinn and Tom Rees then traveled to Aurora, Colorado to look into the junior prospect late last week before an offer was extended.
Atteberry is a long, lean lineman with light feet and the type of bend coveted on the edge. But his talent isn't limited at tackle, showing the type of mobility and capability to play inside. In fact, it's very possible Atteberry plays center in college.
Of course, Notre Dame needs to pad depth at both center and tackle. For that reason, this is a prospect worth tracking.
For Atteberry's junior Hudl film, click here.
Mike Drennen II
Top offers: (22 total) Florida State, Georgia, Miami, Michigan, Notre Dame, Ohio State, Penn State.
One of multiple trips to South Bend for Mike Drennen II, the four-star all-purpose back attended Notre Dame's Junior Day on Saturday and returned to Ohio with an offer.
Off the hop, Notre Dame will undoubtedly be challenged by Michigan and Ohio State for his pledge. In the past, those running back battles have been lost regularly by the Irish. But with a new running backs coach en route to ND, it'll be interesting to see how the Irish fare with four-star running back talent.
Listed as 5-foot-11, 197-pounds with a 3.7 GPA in the opening credits of his junior season Hudl film, he's also listed as a running back – slot receiver. And in his film, you'll see why he's listed as such.
A twitchy, slender athlete with breakaway speed, Drennen II uses outstanding jump-cuts and spin moves as a part of his array of elusive abilities that make corralling the junior back a nightmare for opposing defenses.
His talent in space is something to behold. But when it comes to traffic, his knack for weaving through defenders, chipping off would-be-tacklers, and dropping his shoulder to gain extra yards is impressive.
Jet sweeps, tunnel screens, quick-outs from the slot, draw plays, you name it. This kid is a true swiss army knife and deserving of the 'all-purpose back' label.
For Drennen II's junior Hudl film, click here.
Top offers: (26 total) Alabama, Florida, Florida State, Georgia, Notre Dame, Ohio State, Texas, Texas A&M.
A mature, powerful wide receiver who puts out as much effort in blocking as he does in fighting for contested passes, Troy Omeire appears deserving of his Top 100 label and extensive early offer list.
His junior season highlights include relentless downfield blocks, proving his diehard effort to dominate his opponent.
As far as his pass-catching ability, Omeire does a great job of exploiting soft spots in zone coverage, working his way open on verticals. And with his strong, physical style, can be a lot to handle in man coverage.
Without a doubt, a productive college career seems inevitable for Omeire.
For Omeire's junior Hudl film, click here.
Top offers: (10 total) Michigan, Michigan State, Notre Dame, Penn State, Virginia Tech.
Another athlete who visited Notre Dame over the weekend, Rucci represents the one offensive 2021 prospect offered recently.
We've seen the Irish recently target several tackle prospects who list at 6-foot-7 and higher. In this sophomore phenom, the Irish added to that list in extending a scholarship to the ultra-athletic, 6-foot-8, 266-pound Rucci.
A through-the-whistle lineman, Rucci shows outstanding flexibility and athleticism for such a tall, long athlete. The type of coordination and nimble feet he shows on both sides of the ball is rare for a sophomore with his measurables.
At tackle specifically, Rucci anchors very well, knows how to use his physical tools to his advantage. In run blocking, his effort and penchant for physicality combine for a well-rounded athlete along the offensive line.
Surely, Rucci is an athlete we'll be hearing about plenty in the future.
For Rucci's sophomore Hudl film, click here.
Top offers: (10 total) Minnesota, Nebraska, Northwestern, Notre Dame, Purdue, Wisconsin.
An impressive two-sport athlete, Xavier Watts is sure to see his offer list expand a great deal in the future.
As a junior, the three-star wide out racked up nearly 1,100 yards receiving with 14 touchdowns while chipping in 58 tackles, four-and-a-half tackles for loss, and five interceptions as a star two-way threat for Omaha (Neb.) Burke High School, the 2018 Nebraska Class A state champions.
Originally focusing on basketball, Watts has emerged as the top pass-catcher in Nebraska, showing sneaky-fast speed and sticky hands on film.
His ball-tracking skills on verticals are impressive, proving to win battles in tight coverage. The Burke coaching staff uses his talent to its fullest advantage, getting the ball to Watts on the perimeter in quick screens, dig routes, and other short-to-intermediate passes as his yards-after-catch ability is dangerous.
For our recent interview article on Watts, click here.
For Watts' junior Hudl film, click here.