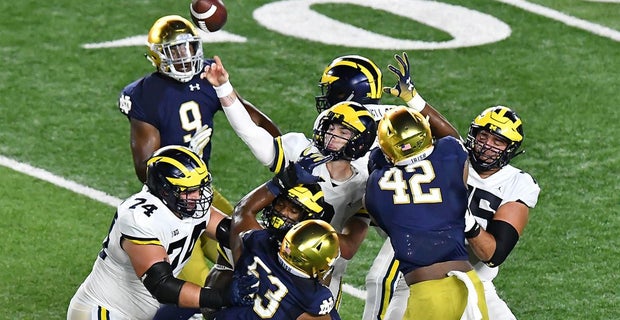 The year was 2011. Five-star freshman defensive end Aaron Lynch – fresh off a DNP-CD at Michigan – burst onto the scene with a Game 3 performance the likes of which no Notre Dame player had previously recorded.
Literally.
Lynch was *credited with six "QB Hurries" against the 15th-ranked Michigan State Spartans that day, a team that would finish 11-3 but succumbed to Lynch and the Irish pass rush, 31-13.
(To put his *six hurries in perspective, no Notre Dame player was credited with more than five for the entire 2010 season.)
It took more than seven years before Lynch's *six QB Hurries were surpassed on a South Bend football Saturday – Julian Okwara's **7 "hurries" tour de force against Pittsburgh, a 19-14 Irish victory that brought Notre Dame to 7-0.
(*Prince Shembo was credited with 5 in the 2013 season opener against Temple. Of note, I had **Okwara for 8 pressures vs. the Panthers.)
Statistically, they're recorded as Quarterback Hurries, though at one point, they were "Quarterback Hits" and it's unclear when and why that terminology ceased.
To best illustrate how they've rarely been consistently tracked or vetted, consider the following: in his record-setting season of 2003, Justin Tuck was credited with 13.5 quarterback sacks – but no hurries.
Unlike the pass-rushing menace Tuck, safety Dwight Ellick was credited with a QB Hurry. Now I don't want to be presumptuous of the statisticians of the day, but I'd like to think there's an outside shot that Tuck at one point hurried or hit the opposing quarterback en route to a program record 13.5 sacks.
Today, "Pressures" aka, Hits-plus-Hurries-plus Sacks, are abundantly tracked on the Internet.
But unlike the sack, the Quarterback Hurry (QBH on the post-game stat sheet), remains unofficial and not part of the NCAA's records. Home team statisticians track them as much as they desire to do so (Notre Dame does so consistently, perhaps due in part to the nature of the Irish defense this fall.)
Below is the Irish Illustrated list of Quarterback Pressures through seven games this season. It's not identical to, but was discussed with colleagues at Blue and Gold Illustrated (Bryan Driskell) and The Athletic (Pete Sampson).
Our numbers differ game-by-game. That's the nature of a film review. But we're not dissimilar in final totals, and thus the list below aptly illustrates the impact of each of Notre Dame's pass rushers to date.