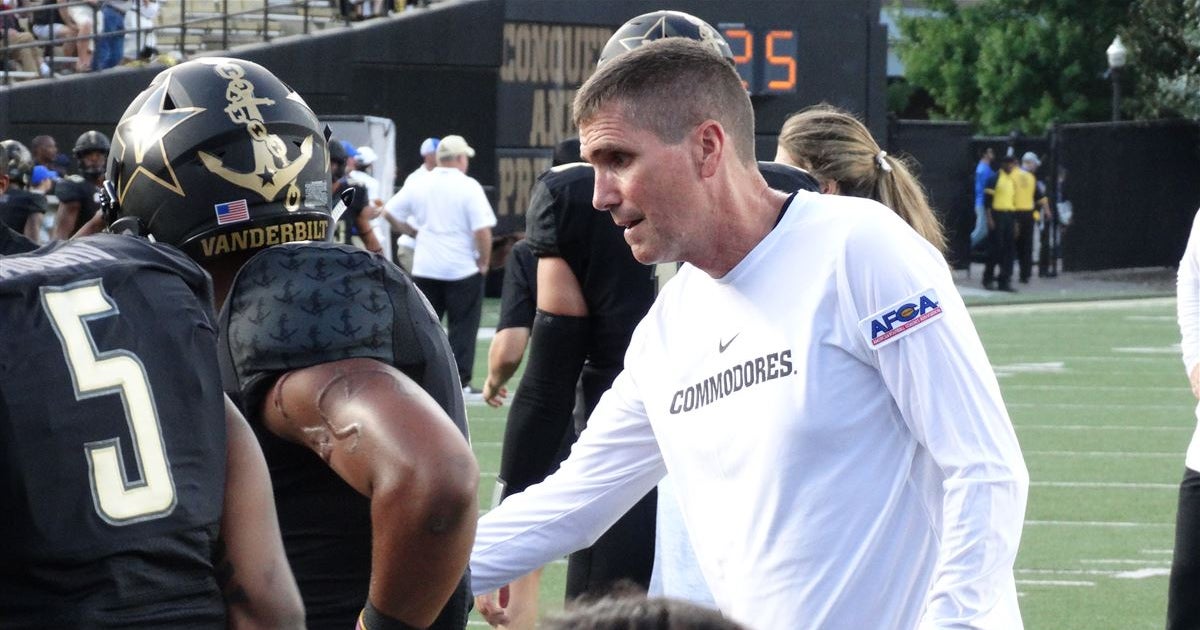 Nashville, TENN. — Vanderbilt completed its final practice on the practice field at the McGugin Center on Thursday morning before packing its bags and heading for South Bend to take on Notre Dame on Saturday afternoon.
The Commodores and Fighting Irish, both 2-0 to start the season, will clash on a national broadcast at 1:30 p.m. on NBC.
Coming off the practice field on Thursday morning, I was able to grab a few minutes with Vanderbilt offensive coordinator Andy Ludwig and pick his brain a bit on how the offense has performed through the first two weeks and what it will take for the Commodores to come away with an upset victory on Saturday.
Ludwig said he's tried his best to downplay the significance of going into storied Notre Dame Stadium, insisting that the Commodores are just playing "another game at another venue."
Here's a look at the Q&A:
On preparation for Notre Dame: "We had a good practice week and finished on a high-note on Thursday."
On Bruno Reagan and Cole Clemens grading out as the top two offensive guards for Week 2 in the SEC per Pro Football Focus: "They're two very good players, and they have indeed graded out well for us in the first couple of games, but this is a whole new week and we've got to be at our best– all 11 of us on the field– to play at Notre Dame."
On tight end Jared Pinkney, who also graded out as PFF's top SEC tight end of Week 2 and received a game ball from Derek Mason following his four catches for 98 yards against Nevada: "He's a key player for us. There's not many people like him, with his size and athleticism, who play at the line of scrimmage and have the athletic ability to detach and play in space. We just try to use our weapons and he's definitely one of them."
On if Pinkney maybe on the verge of a breakout in 2018 after flashing big-play potential in previous seasons: "We're counting on it to be a breakout component. He's working very hard, he's very focused on what he is doing and we're looking forward to maximizing his potential."
On assessing Kyle Shurmur's Game 2 performance against Nevada compared to his Game 1 against Middle Tennessee: "The protection (from the offensive line) was a lot better in the second week than it was the first week, so that gave the quarterback more time to progress through his reads. He's playing well right now. We ask a lot of him, but he's handling the work load. He's got to be at his absolute best on Saturday."
On issues the Notre Dame defense presents that Middle Tennessee and Nevada did not: "Long, athletic defenders. They do a great job of running to the football. They're very athletic, and they're coached very well in a great scheme. Again, we have to be at our very best this weekend."
On the first road game being at a storied college football venue like Notre Dame Stadium: "It's just another game at another venue. We've got to be prepared to play our very best whether it's in the parking lot or in the stadium. I really try to downplay that as much as possible."
Hypothetically, Vanderbilt beat Notre Dame… what happened on the field offensively?: "We protected the football, we protected the quarterback and were opportunistic with our opportunities."