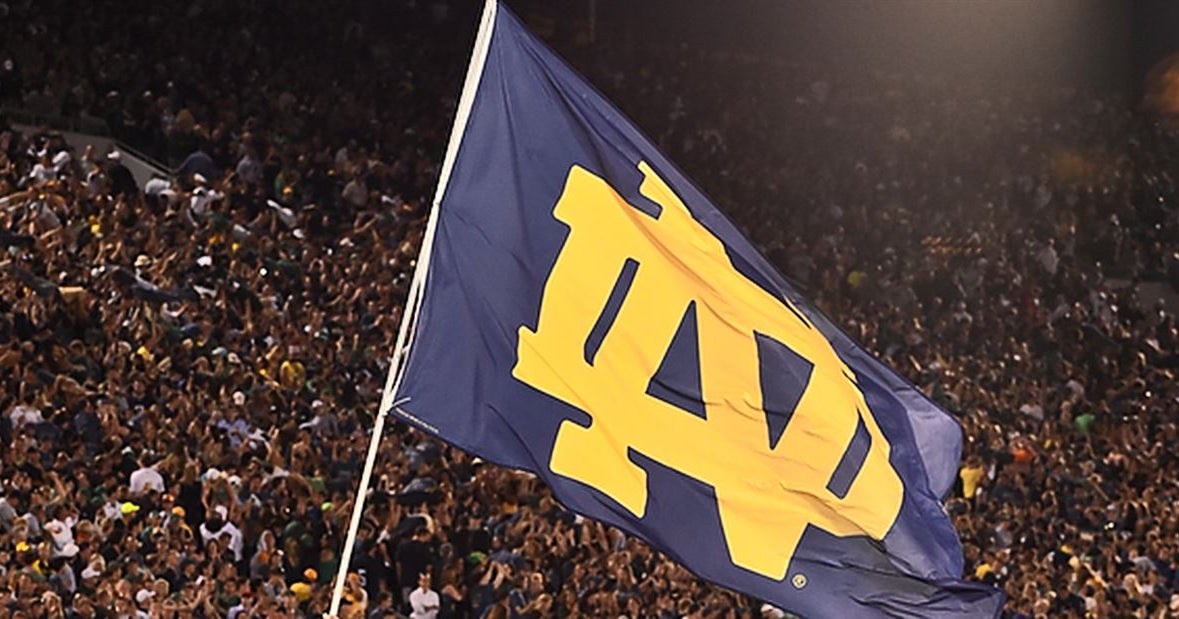 Showcase game. ESPN Game Day. The Game of the Weekend.
That's Notre Dame vs. Michigan 2018 – doubtless the most compelling matchup among college football's myriad opening weekend tilts.
Twenty seasons have passed since these two programs eschewed dipping their collective toes in the pool to first test the waters against a less potent foe.
The Big One – in Week One – is back.
In a series tied at 15 wins, 15 losses, and 1 tie since the series resumed in *1978, Michigan and Notre Dame have opened the season against each other on eight occasions. Said Irish head coach Brian Kelly of opening with a marquee opponent: "There's probably little room for error when you open up with a top opponent but it works both ways, right?
"We're not thinking about it in scheduling situations…I don't sit down with Jack (Swarbrick) and say 'No, we're playing Prairie View' or whatever. Or that I don't want to play this kind of an opponent."
A look back at how both programs have fared when opening a campaign against the other:
1979 Notre Dame 12 Michigan 10: Irish linebacker Bob Crable uses a teammate's back to catapult himself into the Wolverine's potential game-winning field goal attempt as time expires in The Big House. That's illegal now. Then again, so is hitting someone hard, but I digress…
1982 Notre Dame 23 Michigan 17: In the first game played under the lights at Notre Dame Stadium (shout out to Musco Sports Lighting), the Irish raced to a 23-7 lead and held on for a six-point victory behind 288 rushing yards, 116 by transfer fullback Larry Moriarty. Incidentally, Anthony Carter returned a punt 72 yards for a score in the contest and 9-year-old Tim O'Malley instantly hated – then became – Anthony Carter in the backyard.
1985 Michigan 20 Notre Dame 12: The host Wolverines handle Gerry Faust's final Irish squad that would lose three of its first four and each of its final three contests en route to a 5-6 finish and ultimately a new head coach. Notre Dame does not score a touchdown on the afternoon but Wolverines quarterback Jim Harbaugh does – his first of two victories against the Irish as a player.
1986 Michigan 24 Notre Dame 23: The Irish don't punt but future NFL star John Carney's 45-yard field goal attempt sails woefully wide and Lou Holtz's debut is spoiled in South Bend. (Carney entered the contest successful on 15 of 16 career attempts between 40-49 yards.) In defeat, unranked Notre Dame joins the following week's Top 20 in light of their outstanding performance vs. No. 3 Michigan.
Also, this was a touchdown (2:20 mark):
1987 Notre Dame 26 Michigan 7: Tim Brown launches his Heisman Campaign – one that carried over from a breakout 1986 season – with a leaping first quarter touchdown grab over two Wolverines defenders in the Big House. The Irish roll thereafter forcing five Michigan turnovers.
1988 Notre Dame 19 Michigan 17: The eventual national champion Irish win without the benefit of an offensive touchdown, the Irish crowd is so loud it is penalized by the officials, future doctor (and my dad's student at Notre Dame) Reggie Ho drills four field goals, and St. Joseph High School (Michigan) product Mike Gillette – as automatic a placekicker as there was in the college game at the time – misses the potential game winner from 48 yards as time expired. Gillette had previously split the uprights on a 49-yarder to provide a one-point lead with five minutes remaining.
1990 Notre Dame 28 Michigan 24: Redshirt-freshman running back Jon Vaughn ran for more than 200 yards for the visiting Wolverines but it's instead Irish quarterback Rick Mirer's starting debut that stole the show as the Goshen Motion hit fellow first-time starter Adrian Jarrell for the game-winning score with 1:40 remaining.
1998 Notre Dame 36 Michigan 20: Defending Champion Michigan ran 82 plays to Notre Dame's 65, enjoyed two receivers in excess of 100 yards (and a running back as well) and yet Bob Davie beat Tom Brady. Then the cow jumped over the moon.
Brady finished 23 for 36 without a touchdown or an interception while first-time Irish starter Jarious Jackson completed just four of 10 passes on the day – two for touchdowns.
Notre Dame is 6-2 vs. Michigan when facing the Wolverines in the season opener. Michigan holds a 10-7-1 edge when the programs square off in Game #2 and a 3-2 edge in Games #3 or #4.
*Prior to 1978 the teams earned a split during a mid-season home-and-home in 1942-43 while Michigan owned the Theodore Roosevelt portion of the rivalry, notching eight consecutive wins before Notre Dame's first in 1909 for a 24-17-1 overall edge.