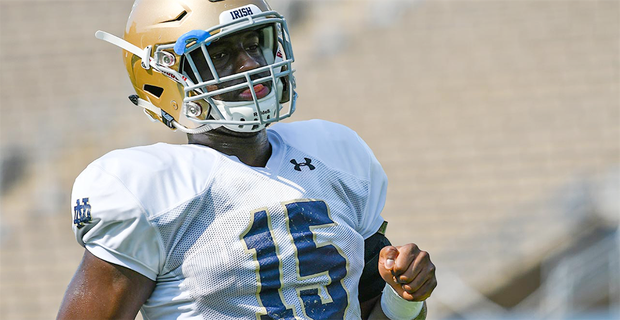 Notre Dame junior linebacker D.J. Morgan announced his intentions to transfer from the program following the summer session of 2019 during which he will complete his degree requirements. Morgan explained his decision on Twitter today:
"I would first like to thank the University of Notre Dame for everything they have done for me. When I decided to come here, my main goal was to get my degree from this prestigious University, and I am proud to say that I will be completing that goal this summer! During this time I will be searching for a new school as a graduate transfer to finish off my last two years of eligibility."
my plan < GOD'S PLAN!
Thank you, Notre Dame?? pic.twitter.com/MsRRmWnEdY


— DJ MORGAN (@deundraymorgan) January 16, 2019
Morgan leaves a linebacker unit 13 players deep for spring ball with the potential to add a 14th player to the mix in the fall, Carlsbad, California-product and four-star prospect Asa Turner. 
After redshirting as a true freshman in 2016, Morgan played in two games for Notre Dame, both in the 2017 season as a backup safety vs. Boston College and Miami (Ohio), registering two tackles.
Morgan, a former two-year starter for Saint John Bosco (HS) in Bellflower, CA, did not appear in a contest last season after moving to linebacker in the spring of 2018.
For a full review of the Irish linebackers heading into spring ball, click here.