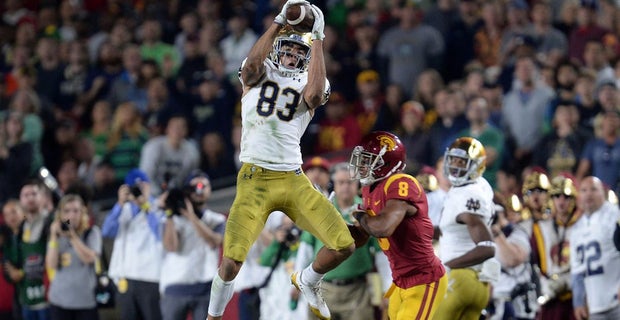 By most standards, a 29-catch, 402-yard, two-touchdown sophomore season is a pretty significant step forward from a five-catch rookie season, particularly with a nine-catch, 180-yard, one-touchdown breakout performance against Wake Forest in the ninth game of the season.
But the coaching staff was in perpetual handling-mode with Claypool during his first two years in the program. Physically, as he proved time and again on special teams, he was ahead of the game. But Chase Claypool had difficulty dealing with adversity, whether it was created by the opposition or internally when his reps were reduced or he dropped a pass.
Claypool truly has come of age this season, riding the ups and downs of a game/season and moving on to the next play. The emotional stabilization has made Claypool a more effective and consistent player.
Over the last half of the regular season, Claypool seemed to be proving a point every time he caught a pass and powered his way through tacklers. Second on the team in receptions with 48 for 631 yards and four touchdowns, Claypool has become a true weapon teamed with fellow big receiver Miles Boykin.