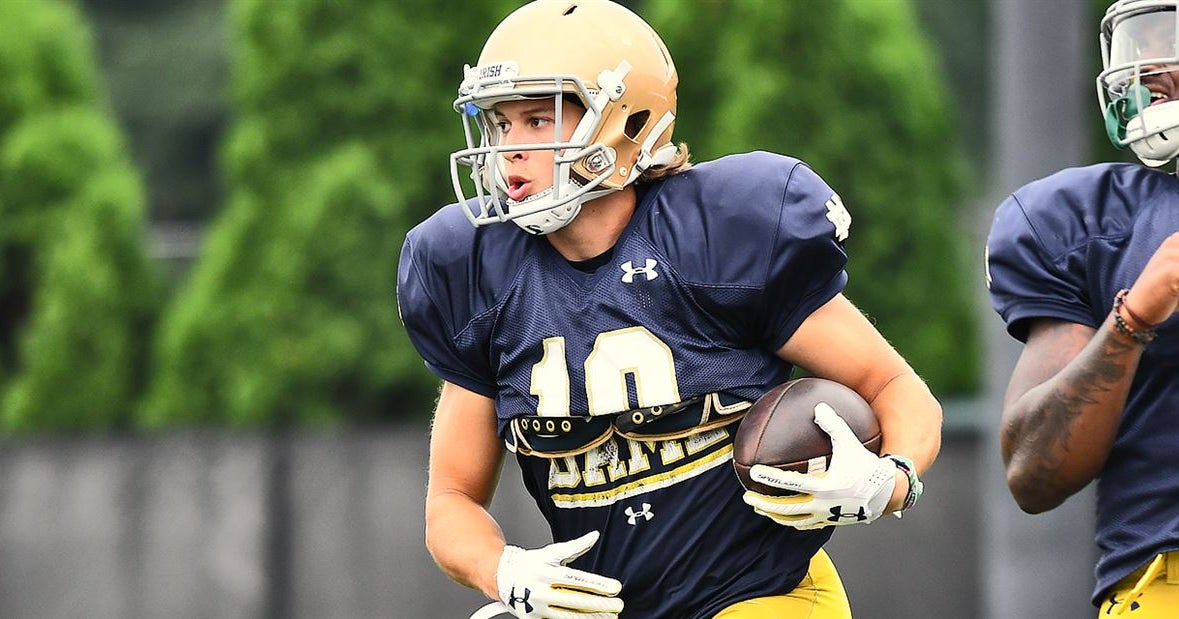 He knew in June-July of 2015 when, as a freshman walk-on, he had success in t-shirt and shorts in players-only practice sessions against the likes of seasoned veteran cornerbacks KeiVarae Russell and Cole Luke.
He knew during his red-shirt freshman season (2016) when he closed the campaign with a 31-yard touchdown reception against Virginia Tech, followed by a four-catch, 53-yard, one-touchdown effort against USC.
He still knew last year as a red-shirt sophomore when he saw his time dwindle as new offensive coordinator Chip Long showed his preference for bigger receivers, including dual tight ends on a unit that rushed for 270 yards per game.
Chris Finke — projected to be Notre Dame's starting Z receiver when the Irish open against Michigan Saturday night – didn't need affirmation on the football field this August to know that a) he's good enough to be a starter for the Fighting Irish and b) he deserves to be the third receiver in a wideout set that includes Miles Boykin and Chase Claypool.
But it's taken four pre-seasons for Finke to get the nod as one of the top three wideouts in the rotation.
Now everybody knows.
"My freshman year, which is probably a little earlier than other people noticed it," said Finke when asked when he knew he could compete at this level at 5-foot-9½ and now a solid 180 pounds. "I felt enough confidence that I would eventually be able to contribute here.
"That first summer, I would get some one-on-one reps against older guys who were on scholarship. I felt like I could hold my own and eventually be able to earn a scholarship and play a role."
Finke earned that scholarship prior to the 2016 season, but an extended role was hard to come by until attrition allowed him to put up most of his 10 catches for 122 yards at the end of the campaign. The arrival of Long's tight-end/big wideout-friendly offense stunted Finke's development last year.
It wasn't until receivers such as Equanimeous St. Brown, Kevin Stepherson, Cam Smith, Freddy Canteen and tight end Durham Smythe moved on before Finke – now one of the oldest and most experienced wideouts on the roster – emerged as a frontrunner.
"I always thought I'd be able to play," said the yes-sir, no-sir Finke. "I would have been disappointed had I come here and never ended up playing."
Finke never considered himself to be the next Rudy story. That would have been much too low of a bar.
And yet anyone other than Finke observing his journey would have looked at it much differently. As a receiver at Archbishop Alter High School in Dayton, Ohio, Finke caught just 12 passes in its triple-option based offensive attack. When the school's most adept passer – future Notre Dame quarterback Malik Zaire – played the position for the Knights, Finke was just a sophomore.
Passes sailing his way during his junior and senior seasons at Archbishop Alter were infrequent. The odds of Finke being invited to walk on at Notre Dame were steep, let alone ultimately starting for the Irish in 2018.
But Zaire was an advocate for Finke with the Irish coaching staff. Nick Coleman – a cornerback/running back prospect out of Archbishop Alter – also was recruited by Notre Dame. When Brian Kelly and defensive line coach Mike Elston came to see Coleman play, Finke caught their attention.
"Coach (Kelly) offered me the opportunity to apply and walk-on, and I did," Finke said. "(Notre Dame) is such a hard school to pass up and such a hard football program to pass up. I had a lot of talks with my parents and my dad (Jim) in particular. He instilled in me that I could come here, not be a Rudy story and eventually play a significant role."
So Finke eschewed some early Division III interest and looked beyond the preferred walk-on status schools such as Miami (Ohio) originally — and eventually Pittsburgh and Wisconsin — offered.
Once Finke decided to go for it at Notre Dame, he had the path he needed. He didn't sit around thinking about how high the odds would be stacked at a good seven-to-eight inches shorter than Notre Dame's best and biggest receivers. He just went for it.
"I've always been an undersized guy, but I don't see it as too much of a hindrance," Finke said. "I've just grown up having to work through that. My speed and quickness help me a lot. I've always had to work a little harder to insert myself into roles being the size that I am."
Finke couldn't control his height, but additional strength was a prerequisite, and his lack of strength contributed to holding him back from 2015-17. Kelly and Long both have commented during August how much stronger Finke has become. Not a big bench press guy per se, Finke has always prided himself on his strength from the hips down. He's taken a big step up in that area since last year.
"We do a lot of high rep, high weight," said Finke, noting his second year coming through the Matt Balis system. "I definitely feel stronger. I feel like I can hold my own a little better, blocking bigger guys going in the box, blocking linebackers and doing the things I'm asked to do in the slot."
Upon the conclusion of the spring semester before the start of summer school – about a three-year window – Finke went to Texas where he stayed with an uncle and trained at a gym called Acceleration Training Concepts in Houston. ATC emphasized running mechanics and the corresponding wide receiver application – getting in and out of breaks quickly.
"Anytime you can have an improvement from where you used to be," said Finke, "it's going to help."
Rather than getting tripped up by the slightest alteration of his stride, Finke stayed on his feet in August, an improvement noted specifically by Long.
For the third straight year, Finke will be at the forefront of Notre Dame's punt return game. He closed the 2017 regular season on the upswing with a 41-yard punt return against Stanford.
"I'm obviously hoping to get more of those," Finke said.
Now that he's at or near the top of the heap as a receiver and return man, Finke won't be looking back.
"I've always told myself to be ready to go whenever and whatever I'm asked to do," Finke said. "I didn't have a lot of catches in high school, but I had someone to base myself off of in Nick Coleman. I practiced against him in high school every day.
"I knew I could compete with him and a lot of the guys in the Dayton area that were getting more looks than I was. I always knew I had it in me. It was just a matter of time until I could prove it, get some opportunities and take advantage of them."
That time is now. That player is Chris Finke.