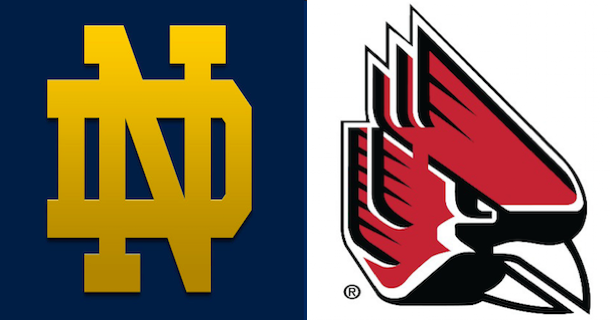 Irish Illustrated will be inside Notre Dame Stadium for this afternoon's game between the No. 8 Notre Dame Fighting Irish and Ball State Cardinals. Kickoff is set for Saturday, Sept. 8 at 3:30 pm ET and will be aired on NBC. 
While you wait, you can check out our STAFF PREDICTIONS and our VIP PREVIEW from Irish Illustrated's Tim Prister. You can also check out the NOTRE DAME VISITOR PREVIEW, which looks at the recruits heading to campus to watch the Fighting Irish in action.
— In THIS THREAD, we will post Live Updates from Saturday's game. Look for candid, honest commentary from our staff.
***The Irish Illustrated team of Tom Loy, Tim Prister, Tim O'Malley, Jack Freeman and Kevin Sinclair is the most experienced group of journalists covering Notre Dame today. And that experience leads to coverage you can trust. We're not going to tell you that everything is all right with the program all the time or that your concerns about the program are unwarranted. We're also not going to dwell strictly on the negatives when there are positives to report. We are dedicated to providing you with the truth about Notre Dame football and recruiting. That is our job. Not all media outlets covering Notre Dame football do that. CLICK HERE to grab a FREE TRIAL to the No. 1 Notre Dame team and recruiting site around!