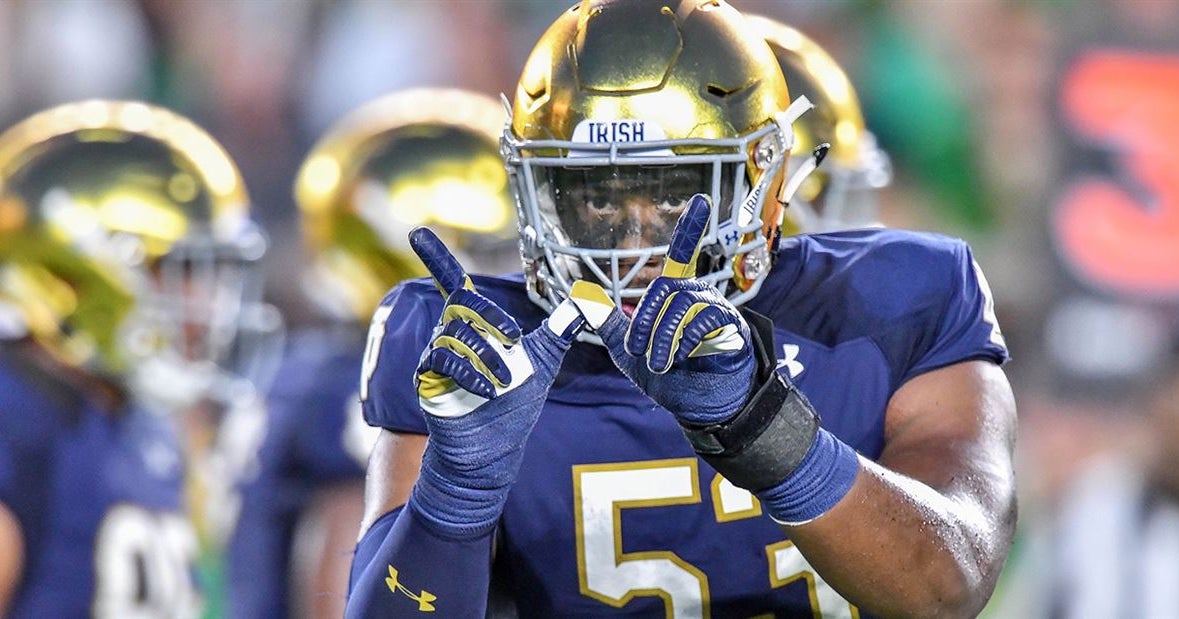 The Notre Dame Fighting Irish are in the driver's seat to the College Football Playoff thanks to Saturday night's win over No. 14 Michigan. At least, that is how the latest ESPN College Football Playoff Predictor breaks things down to the numbers.
The playoff predictor crunches the numbers weekly, and churns out every team's chance of making the playoff, or winning the whole thing. For Notre Dame, the stock is way up after a 24-17 win over Michigan with the College GameDay crew on campus.

The Fighting Irish have a 57 percent chance to make the College Football Playoff, a 32 percent chance to make the finals and a 13 percent chance to win the whole thing. Only Clemson and Alabama have better numbers in ESPN's formula. Clemson also has a 57 percent chance to make the CFP, but has a better chance to advance beyond the qualifying stages, according to ESPN. Oklahoma ranks fourth, leap-frogging Ohio State, Washington and Georgia.
When the original playoff predictor came in preseason, Notre Dame's chances to make the CFP sat at 42 percent with a 10 percent chance to win it all. Only Oklahoma saw a larger jump after week one.
The stock up comes thanks to the win over Michigan, which now has just a 5 percent chance to make the College Football Playoff.
The win brought higher expectations for Notre Dame, as well as some individual accolades. Notre Dame defensive end Khalid Kareem was the Walter Camp National FBS Defensive Player of the Week. He is the seventh Fighting Irish football player to earn this honor since 2004 and fifth along the defensive side of the ball.Kareem totaled nine tackles, 2.5 tackles for loss, two sacks and a forced fumble, which was recovered by the Irish and essentially ended any chance for a comeback by Michigan. As a team, they held the Wolverines to only 58 rushing yards and less than two yards per carry. He was fired up about that effort after the game, but understands that is what is expected at Notre Dame.
"That's pretty solid. I feel that's just something we should expect from our defense, especially our defensive line. We're coming after it every day, just getting better, and going out there to do our job."
There is no time to celebrate, however, as the Fighting Irish are in full game-prep mode for Ball State. The Fighting Irish are 33.5-point favorites against Ball State in a game that kicks off at 3:30 p.m. on NBC. Ball State cruised to victory in week one 42-6 over Central Connecticut State. Starting quarterback Riley Neal led the way with 259 passing yards and two touchdowns, completing 23 of 30 passes. Meanwhile, Notre Dame rides Brandon Wimbush fresh off 170 yards, a touchdown and an interception against the highly-touted Michigan defense.