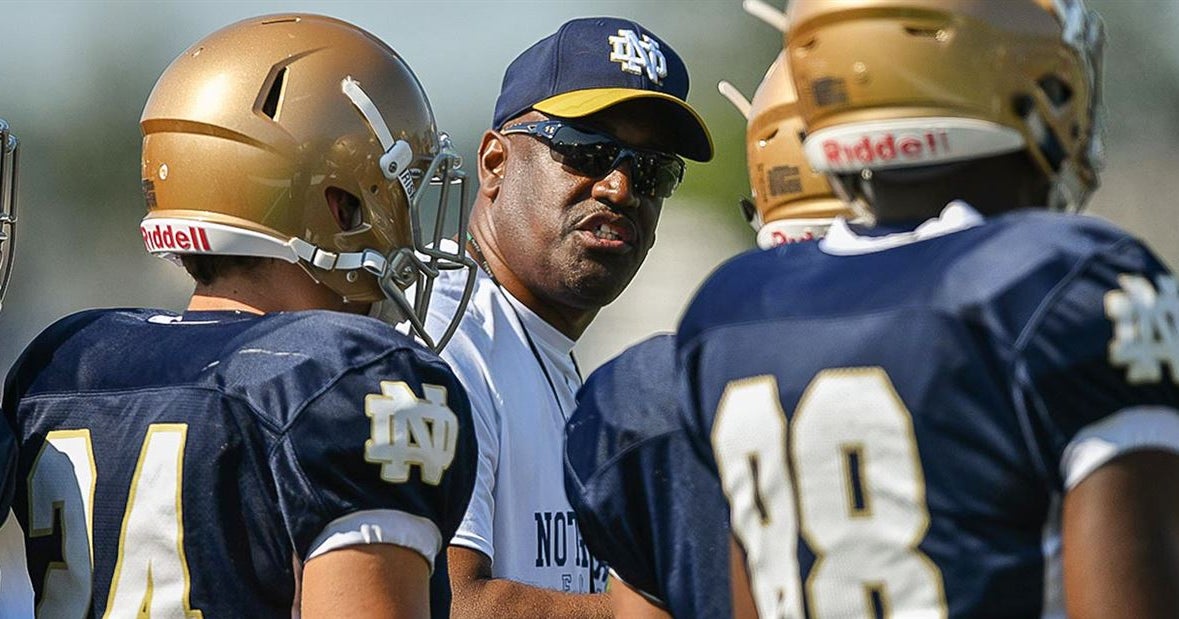 DelVaughn Alexander is heading into year two as the wide receivers coach at Notre Dame. For his players, things are becoming much easier. Alexander recently spoke with Jack Nolan of Fighting Irish Media and was asked about the differences between year one and year two and the comfort level for both him and his group of his receivers.
"It's easy," said Alexander, regarding the difficulty level of getting acclimated to the offense heading into year two. "I think this summer is all about how to do it better. Year one was about how to do it and now it's all about how to do it better. How to go away from this is the base assignment, but how to do that versus the scheme or defense that you're playing."
With the Sept. 1 season-opener against Michigan quickly approaching, there are a lot more question marks related to the Notre Dame offense rather than the defense. How will quarterback Brandon Wimbush perform this fall? How will the receivers look? For Alexander, he believes his unit is ready to take a step forward, which will help Wimbush do the same.
"I think it's a group effort," said Alexander, when asked who stepped up this offseason. "I think the guys that have been here before have really grown and matured, and as you look at the freshmen, they've really taken to the coaching. They understand our offense as well as a freshman can, but there is a number of guys doing well."
Notre Dame has a lot of size at the wide receiver position. Chase Claypool and Miles Boykin are 6-4. Freshmen Micah Jones and Kevin Austin 6-5 and 6-2 respectively. Javon McKinley 6-2. You'll have a few cornerbacks that are that tall, but it's rare. Most are between 5-9 and 6-0. That's a clear advantage for the Fighting Irish this fall.
"The opponent is usually going to be around 5-10, 5-11, 6-0," said Alexander. "But at the same time, we're going to have some guys that are huge and the advantage is being able to throw the ball up and for them to have the chance to make a play."
However, size isn't everything. Notre Dame needs slot guys who can get open in the middle of the field and players with get deep. The smaller receivers, guys in the 5-10 range like Chris Finke, Michael Young and Braden Lenzy, are going to be very impactful as well.
"Well, we're going to be really versatile. We're going to be able to put those guys in the slot, move them outside, we're going to try and create matchups," said Alexander. "So, knowing that we have some big guys and then we have our glue in the slot, we can move them around and make it difficult on the defense."
There are a lot of receivers at Notre Dame with potential. There are plenty of players who will need to step up. A true No. 1 hasn't emerged, although Claypool and Boykin have made a case that they will likely push for that role this fall. However, while a top guy at the position would be nice, it's not completely necessary.
"Well, that's the hope, always to have as much depth as possible," said Alexander. "At the end of the day, there is going to be a number called. It might just be one guy, but as a two or a three, you still have a chance. So, we want to put the best three on the field and make a play."
***The Irish Illustrated team of Tom Loy, Tim Prister, Tim O'Malley, Jack Freeman and Kevin Sinclair is the most experienced group of journalists covering Notre Dame today. And that experience leads to coverage you can trust. We're not going to tell you that everything is all right with the program all the time or that your concerns about the program are unwarranted. We're also not going to dwell strictly on the negatives when there are positives to report. We are dedicated to providing you with the truth about Notre Dame football and recruiting. That is our job. Not all media outlets covering Notre Dame football do that. CLICK HERE to grab a FREE TRIAL to the No. 1 Notre Dame team and recruiting site around!