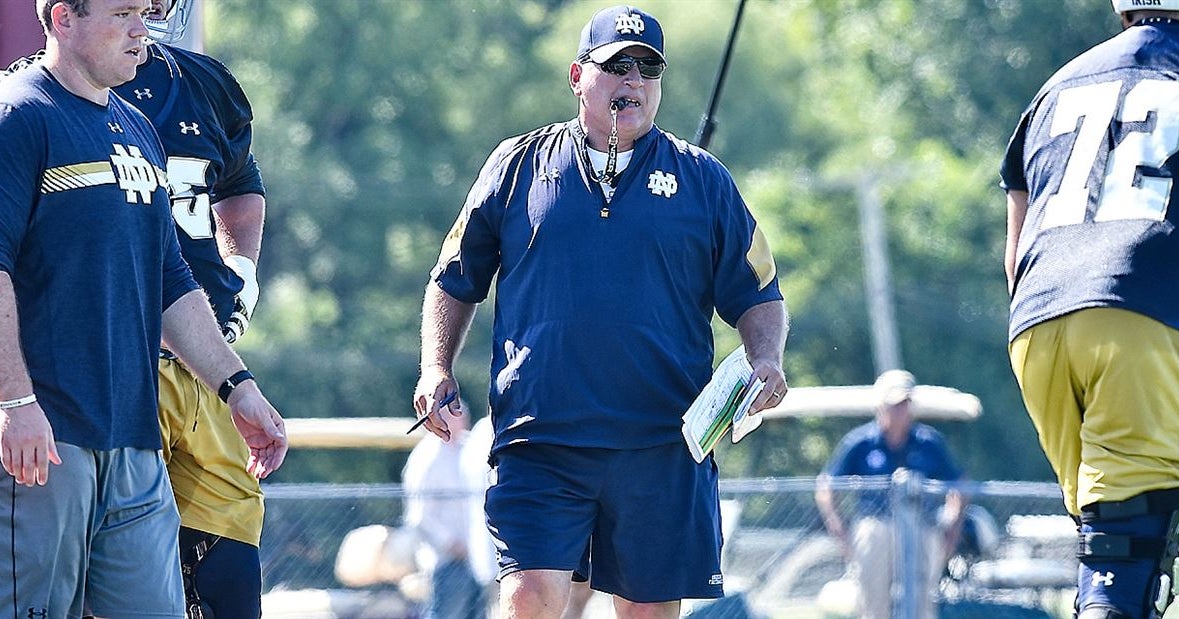 There were a lot of questions when Notre Dame announced Jeff Quinn as the new offensive line coach following the departure of Harry Hiestand, who left to coach the same unit for the Chicago Bears. However, at least on the recruiting trail, those questions were quickly answered, as Quinn put forth a strong effort down the stretch to close out the 2018 class for the Fighting Irish.
With football season quickly approaching, it's time for Quinn and his offensive linemen to quiet more critics when Notre Dame opens this season against Michigan on Sept. 1. Quinn recently spoke with Jack Nolan of Fighting Irish Media and it was brought up that the culture and expectations for the offensive linemen haven't changed under his tutelage.
"I think that's just that Harry and I have the same mentality. We want the same things," said Quinn. "We're fundamentally sound teachers when it comes to coaching the offensive line. That's what we take a great deal of pride in, being great teachers, being encouraged, to motivate our student-athletes, and challenge them to competitive greatness. To be able to do that and carry on that legacy and carry on that tradition is something that I feel so blessed about and respect, and I think our players are picking up on that each and every single day."
This will be Quinn's 26th season as a coach at the collegiate level. With experience as both an assistant coach and a head coach, one thing has remained constant — he always makes sure to spend time focusing on the offensive line. His knowledge will surely help the group currently in South Bend.
"I'm excited for this season. Been the offensive line coach since the spring, gone through a recruiting cycle, and now through summer and now through this fall camp, I really like where we're at," said Quinn. "Those years of experience have served me well, being able to understand and working with coach Kelly, and even working with Chip Long over the last year, it brings a tremendous amount of confidence in understanding what we need to do as an offensive line unit to obviously enable us to be a successful offense."
Although he just "arrived" as the offensive line coach, Quinn has been on Notre Dame's campus as an offensive analyst for the past three years. Although he has coached the offensive line in the past and been around the current roster and staff for a few seasons, there was still a learning curve heading into this year in his new role.
"There's certainly always a learning curve when you bring in a new offensive coordinator like Chip a year ago, brings in a new system, new terms, new ideas and things in terms of structure and schemes," said Quinn. "Obviously a year ago I spent a lot of time watching Harry implement those things that he had to do fundamentally and his influence continues to be present in our program and that's always the case. I feel good about where we are and certainly those three things helped me learn more about Notre Dame and really how special this place is, and why these young men choose to come to Notre Dame, and to be challenged in more than just football, but also academically."
Quinn has his work cut out for him this fall. Not only will he replace one of the best in Hiestand, but he no longer has Quenton Nelson and Mike McGlinchey, who were both taken in the Top 10 of the 2018 NFL Draft. That said, Quinn believes this group is more than ready to meet or exceed expectations this fall.
"Well, just like those guys when they were young players, when Mike McGlinchey first came here and Quenton Nelson, they saw Zack and Nick Martin and Ronnie Stanley, and the traditions that those guys established here. Even previous with Aaron Taylor," said Quinn. "There is a strong sense of importance to what we do every day and those guys know how important it is to carry that tradition on. What I see in that aspect is their effort and their determination and their mindset and their focus every day is delivering their very best, and now we get a chance to put it all together getting ready for Michigan and that is going to be a tremendous challenge for us."
With only nine days remaining until the Fighting Irish and Wolverines meet inside Notre Dame Stadium, Quinn is hoping to see his players take it up a notch in preparation for the rivalry game. At this point, it's all about fine-tuning what they already know, consistency and execution.

"I want to see that consistency where every single call and every single player executes their assignment, and not only who to block but how to block them, and then sustain that effort for the duration of the play," said Quinn. "We talk about competing to the echo of the whistle and to be able to do that sustained effort over the course of four quarters and 60 minutes. That's what I want to see and that's what I continue to emphasize with our offensive line."

***The Irish Illustrated team of Tom Loy, Tim Prister, Tim O'Malley, Jack Freeman and Kevin Sinclair is the most experienced group of journalists covering Notre Dame today. And that experience leads to coverage you can trust. We're not going to tell you that everything is all right with the program all the time or that your concerns about the program are unwarranted. We're also not going to dwell strictly on the negatives when there are positives to report. We are dedicated to providing you with the truth about Notre Dame football and recruiting. That is our job. Not all media outlets covering Notre Dame football do that. CLICK HERE to grab a FREE TRIAL to the No. 1 Notre Dame team and recruiting site around!