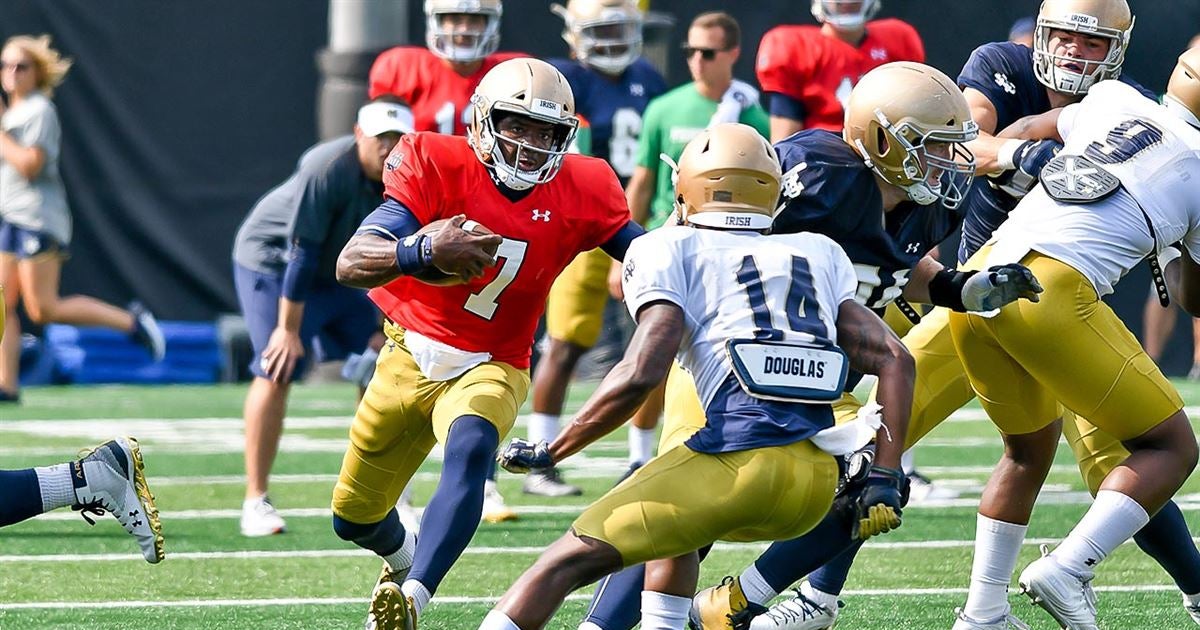 Play every snap right to the whistle. #GoIrish ?? #IrishWearGreen pic.twitter.com/9UfhThvcoM


— Notre Dame Football (@NDFootball) August 19, 2018
Fall camp for Notre Dame football came to an end on Friday. The work is done. Preparation for the 2018 football season is complete. Now it's time for the Fighting Irish football team to focus all of their attention on the season-opening matchup on Sept. 1 with the Michigan Wolverines.
On Sunday, Notre Dame released some footage from the final scrimmage inside Notre Dame Stadium. Here is a look at what took place.
The highlights open up with quarterback Brandon Wimbush throwing a dart to wide receiver Chris Finke.
Safety Patrick Pelini is seen in the following clip making a play on the ball in the air.
The third clip is of safety Nicco Fertitta, who laid a big hit on wide receiver Kevin Austin, which forced a fumble.
Tight end Cole Kmet is seen going up for a miss, but it was safety Devin Studstill who came in to jar the ball loose and force an incompletion.
Quarterback Ian Book connects with wide receiver Kevin Austin in the next clip.
Wide receiver Chase Claypool is seen laying a block on the opposition and nearly de-cleating the defender.
Running back Avery Davis makes a catch, avoids the tackle by linebacker Jeremiah Owusu-Koramoah, and does the same thing to linebacker Asmar Bilal.
Wide receiver Chase Claypool catches a deep ball, as he is being covered by cornerback Troy Pride Jr.
Wide receiver Miles Boykin snags a catch in the end zone over cornerback Julian Love.
Wide receiver Kevin Austin returns to the film and makes another catch, this one just over the outstretched hand of safety Nicco Fertitta.
The final clip is another long catch by wide receiver Chase Claypool, but this time he is seen beating safety Nick Coleman.
***The Irish Illustrated team of Tom Loy, Tim Prister, Tim O'Malley, Jack Freeman and Kevin Sinclair is the most experienced group of journalists covering Notre Dame today. And that experience leads to coverage you can trust. We're not going to tell you that everything is all right with the program all the time or that your concerns about the program are unwarranted. We're also not going to dwell strictly on the negatives when there are positives to report. We are dedicated to providing you with the truth about Notre Dame football and recruiting. That is our job. Not all media outlets covering Notre Dame football do that. CLICK HERE to grab a FREE TRIAL to the No. 1 Notre Dame team and recruiting site around!