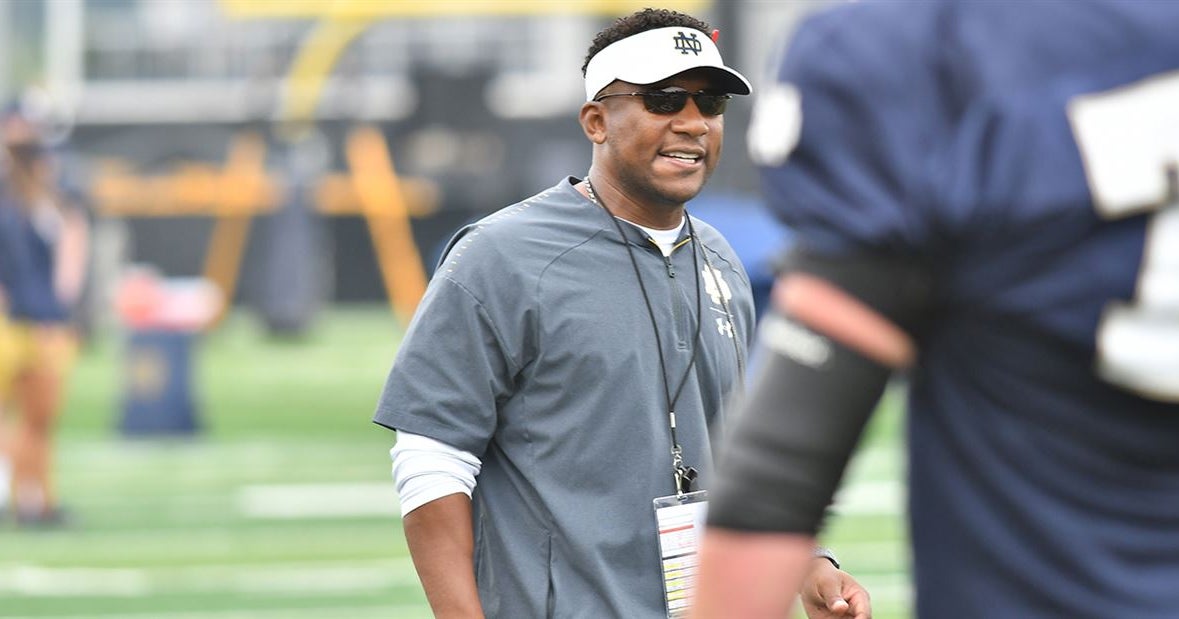 Once considered an area that needed improvement, the Notre Dame safety unit looks to be a strength heading into the 2018 football season. Safeties coach Terry Joseph, who is came over from the University of North Carolina this offseason, has the group playing at a higher level and there is a reason levels of optimism and excitement are high.
Fighting Irish Media's Jack Nolan recently caught up with Joseph and asked him how things have been going for that group this offseason.
"Tremendous progress since the spring. I think you can see the guys really beginning to grasp the concepts that we want them to learn," said Joseph of the safeties. "The competition has been healthy. We have a lot of guys competing for playing time, so I think they are pushing each other and they are learning more every day. So, the big goal right now is to make a new mistake and we've been correcting some of our mistakes and we can see that the progress is making us better."
There are a lot of defensive backs pushing for playing time this fall at Notre Dame. Multiple guys, including a few talented freshmen, will see the field early for the Fighting Irish. However, when asked about the leaders of the unit, Joseph quickly pointed to two guys.
"I think, without a doubt, Jalen Elliott has done a great job. He has that positive energy. The guys look up to him. He's played some snaps, so he understands what's needed to play at a high level. And then Alohi Gilman has come and done a nice job," said Joseph. "Coming off a year where he had to sit out, so he was kind of chomping at the bit to get started. Those two guys have really took control of the group."
There were ups and downs for the Notre Dame secondary in 2017. Through the good and the bad, according to Joseph, that experience will make the players better.
"On the job training is probably the best training," said Joseph. "Again, it's about taking those snaps, learning from our mistakes and now, coming back to a new season with a new coach and understanding what's going to be required."
While Joseph coaches the safeties, it's Todd Lyght coaching the cornerbacks. However, these guys don't do things separately. There is a lot of back and forth between both coaches and their respective units. The fact that everyone meshes well, players and coaches alike, makes for a close knit group.
"It's been awesome," said Joseph, when asked about his relationship with Lyght since arriving in South Bend. "A guy who has a resume like Todd, you're just happy to be around him. He's a guy who has great knowledge, he's played at the highest level, he's won a championship in college and in the pros, so it's been great.
"You're seeing so many spread offenses now, so again, everybody has to be on the same page," said Joseph, about the fact that safeties and cornerbacks spend so much time working together. "But again, having two coaches back there really allows us to specialize in each position. We do a lot of group work together because we have to communicate, know where each other is going to be because we need to put each other in position to make plays."
***The Irish Illustrated team of Tom Loy, Tim Prister, Tim O'Malley, Jack Freeman and Kevin Sinclair is the most experienced group of journalists covering Notre Dame today. And that experience leads to coverage you can trust. We're not going to tell you that everything is all right with the program all the time or that your concerns about the program are unwarranted. We're also not going to dwell strictly on the negatives when there are positives to report. We are dedicated to providing you with the truth about Notre Dame football and recruiting. That is our job. Not all media outlets covering Notre Dame football do that. CLICK HERE to grab a FREE TRIAL to the No. 1 Notre Dame team and recruiting site around!