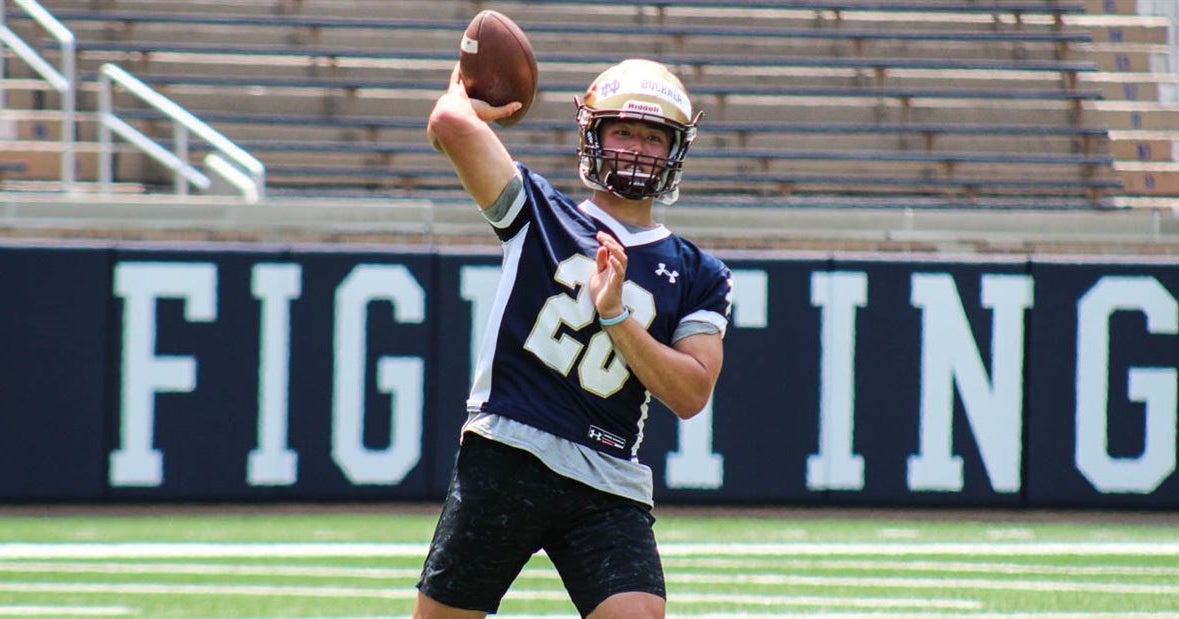 247Sports released the first edition of its Top100 rankings for the class of 2021. National Director of Scouting Barton Simmons shared a ton of insight regarding the rankings, why certain prospects were listed, and where things stand with those recruitments.
Notre Dame has already offered five class of 2021 prospects and saw four of those recruits make the initial Top100 from 247Sports. Irish Illustrated brings you a quick update on where each of those targets landed on the list.
Following an offseason throwing session at his high school in front of quarterbacks coach Tommy Rees, Dallas (Texas) Parish Episcopal School five-star quarterback Preston Stone landed his Notre Dame offer. The 6-2, 185-pounder is ranked as the No. 6 overall recruit in the country, No. 1 dual-threat quarterback in the nation and No. 1 prospect in Texas. Along with Notre Dame, Stone holds offers from Alabama, Auburn, Florida, Tennessee and many others nationally.
La Jolla (Calif.) The Bishop's School four-star quarterback Tyler Buchner picked up his offer from Notre Dame during his visit for one of Notre Dame's summer camps. The 6-2, 200-pounder checks in at No. 49 overall nationally, No. 2 pro-style quarterback in the country and No. 2 prospect in California. In addition to Notre Dame, Buchner holds offers from Alabama, Arizona, Arizona State, Georgia, Oregon, USC and many others across the country.
Olney (Md.) Good Counsel five-star offensive tackle Landon Tengwall is the latest class of 2020 recruit to add an offer from the Fighting Irish. The 6-6, 300-pounder is listed as the No. 39 overall recruit in the country, No. 9 offensive tackle in the land and No. 1 prospect from the state of Maryland. Along with the Fighting Irish, Tengwall holds offers from Alabama, Auburn, Georgia, Miami, Penn State and others.
Carrollton (Ga.) high school four-star linebacker Chaz Chambliss received a very early offer from Notre Dame. The 6-3, 220-pounder is listed in the initial rankings as the No. 75 overall prospect in the country, No. 2 outside linebacker in the country and No. 8 player in Georgia. In addition to Notre Dame, Chambliss has picked up offers from Alabama, Clemson, Florida, Georgia, Nebraska, North Carolina State and many others.
Pickerington (Ohio) Central wide receiver Lorenzo Styles Jr. secured his Notre Dame offer, like Buchner, following his visit to South Bend for a Fighting Irish Elite Skills Camp over the summer. The 6-1, 170-pounder did not find himself among the Top100 prospects ranked by 247Sports, but with a good sophomore season, that could change quickly. Boston College, Notre Dame and Vanderbilt are the three schools that have offered Styles to this point.
***The Irish Illustrated team of Tom Loy, Tim Prister, Tim O'Malley, Jack Freeman and Kevin Sinclair is the most experienced group of journalists covering Notre Dame today. And that experience leads to coverage you can trust. We're not going to tell you that everything is all right with the program all the time or that your concerns about the program are unwarranted. We're also not going to dwell strictly on the negatives when there are positives to report. We are dedicated to providing you with the truth about Notre Dame football and recruiting. That is our job. Not all media outlets covering Notre Dame football do that. CLICK HERE to grab a FREE TRIAL to the No. 1 Notre Dame team and recruiting site around!