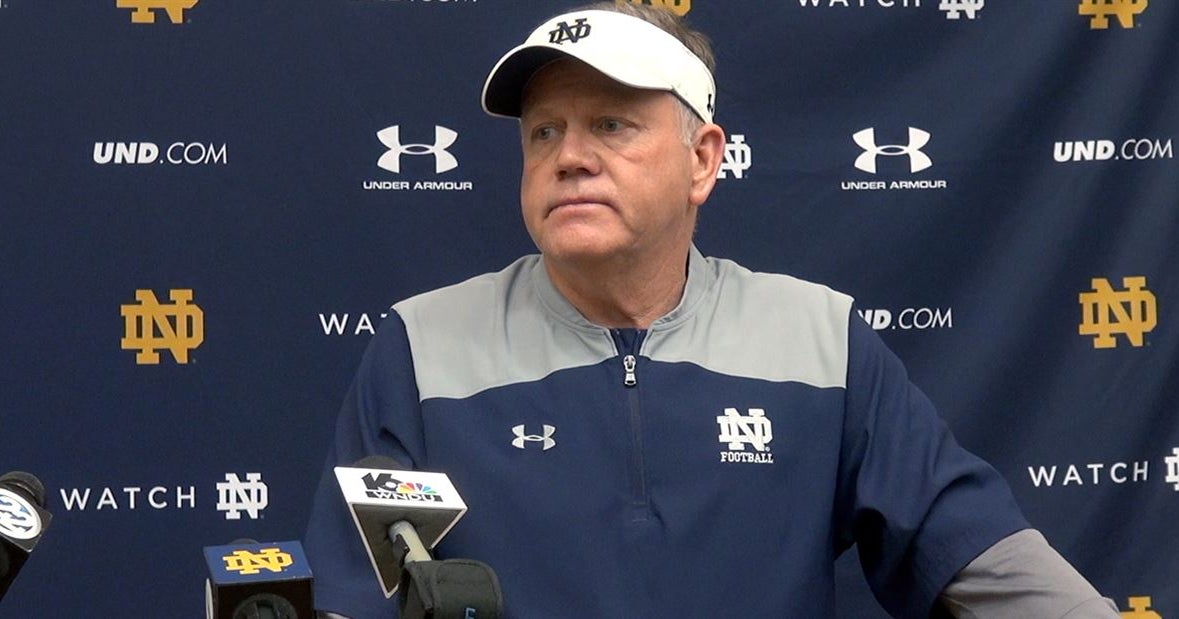 Fox Sports analyst Joel Klatt has been previewing the upcoming 2018 college football season. Every day he reveals a new team, as he continues his countdown of the Top 25 programs.
On Sunday, Klatt revealed No. 11, which was the Notre Dame Fighting Irish.
"Now, Brian Kelly is in his ninth year. But you're thinking to yourself, 'Wow, it's already been nine years.' Did you know that only four coaches in Notre Dame history have been there longer than Brian Kelly? All four of those coaches won a National Championship at Notre Dame," said Klatt. "Brian Kelly played for a National Championship, but he has yet to get up into that echelon where he is competing with the likes of Alabama and Clemson and Georgia and Ohio State. This year, probably not the year that they do that. They're a very good team, but they've got to recoup a lot of holes, in particular on the offensive line. It won't be easy to replace Mike McGlinchey and Quenton Nelson off the offensive line, but remember, it is year nine. So, after all of that recruiting, you should have talent to plug and play. The big question for me is the play of their quarterback Brandon Wimbush. At times he was brilliant last year and then at times, he looked a bit lost. So, consistency is the name of the game for Wimbush. The schedule is difficult. Notre Dame plays one of the more difficult schedules in the entire country. You've got Michigan, Stanford, Virginia Tech, Florida State, USC. It starts to like like 10 wins would be a great season. Probably looking more like nine or eight wins in South Bend."
The Fighting Irish open the season against the Michigan Wolverines inside Notre Dame Stadium on Sept. 1.
With Klatt's Top 10 coming shortly, here is a full look at numbers 11 through 25.
11) Notre Dame
12) Stanford
13) Penn State
14) Texas
15) Florida State
16) Auburn
17) USC
18) TCU
19) West Virginia
20) Oregon
21) Boise State
22) Florida
23) Utah
24) Florida Atlantic
25) Kansas State
***The Irish Illustrated team of Tom Loy, Tim Prister, Tim O'Malley, Jack Freeman and Kevin Sinclair is the most experienced group of journalists covering Notre Dame today. And that experience leads to coverage you can trust. We're not going to tell you that everything is all right with the program all the time or that your concerns about the program are unwarranted. We're also not going to dwell strictly on the negatives when there are positives to report. We are dedicated to providing you with the truth about Notre Dame football and recruiting. That is our job. Not all media outlets covering Notre Dame football do that. CLICK HERE to grab a FREE TRIAL to the No. 1 Notre Dame team and recruiting site around!