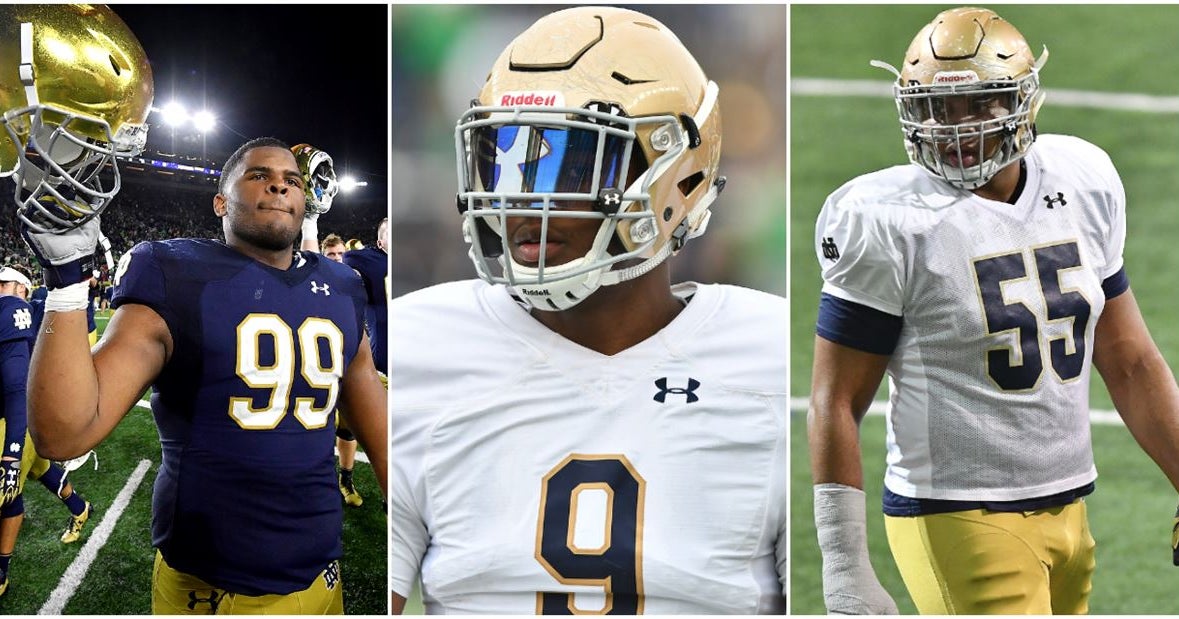 The Notre Dame defensive line is a lot more loaded these days than in years past. Defensive line coach Mike Elston has done a terrific job on the recruiting trail and has made sure that the cupboard isn't bare.
With guys like Jerry Tillery, Jonathan Bonner, Daelin Hayes, Khalid Kareem, Kurt Hinish, Julian Okwara, Jamir Jones, Micah Dew-Treadway, Myron Tagovailoa-Amosa, Adetokunbo Ogundeji and many others all vying for playing time, it's not going to easy or necessarily fun for Elston, as he tries to manage this roster and get multiple guys on the field this fall. That said, according to Elston, if you deserve to play and you work hard enough, you'll see the field early and often.
"I think it's however many guys are deserving, number one," said Elston, when asked about how he manages playing time with so many game-ready linemen. "You build depth, number one, up front. A Jerry Tillery can't play 80 plays in a game. He just can't do it. You have to throw 14 games a year at him and you can't do that either. You've got to be building the depth to take reps off of him, so that when it's time that you need him, he's there. You're trying to build depth doing that for repetition sake for taking volume off somebody, but you're also trying to build depth and get guys on the field to reward them. They don't want to stand on the sidelines the whole game. They are preparing for the University of Michigan to play them. They want to get out there and perform. So, you want to try and put them in positions to be successful and you're rewarding them also. We'll do a little bit of that, so it may not be a shocker if we play eight or nine guys in the first game just to reward them for the work they've done. They've worked their tail off. At the end of the day, when it comes time that we need a stop and we need these situations, you're going to see the first group go out and perform."
Notre Dame added a few more defensive linemen in the 2018 class as well. This is going to be a hard group of prospects not to put on the field early. With the additions of four-star defensive tackle and Army All-American Jayson Ademilola, three-star defensive end Justin Ademilola, and three-star defensive tackle Ja'Mion Franklin, who participated in The Opening Finals, an invite-only camp, during the summer before his senior season, Elston's group is even stronger heading into this season.
"You're getting ready, three-deep, at each position and two of the freshmen are involved in that, Justin and Jayson and Jayson," said Elston. "You can move guys around up front with guys that have been here long enough. Jamir can play both positions at the end. Ade can play both positions at the end and the drop. Julian can go over and play end. You wouldn't need to put a freshman in if he wasn't ready, but Justin just learns the system so well and he's done a really nice job and he's a pretty physical player. He's got a lot to learn technically. It's not going to be challenging for them to crack the lineup, but we may not need them to crack the lineup too much if we stay healthy, but like I said, we're building that depth that if you do have something happen and you have to run him out there because of an injury, he'll be ready for that."
The Fighting Irish open the season against the Michigan Wolverines on Sept. 1 inside Notre Dame Stadium.