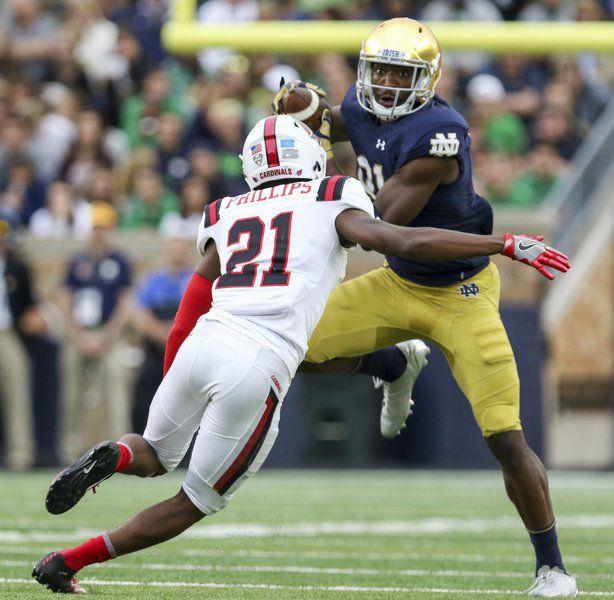 SOUTH BEND — It was a little too close for comfort for the No. 8 Notre Dame Fighting Irish football team Saturday, but they were able to escape with a 24-16 victory over Ball State at Notre Dame Stadium.
The Cardinals controlled the pace of play for the majority of the game, running 97 plays in the contest. Despite running 25 more plays than the Fighting Irish, Notre Dame still outgained Ball State 414-349.
"I thought Ball State did a great job of coming into this game and doing exactly what they needed to do," Notre Dame head coach Brian Kelly said. "They possessed the football, they ate up clock. They did the things necessary to be in a position to compete."
It was another big game for the Notre Dame defense, specifically safety Jalen Elliott. The junior intercepted two Riley Neal passes, one in the second quarter and the other in the third. It was the first interception for an Irish safety in more than a year.
"On the first one, I had a great play by Nick Coleman. Great play on the slant, got his hand in there, he tipped the ball out and I was just standing there in the right place in the right time," Elliott said. "The second one, I was just helping over the top and was trying to make a play on the ball. You hope, with the game plan, to go out and make plays. Our coaches put us in great positions."
Not only did Elliott get the two interceptions, but Notre Dame was immediately able to capitalize off the turnovers. On the first play after Elliott's first interception, Irish running back Tony Jones scampered 31 yards to the end zone for a touchdown, making it a 14-3 Notre Dame lead at the time.
After Elliott's second pick, the Irish put together another scoring drive, capped off by another Jones touchdown, this one a one-yard rushing score. Notre Dame led 21-6 after Jones' second touchdown.
The 14 Notre Dame points after turnovers proved to be pivotal in the game's outcome.
"He had a great game. One of the things needed for him to grow was tracking the ball, coming down with it, all of those types of things," Kelly said of Elliott's performance. "We did need some help, obviously. We needed those interceptions, and we cashed them in for scores."
Just like week one against Michigan, Notre Dame got off to a quick start. A 27-yard completion from Brandon Wimbush to Chris Finke, followed by a 42-yard run from Jafar Armstrong, gave the Irish a first and goal from the Cardinals' five-yard line.
Three plays later, Ian Book handed it off to Armstrong for the one-yard touchdown run, Armstrong's third rushing score of the season. Notre Dame led 7-0 under two minutes into the game.
Ball State countered with a long scoring drive of its own, going 19 plays and more than six minutes before settling for a field goal to make it a 7-3 Irish lead.
Ball State's lone touchdown came early in the fourth quarter when Nolan Givan hauled in a 10-yard touchdown pass from Neal. The Cardinals quarterback finished 23-50 passing for 180 yards, the touchdown and two interceptions.
As for the Irish quarterback, it was an up-and-down day for Wimbush. The senior had 297 yards passing, a new career high, but threw three interceptions in the process.
"You want to perform better. You want to perform to the Notre Dame standard. We hold ourselves to a high standard. Coach Kelly and the rest of the coaching staff emphasizes that to us every day," Wimbush said. "I don't give myself an 'A' or 'B.' I'd probably go 'D,' 'D+'. Can't be throwing three interceptions. Confidence wise, I'm never going to lack confidence. But, I need to be better."
Where Notre Dame capitalized on its turnovers, Ball State did not. The Cardinals could not turn any of the Wimbush interceptions into points.
Although it wasn't how the Irish drew it up, they still improved to 2-0 on the season. They will complete a three-game homestand when they welcome Vanderbilt to Notre Dame Stadium next Saturday.
"Winning for us is the goal each and every week, and we accomplished that," Kelly said. "First of all, we have to coach better. We have to prepare our football team better, and that starts with me. Our players have to bring a little more energy to the game. That's on them, they know that. We're happy to win, but I have to prepare my team better and our guys have to come in with more energy to a game like this."
Austin Hough can be reached at [email protected] or 574-533-2151, ext. 325. Follow Austin on Twitter @AustinHoughTGN