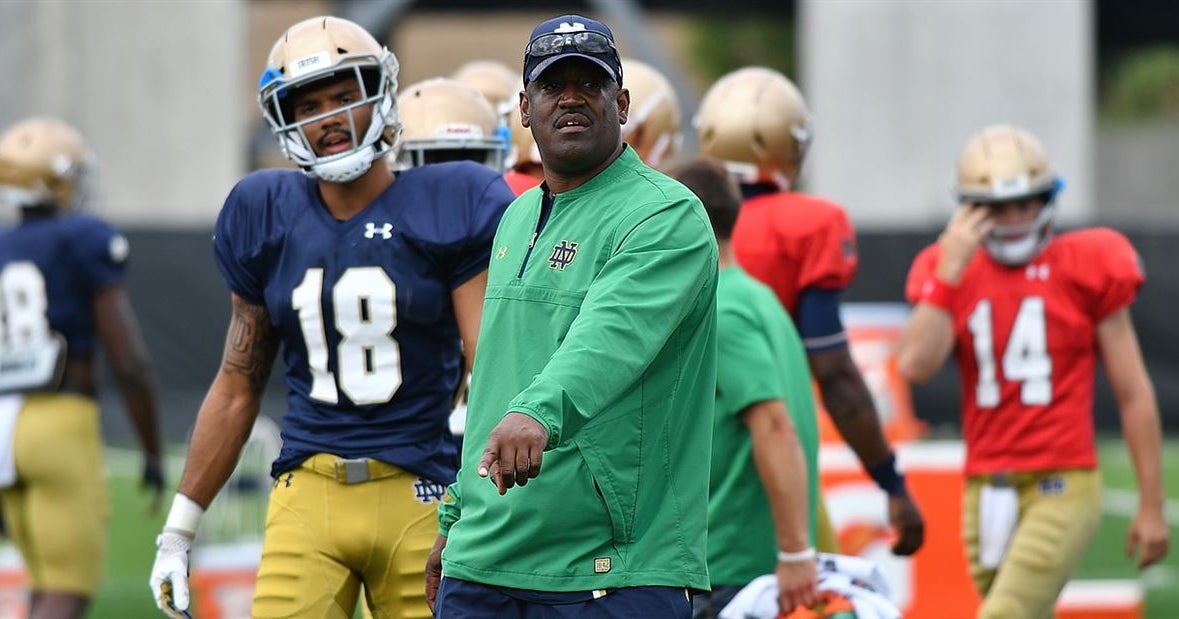 Notre Dame wide receivers coach DelVaughn Alexander has coached and recruited some very good players in the past. According to the Fighting Irish assistant coach, he has two more that he'll eventually add to that list in time.
Everyone knows about former four-star wide receiver and now Notre Dame freshman Kevin Austin. He was one of the top-ranked players at his position and his offer list was one of the best in the country. Former three-star athlete Joe Wilkins was set to play cornerback when he arrived in South Bend, but quickly transitioned to wide receiver. He worked out on both sides of the ball during summer camp and the coaches couldn't resist keeping on offense.
"We did some things when he first got here in the summer and we looked at him on both sides of the ball," said Alexander of Wilkins. "We told him it was wide open at wide receiver and it just stuck. He's a guy that plays fast, can catch the ball, doesn't hesitate. He's a player. There weren't any formal conversations about the move, we just took a look. He's making noise being there now."
For Austin, so far so good. He has been everything the Fighting Irish coaching staff has hoped for and potentially even more. He's going to be hard to keep off the field this fall.
"He's done great," said Alexander. "He's been like a lot of the guys. He's practicing hard, he's learning a lot. Now he's starting to come into his own. They have to bring tired legs. Here were are, late in practice, and you're still seeing him show up."
Head coach Brian Kelly has been praising certain players for their effort and ability to go all practice long. Running back Jafar Armstrong is constantly mentioned. For Alexander, he doesn't necessarily have one guy that fits that criteria due to the fact that it's difficult at the wide receiver position. That said, he loves the effort and energy of his entire group.
"It's hard to be long-lasting in what we do. I think the key is being smart when it comes to keeping guys fresh. Coach Kelly is dynamic as a head coach when it comes to the science behind recovery and where they are with the science that we use, so we are always aware with what they did the day before and what we can get out of them the next day. So, in terms of a guy being able to go all day, it's a little hard to do. The key is to make sure a guy isn't running to post routes in a row or looking at the rep count going into practice and knowing what a guy's load is going to be. If I can do that, if I can manage that, I can get a guy that can go all day with each of his reps."
On the recruiting trail, Alexander has already played a role in securing one commit from the 2019 class in three-star wide receiver Cam Hart. He has his eyes set on landing one more player at the position this cycle. For him, it's much more about fit than just talent. He can coach a player to become great, but you can't force a kid to fit in at Notre Dame.
"I think, especially where we, they definitely have to fit here," said Alexander. "Especially going into season two here, I have to understand their makeup and have a clue if they are going to make it here. I have to know what substance is in these young men. As far as talent goes, you always want them to run, you always want them to catch, and you always want them to be smart football players, but a lot of players have those athletic attributes. In terms of being smart and being able to fit the Notre Dame profile, there is a little bit extra that you have to uncover in a player."