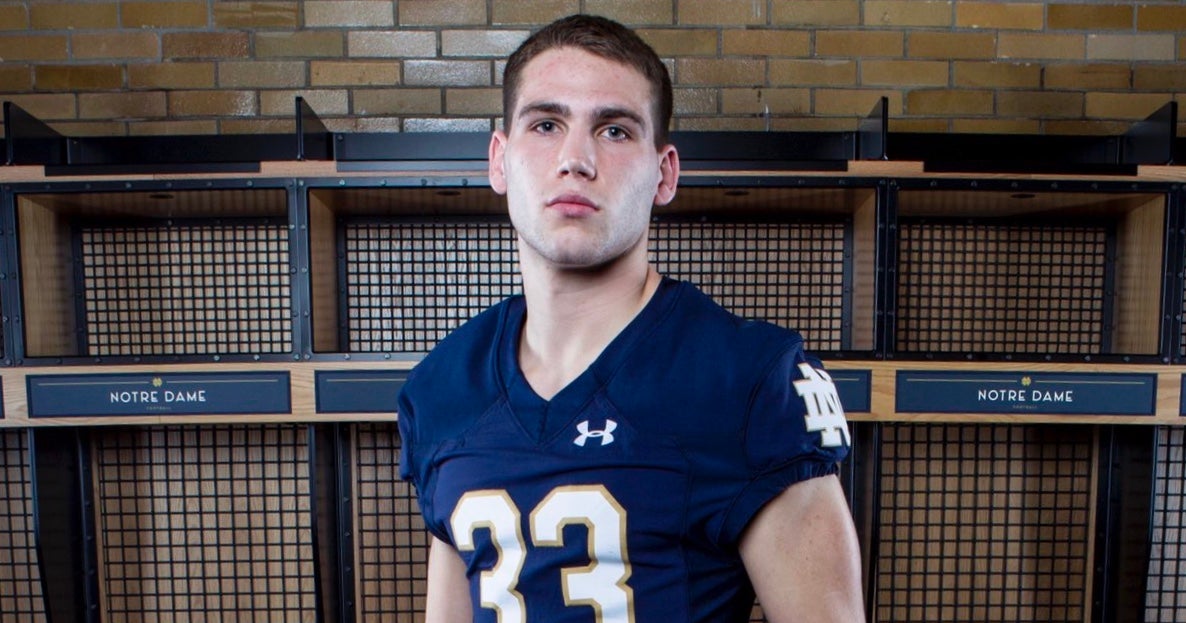 Following last week's 44-0 win by Royal Center (Ind.) Pioneer and Notre Dame linebacker commit Jack Kiser, the group returned to the field on Friday in hopes of keeping the shutout streak alive. The Panthers, led by the future Fighting Irish linebacker, was able to do exactly that with a 76-0 victory.
Kiser, a three-star prospect according to the 247Sports Composite Rankings, was unsure about the amount of tackles he had, but did have an interception during the game. On offense, as he is also the team's quarterback, Kiser was able to complete all three of his passes for 37 yards and a touchdown. He also ran for 61 yards and another score. As a junior, Kiser completed 68 of 103 passes for 1,193 yards and 16 scores and only 2 interceptions. He also totaled 100 tackles, 7.5 tackles for loss and 8 interceptions. He's looking to improve on those numbers this fall. So far, so good.
One of the top overall players in the state of Indiana, Kiser committed to Notre Dame back on June 12 over offers from Duke, Indiana, Iowa, Michigan State, Minnesota, Nebraska and Purdue. With his commitment behind him, he is solely focused on a run at a state title with his brothers at Pioneer.
"It's special," said Kiser, who is excited about the potential for a big final season for Pioneer. "I have a great group of seniors that have been through it all with me since 3rd grade. It's crazy to think that we only have a few Friday nights left. So, I'm just trying to soak it on in. I'm definitely excited to be heading to South Bend, but I'm focused on making the most of my senior season."
After things wrap up at the high school level, Kiser will head to Notre Dame. However, he's not sure whether that will be in January as an early enrollee or in June with the majority of his class. He'll decide on that soon. That said, he'll be a regular in South Bend at just about every Fighting Irish home game this fall.
"I'm actually planning on going to very home game I can, starting with Michigan this Saturday," said Kiser. "As far as my expectations, I believe that this defense is going to take another step or two up from last year with coach Lea. He's going to have them ready for everything and I'm excited to see how the experienced linebackers will lead the defense. This defense is going to be fun to watch to go along with the big-play offense."
Kiser and Pioneer return to action this Friday night on the road against Lakeville (Ind.) LaVille high school. The Lancers are 1-1 on the season.
***The Irish Illustrated team of Tom Loy, Tim Prister, Tim O'Malley, Jack Freeman and Kevin Sinclair is the most experienced group of journalists covering Notre Dame today. And that experience leads to coverage you can trust. We're not going to tell you that everything is all right with the program all the time or that your concerns about the program are unwarranted. We're also not going to dwell strictly on the negatives when there are positives to report. We are dedicated to providing you with the truth about Notre Dame football and recruiting. That is our job. Not all media outlets covering Notre Dame football do that. CLICK HERE to grab a FREE TRIAL to the No. 1 Notre Dame team and recruiting site around!