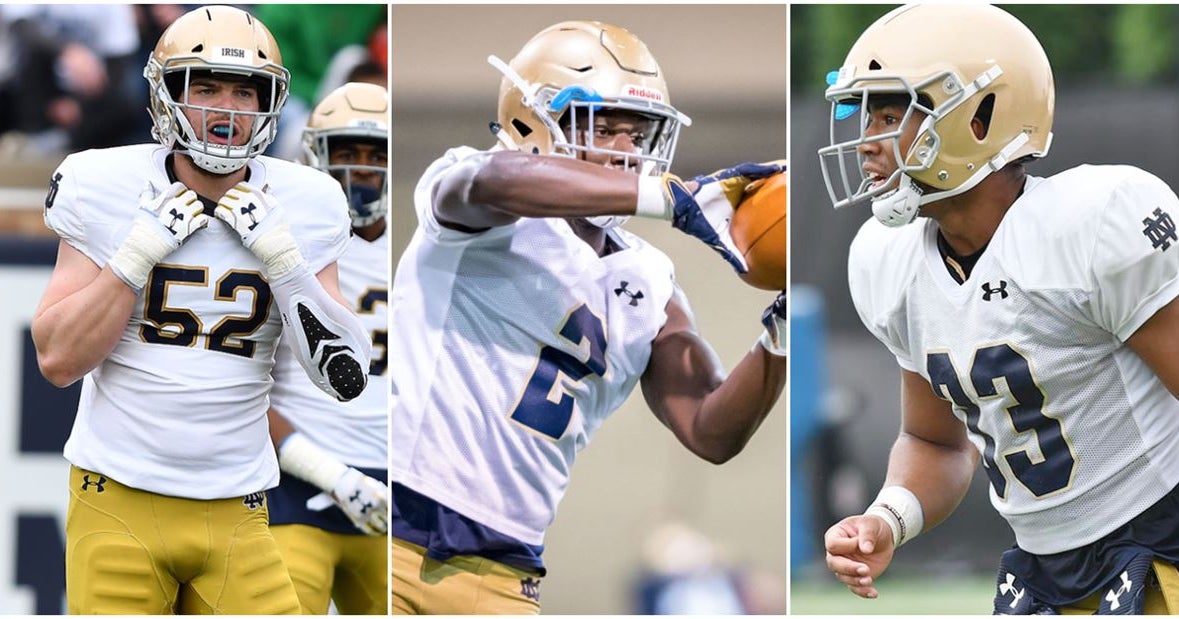 In a perfect world, Notre Dame Mike linebacker Te'von  Coney and Buck linebacker Drue Tranquill will play every meaningful, significant defensive snap for the Irish in 2018.
Red-shirt junior Asmar Bilal, who is fighting for the starting spot at Rover, has two years left and is the leading candidate to win his competition.
But when the page is turned – Coney and Tranquill are in their final years of eligibility – waiting and developing in the wings will be freshman Mike linebacker Bo Bauer and sophomore Buck linebacker Jordan Genmark Heath while freshman Rover Shayne Simon looks to be in line to share reps with Bilal.
Ultimately, freshman Jack Lamb is expected to make a strong contribution as well, likely at Buck but perhaps elsewhere with his versatility. Ovie Oghoufo has worked at the end of a rather lengthy line at Rover. A hamstring issue has slowed Red-shirt freshman Rover Jeremiah Owusu-Koramoah. Red-shirt sophomore Jonathan Jones is in a battle with Bauer for No. 2 reps at Mike.
Defensive coordinator/linebackers coach Clark Lea is overseeing the process. The present and the future look bright, beginning with Genmark Heath, who made five of his 16 tackles as a freshman safety in 2017 in the Citrus Bowl before converting to Buck late in the spring.
"Jordan is so young in his career, and truthfully, the first time the conversation (about moving to Buck) was brought up was towards the end of spring," Lea said. "So that's challenging. It's not just about understanding the X's and O's and the lines and where do I go and where do I fit.
"It's a totally different movement and skillset. It's a totally different point of attack skillset. He's at times looked really natural during fall camp and at other times he's looked like a guy who is still processing and learning.
"What we're seeing lately as the install has died down is his physical traits taking over. He's learning and growing. I've been pleased with his progress. That's a guy that from this point 'til the bowl game, he will continue to evolve as the season goes."
A guy like Tranquill is the exception to the rule when it comes to positional transition. He made the move from safety to Rover look easy by making 85 tackles and 10½ tackles for loss in '17. He'll likely make it look just as easy at Buck in '18.
"Any positional move is difficult," Lea said. "It's a little easier when you're Drue Tranquill and you've had a wealth of experience. His depth of football knowledge allowed him to flourish at a new position last year and I believe it will allow him to flourish at a new position this year.
"But Jordan has come a really long way. He's still just reaching double digits in terms of the number of practices (at Buck). He'll be a guy that through the season will continue to evolve and get better. I expect his best football to be in November as the game has slowed down for him."
Simon's extended playing time likely will come before Genmark Heath's as he splits duties with Bilal. Lea wishes he could have had Simon in the spring as he did with early-entry freshmen linebackers Bauer, Lamb and Oghoufo.
"The extra time is a huge advantage for those guys because you inevitably hit a wall, and if you're able to hit that wall in the winter or spring and get beyond it, the next time you go through the cycle, you're just a little fresher," Lea said.
Still, Simon has taken the bend out of the learning curve in a little more than two weeks of pre-season practice.
"Shane is a pro," Lea said. "He's got a ways to go as a football player, just like any freshman would. But the one thing I don't question is his approach and his mindset. I've been really proud of him. He's stepped up into a prominent role this fall camp and he hasn't blinked.
"I've not once looked out there and said, 'He's overwhelmed.' I've looked out there and said, 'I can't wait 'til he gets really comfortable so he can trigger' because there's still a little bit of process involved."
After the first day of camp, Brian Kelly offered significant praise for Bauer, who, like Genmark Heath behind Tranquill, will have to wait his turn behind Coney.
"His mentality, his work ethic, the way he attacks things both in the classroom (and on the field) has been extremely impressive," said Kelly of Bauer.