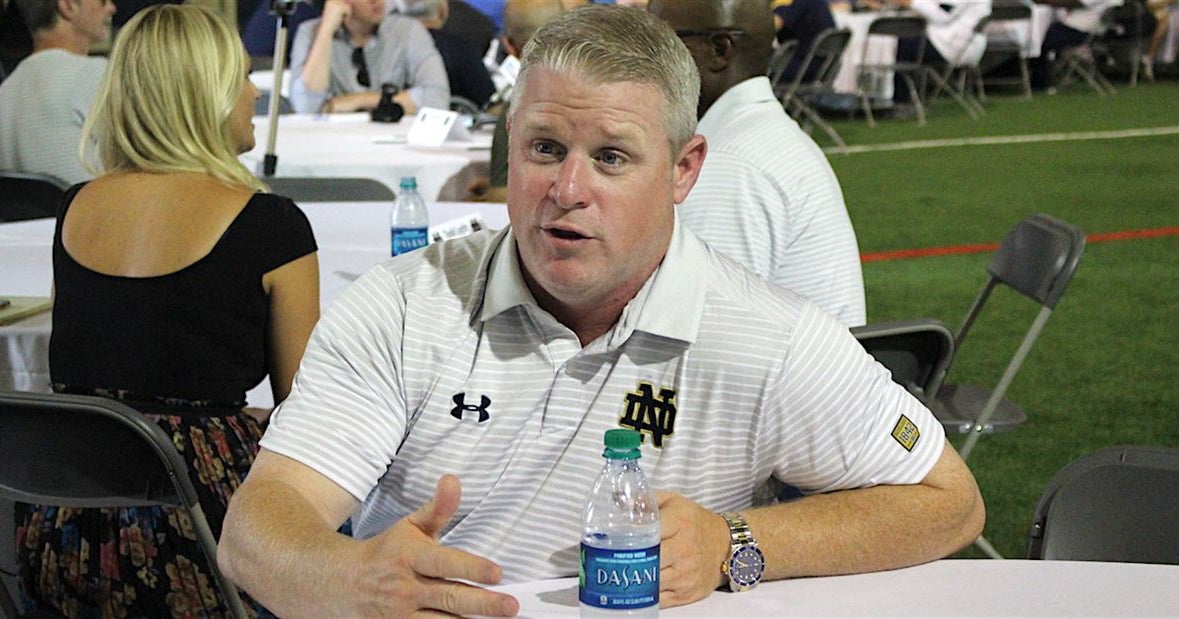 Notre Dame special teams coordinator and recruiting coordinator Brian Polian is extremely familiar with the Fighting Irish. Although he is heading into year two in those roles, this is actually his second time coaching in South Bend. Polian was an assistant from 2005 to 2009 before making stops at Stanford and Texas A&M, and then becoming the head coach at Nevada.
Polian has always had a great appreciation for Notre Dame, but after being elsewhere for a few years and even holding a head coach role, he has a greater appreciation for all that this university and football program entails.

"I think the first thing was leaving Notre Dame, being other places, and then coming back. You have a better appreciation for how special it is, how unique it is, and how really enjoyable it is to coach the type of young men that we get to coach and recruit," said Polian in a recent interview with Fighting Irish Media's Jack Nolan. "The other thing is that I have a more global perspective now. I have been in charge of all 105. I understand how recruiting affects all of it. I understand how the amount of reps we are putting on guys affects the team in general. I just think I see it more clearly now and I can better serve the head coach because I have an idea of what he is looking at and hopefully I can be able to head off some problems before they arrive on his desk. I would like to be a head coach again, there is no doubt. I don't think that chapter in my story is over yet, but in the here and now, I absolutely am thrilled to be back here and want to do everything I can to help us win and to help make coach Kelly's life easier."

Although he would like to become a head coach again in the future, Polian is locked in on helping this Notre Dame team win a National Championship. The special teams unit, led by kicker Justin Yoon and punter Tyler Newsome, two of the nation's best respectively, took a step forward last year and is expected to do that again this fall. However, Polian isn't just hoping to play mistake-free football, but rather become a unit that actually makes plays this year.

"We want to be mistake-free. We want to stop making the plays that cause you to lose. I felt like we did that last year," said Polian." Our return-against-average on kickoff wasn't awesome. It was in the middle of the pack, but the reality of it is that we didn't let a long one go back on us. The average was 22 and change. The next step for us now is to start making plays that win games and to start making bigger plays in games. To a certain degree, we've stopped the bleeding. Now we need to turn around and take more of an offensive mindset. We've been very open about that with the team. Last year we had to just stop making these gigantic mistakes that we're setting our team behind the eight ball. This year, we need to move forward now and start making those big plays."
***The Irish Illustrated team of Tom Loy, Tim Prister, Tim O'Malley, Jack Freeman and Kevin Sinclair is the most experienced group of journalists covering Notre Dame today. And that experience leads to coverage you can trust. We're not going to tell you that everything is all right with the program all the time or that your concerns about the program are unwarranted. We're also not going to dwell strictly on the negatives when there are positives to report. We are dedicated to providing you with the truth about Notre Dame football and recruiting. That is our job. Not all media outlets covering Notre Dame football do that. CLICK HERE to grab a FREE TRIAL to the No. 1 Notre Dame team and recruiting site around!