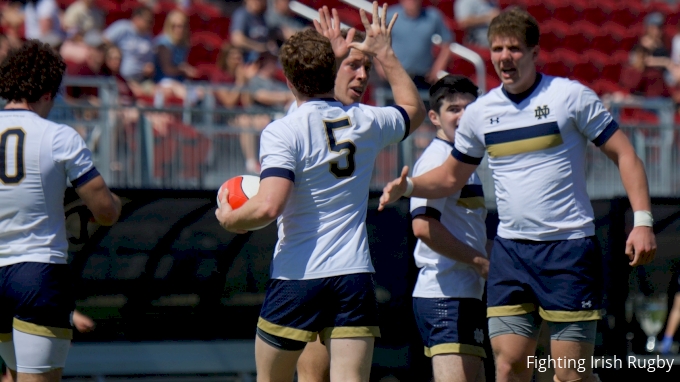 The University of Notre Dame will officially be a D1A team for the 2018-19 season.
The move, which involved Notre Dame meeting some financial and coaching certification requirements (none expected to be difficult), won't change much in terms of the program's seasonal schedule.
"We're still going to play 15s in the fall and concentrate on sevens in the spring," said Fighting Irish head coach Justin Hickey. "But this gives us membership in the top division, and it just makes sense for us to be officially playing at that level."
Officially being in D1A is good for recruiting, as high school players are saying that they want to be playing against the best competition there is, and by being part of D1A, Notre Dame can lay claim to that. 
While the Fighting Irish will be an independent team (along with Central Washington and Utah Valley), Hickey said he'd like to be a part of a conference. The big obstacle for that? Football. Scheduling home games on weekends when there is a home football game is very tough, sometimes impossible, at major football schools. Notre Dame is one of those. However, there has been talk that the Big Ten (which is now down to eight teams after Iowa dropped out of D1A to play in the Heart of America) might want to add the Fighting Irish in the future.
Right now, Notre Dame has a robust fall schedule for 2018, starting on August 28 with Bethel College.
D1A teams Michigan, Boston College (newly joined the Liberty), Davenport, Ohio State, Wheeling Jesuit, Arizona, Navy, Arkansas State, and Iona are also on the list.
After a year off, the Parseghian Cup rivalry match between Notre Dame and Arizona will resume and will be played in South Bend, IN on October 12.
The Irish will also play Stanford, Grand Valley State, and Tennessee.
"While football makes it difficult, we've shown you can put together a strong schedule in the fall," Hickey said. 
Notre Dame becomes the last team from the old Varsity Cup to join an official USA Rugby division. The Fighting Irish are part of a quartet of programs that will join D1A this fall, with the other three being Boston College, AIC, and SUNY Oswego (all joining the Liberty Conference). In addition, Utah Valley, thought to be on the out, is still in after bringing former BYU head coach David Smyth in to take over. Southern Cal and Iowa have moved to D1AA.