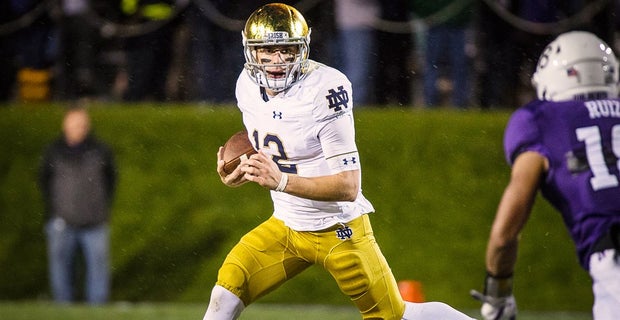 Chip Long's Notre Dame's offense embarked on and finished 138 meaningful offensive drives in its 12 games this fall (kneel downs never included). The following players earned my MVP nominations from those drives, with more than one player eligible at all times, though I generally tried not to name more than two/three.
Of the 138 meaningful drives, 39 ended with "No MVP" indicating a failed drive (perhaps a few snaps followed by an ineffectual punt; turnover, turnover on downs, etc.)
Ian Book 25 — That's an average of three per start

Justin Yoon 16 — The senior connected on 16 field goals. It's difficult not to note each as the most important part of a given drive, right?

Tyler Newsome 15 — Flipped the field or pinned the opponent deep in its own territory.

Dexter Williams 14 — Season highs of three vs. both USC and Navy

Miles Boykin 13 — Just two in the season's first four games; 11 in the last eight.

Brandon Wimbush 12 — Like Book, an average of three per start.

Offensive Line 12 — This is probably undervaluing their collective efforts. In fact, I'm certain it is. But it's also a given that the offensive line blocks well on most successful drives. On this dozen, they stood out as the main entity.

Chris Finke 9 — Includes a pair of special teams contributions vs. Wake Forest and Florida State.

Tony Jones 9 — The most memorable, of course, on Notre Dame's most recent meaningful possession…

Chase Claypool 5 — I'm surprised the number is this low, frankly. An easy explanation is that Claypool most likely contributed on a disproportionate number of non-scoring drives.

Alize Mack 5 — Two vs. Florida State, and they were spectacular.

Jafar Armstrong 5 — Just one since returning from knee surgery.

Nic Weishar 2 — Couple of early-season touchdown catches.

Michael Young 2 — Wake Forest (66-yard gain) and a deep post touchdown vs. Northwestern.

Chip Long 2 — Special circumstances here, obviously. Earned mention for the last drive vs. USC and on the Jafar Armstrong touchdown vs. Syracuse at Yankee Stadium.

Jonathan Doerer 1 — Field goal vs. Northwestern.

Jahmir Smith 1 — It was garbage time, but he ran hard vs. Stanford and was thus named.

No MVP: 39 Drives – the most occurring against Ball State, incidentally. A stunning 7.
Forthcoming at Irish Illustrated: the same review focuses on Clark Lea's Irish defense.