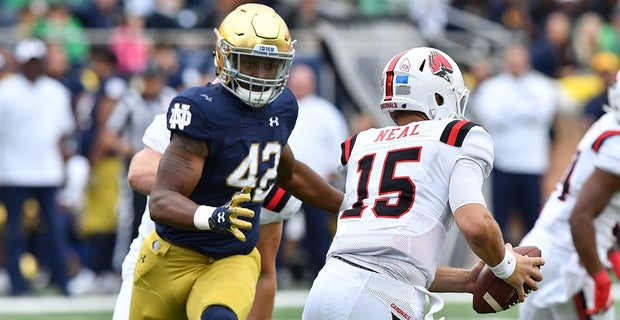 Notre Dame defensive coordinator Clark Lea's unit faced 143 meaningful drives this season. The Irish defensive MVP for each of those drives was determined similarly to the offense's method published previously (and linked below). More than one player was always eligible though I tried to limit to two most of the time, sometimes three.
"No MVP" occurred 26 times. 21 following an opponent's touchdown.
Julian Okwara 24 — Weight is generally given to third down Wins when I choose an Drive MVP and Okwara is clearly a third-down play-wrecker. Posted a season-high (for any position, offense or defense) six vs. Pittsburgh—that's in a nine-drive contest, mind you—which vaulted him into a lead he never relinquished.

Te'von Coney 21 — Wake Forest, Pittsburgh, and USC his only games without mention. In one (Wake) he played little; in another (USC) he was clearly exhausted.

Drue Tranquill 19 — Including six in the last two contests. Unreal considering his ankle injury.

Khalid Kareem 18 — Three mentions apiece (half his season total) vs. Michigan, Ball State, and Virginia Tech. Only missed the list against Vanderbilt and Wake Forest—back-to-back outings in which his ankle limited him—and USC.

Julian Love 17 — Season-best three at Virginia Tech. *Shared a special teams/defense nomination with Tillery following the former's block on a Florida State PAT returned for two points.

Alohi Gilman 16 — Like Tranquill, six over the last two games. Gilman earned the first mention of the season against Michigan. Did not appear vs. Ball State, Stanford, Pittsburgh, Virginia Tech, or Northwestern.

Jerry Tillery 13 — Admittedly, his impact inside is taken for granted when picking the best player on a given drive. Two vs Michigan, Stanford, Navy, and USC. None against Ball State, Wake Forest, and Northwestern.

Daelin Hayes 12 — A strong total considering 48 drives occurred between his fourth (vs. Stanford in which he suffered a stinger injury in Game No. 5) and his fifth to conclude the contest against Northwestern four games later. Posted three against Florida State.

Jalen Elliott 9 — I'm guessing this is roughly eight more than last season. Elliott's MVP nomination against Vanderbilt effectively preserved a playoff bid for the Irish.

Asmar Bilal 6 — And I'm positive this is six more than last season.

Troy Pride 6 — High-profile nominations include a fourth quarter nomination vs. Vanderbilt and his first half strip at USC last week.

Ade Ogundeji 6 — That equates to 24 from the strong side defensive end position this season. Ogundeji had two nominations against Vanderbilt.

Kurt Hinish 5 — Two vs. Ball State but also one apiece against Florida State and Syracuse in November.

Nick Coleman 3 — Most recently his 3rd Down defense against Amon-Ra St. Brown in the fourth quarter Saturday night at the Coliseum.

Jayson Ademilola 3 — Highlighted by Virginia Tech and Florida State.

Houston Griffith 2 — Wake Forest and Virginia Tech, though he probably deserved a third vs. Vanderbilt.

Justin Ademilola, Jamir Jones, Jon Jones, Shayne Simon, Devin Studstill, and Jonathan Bonner 1 apiece

No MVP chosen on 26 Opposing Drives (21 touchdowns included).