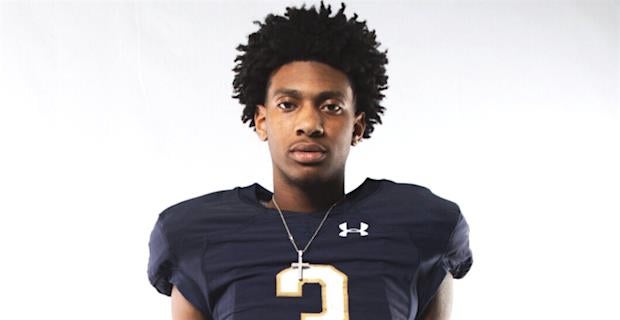 Defensive back may be the position group in which Notre Dame has added the most talent in recent classes.
From the trio of All-American safeties in Derrik Allen, Houston Griffith, and Kyle Hamilton, to promising athletes from the East in Noah Boykin, D.J. Brown, and Litchfield Ajavon, to California speedsters in Tariq Bracy and Isaiah Rutherford, to four-star cornerback K.J. Wallace, this two-class acquisition is what you typically see in top SEC programs.
With National Signing Day two months away, the Irish are already drawing serious interest from exciting 2020 defensive backs.
Two of those junior DB's picked up Notre Dame offers recently: Top 100 safety prospect Enzo Jennings and more recently, Texas cornerback Jalen Kimber.
Out of Oak Park, Michigan, Jennings has drawn significant national attention. At 6-foot-2, 175-pounds with ability at cornerback and safety, SEC offers have rolled in from Alabama, Auburn, Florida, Georgia, and Tennessee while Big Ten programs in Michigan, Ohio State, and Penn State have offered.
Boston College, Clemson, Pittsburgh and others round out his offer list, but with Notre Dame extending an offer during his game day visit (Florida State on Nov. 10), Jennings made it clear that the Irish will be under heavy consideration.
All four current Crystal Ball Predictions favor the Irish.
With Jalen Kimber, the junior cornerback out of a strong Texas 5A program in Mansfield Timberview created buzz in the summer with a 4.43 in the 40-yard dash at a TCU camp.
His first offer came in May from Houston, and through the summer, he added offers from Baylor, SMU, Oklahoma State, TCU, Texas A&M, and Purdue followed by Penn State on Sept. 3.
Through the fall, Kimber was hearing from the Notre Dame coaching staff and with a family connection to Irish commit Kyle Hamilton along with family roots in the Chicago area, excitement about the Irish was apparent.
With interest growing on both sides, Notre Dame extended an offer on Tuesday.
Although Kimber's impressive raw talent and success in the classroom will inevitably lead to a swelling of his offer list, it looks good early for the Irish.
It's impressive to look at the turnaround in defensive back recruiting at Notre Dame. In the 2017 class, the Irish missed completely at cornerback and the two safeties added have moved to other positions – Jordan Genmark-Heath to linebacker and Isaiah Rutherford to linebacker, then wide receiver.
Now, the Irish have loaded up on seven four-star DB's through 2018-2019 (assuming the current commits sign) while creating solid connections to high-talent 2020 defensive backs.
Jennings and Kimber would be smart and promising additions to what is becoming one of the most potential-filled, young defensive back groups in the country.