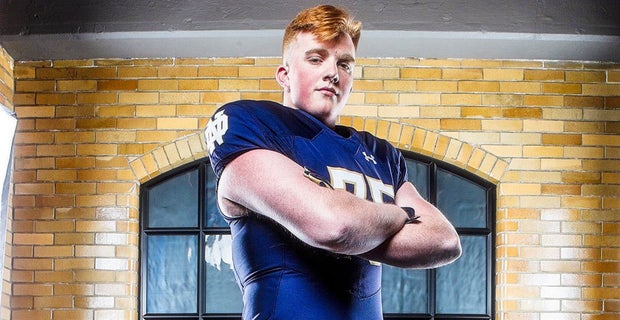 A moment he's been waiting for all his life, Quinn Carroll will sign his Letter Of Intent on Wednesday.
It's been quite a ride for the four-star offensive linemen out of Minneapolis, Minnesota. After producing his sophomore Hudl highlights, offers poured in faster than he could have imagined before logging dozens of college campus visits and eventually, narrowing his list down to the chosen few.
This week, he'll finally to turn his pledge into a signature – a process he'd envisioned as far back as he can remember.
"Ever since I knew about football, I knew that my dad had played in college and in the NFL," Carroll said. "So, as a (youngster), I was thinking in my head, 'wouldn't that be sweet if that were me some day?' That dream of playing college football has come true. But I've got a lot of work to do to actually play and to hopefully fulfill the dream of playing at the next level too. Growing up – ever since I could hold a football – football has been my life and I've wanted to build a career in it."
Later in his childhood, Carroll got an up-close and personal look at the excitement of National Signing Day in watching his older brothers send off their signatures.
"I actually remember my brother Kevin, when he signed to Northern Iowa, I remember that being a huge deal at the high school," Carroll said. "Everybody was rallying around him excited for him to go play some college ball. Around that time is kind of when I told myself and had the little childhood dream of college football. It's crazy to think that I'm here."
Even though Carroll gave his pledge to the Irish back in the spring, the reality that he'll be working out with the Fighting Irish this winter hadn't truly set in until early November when Edina closed its 2018 football season.
"It's kind of a bitter-sweet feeling for my family," Carroll said. "It kind of all hit us when I played my last high school football game. Everybody was like, 'oh my gosh, we're never going to watch Edina football again.' And then preparing for January, it's all kind of hitting us quick here."
Certainly, his future at Notre Dame will become reality this week as he makes his commitment official.
"Signing on Wednesday, my parents are officially ready to send me off," Carroll said. "My whole family couldn't be more proud of me and I couldn't be more excited about Notre Dame. I'm just so grateful to have a support system like theirs, hear all the wisdom and encouragement throughout this time. They're really excited for me to step into this next level in my career and will be with me every step of the way.
"With my entire family, not just my immediate family but with my aunts and uncles and grandparents, Notre Dame holds a different place in our hearts.
"Notre Dame is that top-tier school, and they're all die-hard Notre Dame fans now."
Not only will Carroll get a jump on his college career by enrolling early, he'll be joined by all three of his fellow 2019 offensive line signees as they settle in to South Bend next month.
"I believe we have the best offensive line class in the country," Carroll said. "That's not just us being a great group of players but us being a great group of guys as well. I've gotten to know them pretty well just texting or snapchat-ing, but I'd say I've gotten to know John Olmstead the best just because we were at the Michigan game together and I believe we'll be rooming together for the first six months or so when we get there. They're all terrific guys and we think alike. We all love Notre Dame."
Looking to put together a top-shelf offensive line class, Carroll was prioritized early by the Irish. And with his pledge, he represents Notre Dame's highest-ranked offensive line commit in a class that rates among the best of the Brian Kelly era, and the No. 1-ranked 2019 offensive line class in the nation.