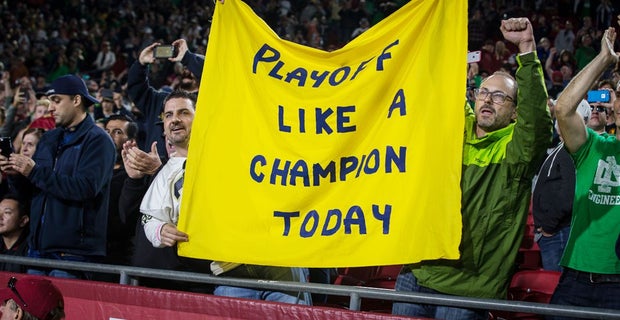 CHAMPIONSHIP WEEK IS UPON US
Most likely to lose, in order:
1. Georgia: Enter the SEC Championship game as 13-point underdogs to the mighty Crimson Tide.
2. UCF: Favored by just 3.5 points in the AAC Championship game due in large part to the loss of quarterback McKenzie Milton to a severe knee injury on Saturday.
3. Oklahoma: The Sooners are favored by 7.5 points in their much-anticipated revenge rematch against Texas in Big 12 Championship Game. (It's more of a revenge "game" rather than a "tour" but I digress…)
5. Alabama: The perennial champs have covered just three of the six SEC Championship games in which they've been favored under Nick Saban. (0-1 as an underdog, back when Alabama being an underdog was a thing to ponder.)
5. Ohio State: Enter as two-touchdown favorites against the always-game but likely overmatched Northwestern Wildcats.
6. Clemson: Favored by 25.5 points vs. run-heavy (run-only?) Pittsburgh. Clemson holds its foes to an FBS-best 2.23 yards-per-carry average.
7. Michigan: I don't think they'll lose again this weekend, but stranger things have happened.
Cyber Monday November 26 only, new subscribers and existing monthly subscribers can get 50% OFF an Annual VIP Subscription to Irish Illustrated for your first year… seriously. That's like getting six months free. All you have to do is use the coupon code CYBER2018 when checking out!

Remember, this offer is good for today only, so hurry up and take advantage of it:

NEW MEMBERS GET 50% OFF HERE NOW WITH CODE CYBER2018!
(Existing monthly members, click here for detailed instructions on how to upgrade!)
THE CONTENDERS
Seven remain, though only six have a hand in controlling their own fate. Michigan and Washington State both dropped from the ranks, leaving two SEC, one ACC, one Big 10, one Big 12, and an Independent alive entering Conference Championship Week.
Below are my own rankings:
1 — Alabama 12-0
– What Just Happened? Same a last week only instead of the Citadel, it was hated rival Auburn. Same/Same.
– Situation: Win = No. 1 seed. Loss likely equals #4 seed…perhaps No. 3.
– Commentary: Can they lose? Sure, as Georgia possesses the overlooked necessary ingredient to hang with the Tide: they aren't afraid. But I don't think the Bulldogs have enough defensively this season to hang for 60 minutes against the remarkable Alabama offense that Just. Keeps. Coming.
2 — Clemson 12-0
– What Just Happened? Produced a ludicrous 744 yards (would be a Notre Dame record for the sake of reference) and 56 points against rival South Carolina, but yielded more than 500 passing yards and 35 points to the Gamecocks in the process.
– Situation: Win and In. Loss? I'd say "In" as the No. 4 seed.
– Commentary: It's plausible there's a chink in the armor, but this is hardly defensive coordinator Brent Venables' first rodeo. Win or lose on Dec. 29, they won't play that quality of defense in a playoff game.
3 — Notre Dame 12-0
– What Just Happened? Rallied and eventually subdued reeling USC, 24-17 in Los Angeles.
– Situation: In. No seed 1-4 is completely impossible though #1 is least likely.
– Commentary: Including the head coach, this is the best staff Under the Dome since 1989.
4 — Georgia (11-1)
– What Just Happened? Handled little brother rival Georgia Tech, 45-21 in Athens.
– Situation: Win and in and in that case, No. 4 is the least likely seed for the SEC Champion Bulldogs.
– Commentary: The Trials of Job await…
5 — Oklahoma (11-1)
– What Just Happened? Outlasted No. 13 West Virginia 59-56 in something that resembled football. The win marks Oklahoma's best on the season to date, though they can match that effort Saturday against similarly capable Texas.
– Situation: Win and hope Alabama beats Georgia (imperative) and that Ohio State loses. A Clemson loss coupled with a Georgia win (and an Ohio State win, to boot) equals anarchy for the No. 4 spot.
– Commentary: Hard to imagine the Sooners losing two shootouts to Texas. In fact, it's hard to imagine this remarkable offense losing two shoot-outs against anyone. It's even more difficult to imagine them winning a playoff game against the three defenses poised to comprise the field.
6 — Ohio State (11-1)
– What Just Happened? Had a party in the end zone and everybody in Columbus was invited.
– Commentary: I think Ohio State would beat Oklahoma if they played next week or on Dec. 29. But let's be fair: The Buckeyes were ROLLED by 6-6 Purdue whereas the Sooners lost by three in a Red River Shootout against archival Texas.
Ohio State has the best win (Michigan), but with a win over Texas, Oklahoma would have two of the next three best (at West Virginia, Texas in the Big 12 Championship Game and at Penn State for the Buckeyes are similar accomplishments). The fifth-best win would be an OSU victory over decent Northwestern in the Big 10 Championship Game.
The sixth and seventh? Iowa State and Oklahoma State for the Sooners? I'd take either over Michigan State, the Buckeyes next best. But you can see that the Committee will be splitting hairs.
In this case, my logical, resume-centric tiebreaker goes to Oklahoma.
7 — Central Florida (12-0)
– What Just Happened? Drilled a bad South Florida team but more important, lost its leader and most important player in quarterback McKenzie Milton to a gruesome knee injury—and with it, any benefit of the doubt from the Playoff Selection Committee.
– Commentary: If they can pull it off, a second straight 14-0 season should be celebrated, collection of opponents notwithstanding. The Knights are one of the nine best programs over the last two seasons in College Football.
QUESTIONS
Who is the No. 4 seed if Georgia, Oklahoma, and Ohio State all lose by 10 points? (Or Georgia by 17 points considering the foe?)
– Is it Central Florida without its quarterback? Is it Georgia considering strength of losses (LSU and Alabama)?
– Ohio State should not be an option with losses to Purdue and Northwestern. But would Oklahoma be if it can't beat Texas in two tries? Not over Georgia.
– Three-loss, Big 12 Champion Texas over Georgia? Because Michigan isn't an option after finishing second in their half of the Big 10 (and in humiliating fashion) and LSU dropped from contention Saturday night with its loss at Texas A&M.