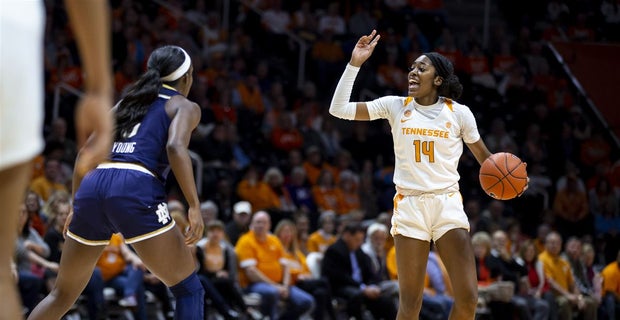 The Lady Vols may have fallen to No. 1 Notre Dame, but the team showed it can play together – and find its voice – in the 77-62 loss Thursday.
Tennessee, 12-7, will now return its attention to SEC foes. Notre Dame, 19-1, will resume ACC play. Of note, the series will be renewed and the game during the 2019-20 will shift to earlier in the season rather than during league play for both teams.
During warmups before the game against Notre Dame, the Lady Vols were noticeably vocal – to date, Tennessee had been a rather quiet team prior to tipoff – and engaged.
"You pretty much said it yourself, we just stayed engaged within the team," Lady Vol Cheridene Green said when asked about the difference. "Like you said, there's a lot of noise, but we just have to focus on the goal. We just need to stick together and execute."
With five straight SEC losses and the streak of defeats at six now after Thursday's game, the program has been under siege from within and outside of its fan base. Despite Monday's bitter loss to Arkansas, 9,154 fans made it to Thompson-Boling Arena on yet another bitter cold night and made their voices heard, too.
9?1?5?4? Lady Vol fans in TBA cheering us on tonight.#LadyVolNation, thank you for coming out and making this the biggest game of the season! ?? pic.twitter.com/74kPwFwi0C


— Lady Vol Basketball (@LadyVol_Hoops) January 25, 2019
Tennessee, despite being without senior guard Meme Jackson because of an ankle injury and having to sit nearly every post player with two fouls, led 34-31 at halftime.
"I think what really flipped the switch is that it didn't matter who it was or who we were trying to play, we just really wanted to win," Lady Vol Zaay Green said. "I think that was in all of our heads. We just needed to get it together and get the win. In the fourth quarter we fought hard no matter what."
A year ago, Green was a high school senior in Duncanville, Texas. Green was on the floor, with two other freshmen and two sophomores, to close the first quarter, which the Lady Vols led 17-14.
Notre Dame, the defending national champions, starts four seniors and a junior.
"We have young players, and they're getting better and better each game," Tennessee Coach Holly Warlick said. "They didn't look at Notre Dame as seniors. They had a lot of respect for them as does our whole staff. But that didn't deter us from competing, and that's what we talked about – just compete."
Tennessee took a lead into the locker room at halftime by crashing the glass, getting back on defense and taking care of the ball.
"One big difference is the way that we started," Lady Vol Evina Westbrook said. "Our defense was on point. I think we were just clicking from all cylinders from the beginning. When it starts with our defense, our offense will flow and respond with everything that we had. Zaay had the hot hands, so we continued to go to her."
Zaay Green had 15 points by halftime, primarily by getting in the paint against Notre Dame's zone.
"We were trying to contain the ball," Notre Dame Coach Muffet McGraw said. "That was our big issue in the first half. Our guards were running on her (Green). We wanted to give her the three and play the drive, but we did pretty much the opposite for pretty much the whole first half. I thought we finally figured it out. I thought the guards did a better job at containing it in the second half."
Rennia Davis stuck a jumper to open the third quarter to give the Lady Vols a 36-31 lead, but Notre Dame took went ahead, 39-38, after two Tennessee turnovers – seven of the Lady Vols' 11 miscues came in the third quarter – and never trailed again.
9?1?5?4? Lady Vol fans in TBA cheering us on tonight.#LadyVolNation, thank you for coming out and making this the biggest game of the season! ?? pic.twitter.com/74kPwFwi0C


— Lady Vol Basketball (@LadyVol_Hoops) January 25, 2019
"A great team like Notre Dame is going to come out punching and swinging after halftime, so we just have to be ready for that and just bounce back and get stops," Westbrook said.
Tennessee tied the game at 44-44 with 4:42 left in the third quarter on a jumper by Westbrook and trailed by just four points, 50-46, with two minutes left in the quarter after a jumper by Jazmine Massengill. But back-to-back turnovers allowed Notre Dame to take a 55-46 lead to end the quarter.
Arike Ogunbowale, who electrified the Final Four last year with buzzer beaters in the semifinal and title game to claim victory, tallied just four points in the first half. The senior finished with 28 points for the Fighting Irish.
"She's one of if not the best players in the country, and we held her in check until she figured out how to get points," Warlick said. "We have to be mindful of that. I thought our turnovers were too costly. Our missed rebounds were costly."
Westbrook noted, "We weren't able to stop one of their top players, and that was one of our game plans coming in. We gave up about 20 points in that third quarter to her alone. We just have to be well aware of where the shooters are, where the scorers are, and defense in general."
Tennessee was able to find gaps in Notre Dame's zone for the first 30 minutes, but the Fighting Irish sagged into the paint even more in the third and fourth quarters, and Tennessee's guards got a tad shot-happy, including the launch of two long threes with little chance of falling.
"I thought in the third quarter a couple times we were too quick to shoot the basketball," Warlick said. "One of our game-planning goals was to move the defense and make them have to play, go side-to-side, and then if you're open on the first pass, you are going to be open on the fifth and sixth pass. I thought the third quarter we could have shot the basketball a little bit more like we did in the first half."
Despite watching her @LadyVol_Hoops lose their sixth straight game, coach Holly Warlick is adamant that her young team isn't going quietly. And neither is she.https://t.co/xnfKA24RH9


— ESPN Women's Hoops (@ESPN_WomenHoop) January 25, 2019
Basketball is always a "one game at a time" sport, but Tennessee has to fully embrace that credo starting Sunday against LSU. With 10 contests to play in the SEC, the Lady Vols have time to correct course, but the effort Thursday has to be shown every game.
"Disappointed about the outcome, but our players did not have anything else left in the tank," Warlick said. "They fought and they played hard. That is a great step for us and a good process for this team."
Jackson is listed as day-to-day – ankle injuries need time to heal – so Warlick will have to lean on the youngsters.
"Did they make mistakes? Sure, they did. But you have to go with it, because you can make a mistake and your effort can cover up for a lot of things, and I thought their effort was solid," Warlick said. "I will continue to say that. Talent doesn't mean a lot if you don't have the heart, the effort, the grit. I thought we had that tonight.
"We're going to build on it, but these kids are being thrown to the fire. They're young, but I have a lot of confidence in them. When they're playing hard, they make things happen."
Tennessee also got solid minutes from post Kamera Harris – she set an excellent screen in the first quarter to free Zaay Green – and the junior added two points, two boards and a block.
"I was really proud of Kam," Warlick said. "She came in and did her role. She was physical. She got rebounds. I was really proud of Kam. She has had about four really good practices, and I am going to reward her for that."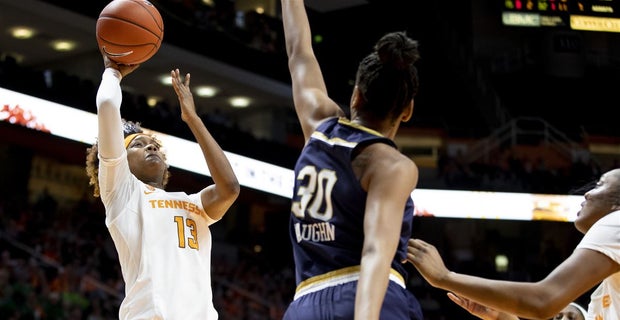 Rennia Davis, who started the game hitting shots but finished 3-14 for six points with zero rebounds, will benefit from improvement in Tennessee's post game as she is a better offensive player when she can roam. The sophomore is struggling on both ends and sometimes is her own worst enemy.
"We're trying to get her shots around the basket," Warlick said. "She's just thinking about it a little too much. She's feeling, at times, that she has to carry this basketball team. But she is going to turn it around. I have a lot of confidence in her, a lot of faith in her."
Notre Dame shot 47.5 percent (28-59) overall, 25 percent (3-12) from the arc and 64.3 percent (18-28) from the line. The Fighting Irish had 23 assists, 13 turnovers, seven steals and five assists.
Ogunbowale led Notre Dame with 28 points, Jackie Young notched 16 points and Brianna Turner and Jessica Shepard added 13 points each.
Notre Dame knew it was facing a wounded Tennessee team – physically and mentally – and recalled that the Fighting Irish turned its season around with a defeat of Tennessee in South Bend a year ago.
"I was worried for a couple reasons," McGraw said. "One (was because) last year's game really turned our season around, and I thought they would be talking about how this game could turn their season around. It was a game where coming down here is always a tough place to play. The crowd is terrific and really into the game. I thought they were backed against the wall, playing as hard as they could against the No. 1 team. I was worried. It was a dangerous situation. They battled throughout the whole game. I know things are going to turn around for them pretty soon."
Tennessee shot 35.5 percent (27-76) overall, 14.3 percent (2-14) from the arc and 75 percent (6-8) from the arc. The Lady Vols had nine assists, 11 turnovers, nine steals and two blocks. Tennessee got nipped on the glass, 43-41, and was whistled for 23 fouls to 10 for Notre Dame. While the Lady Vols did foul a bit more than the Fighting Irish, that discrepancy in whistles raised the ire of the crowd.
Zaay Green led Tennessee with a career-high 19 points, eight boards, five assists and zero turnovers in 37 minutes of play. Westbrook notched 16 points, while Cheridene Green added seven points, grabbed 11 boards and tallied four steals.
The underclassmen will continue to log a lot of minutes for Tennessee; that was the case before Jackson's injury and will be even more so now.
"I do not want to play them again," McGraw. "I mean, they are a dangerous team. They are young, and with Jackson out, leadership was probably a little bit of a question for them. She is someone that really keeps them together. That was tough for them tonight, but they are growing and learning. They are not quitting, so there is a lot to build on there."
The Lady Vols could have folded after Monday's loss. Players barely out of high school and sophomores expected to lead like seniors comprise seven of Tennessee's 10 players.
"I think if we come out the way we did for all four quarters, it's going to be really, really hard to beat us playing like we did," Westbrook said. "I definitely think that's a confidence booster for this team. It shows that we can play like that, and that's Tennessee basketball."
Tennessee Coach Holly Warlick
(Warlick opened her press conference by thanking Dan Fleser for his longtime coverage of Tennessee. Fleser, who started writing about the Lady Vols in 1986 for the News Sentinel, was among the journalists let go in another newspaper staff purge by Gannett for financial reasons.)
Lady Vols Zaay Green, Cheridene Green and Evina Westbrook
Notre Dame Coach Muffet McGraw, Arike Ogunbowale and Jackie Young