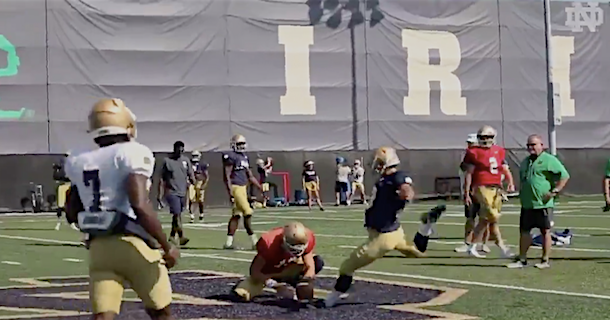 ?? @jkicker19 making 62-yard field goals look easy!#GoIrish ?? #IrishWearGreen pic.twitter.com/7JbVFQUa1J


— Notre Dame Football (@NDFootball) August 24, 2018
During Thursday's practice in South Bend, Notre Dame Fighting Irish kicker Justin Yoon put his strong leg on display. The 5-9, 190-pounder, who is heading into his fourth consecutive year as a starter with the Fighting Irish, nailed a 62-yarder during practice, which was caught up tape by the Notre Dame media department.
Although it was just practice and things will be much different in an actual game, Yoon's career long when it counts most is 52 yards. However, when asked recently about the yardage he feels most comfortable at, he said it's less about where he is kicking it, but more about technique and hitting it well. Either way, it seems pretty clear that everyone would be pleased to hear that he's comfortable from beyond 60.
"Playing with your mind is not the way you want to go. A lot of people go out there and they start psyching themselves out. 'Can I make this? Can I not make this?' I think the biggest thing is you just have to stay confident," said Yoon. "There is not chance for you to not be confident. I think the biggest thing is for everyone who kicks to really stay out there, stay on track with what you have to do, and be focused on that process every time you go kick. What are the couple of key things you want to take away from this and just lock in and do that. That's about it.
On a lighter note, head coach Brian Kelly recently shared with the media that he was messing with Yoon on the practice field last week, intentionally trying to mess with his senior kicker when he was set to attempt a 50-yard field goal. This was done because he knows that Yoon is tuning out his head coach, which in this case wasn't a problem. Yoon's focus, according to Kelly, is "amazing." That couldn't have been more evident during Thursday's kick.
"I'm pretty sure, at least this previous practice just now, I didn't hear him," said Yoon with a laugh. "Most of the time I'm looking at the ball and that's all I'm thinking about. My two key points are making sure I hit that ball clean, on the sweet spot, with my foot, and then making sure my hips are staying straight to the point. That's all I think about while I'm back there. I don't think about anything else."
Yoon and his Fighting Irish teammates take on Michigan on Sept. 1 inside Notre Dame Stadium. That could be the start of a record-breaking season for Yoon if all goes as expected.
Allen Pinkett, the two-time All-American running back for the Fighting Irish, is the school's all-time leader in total points scored with 320. Yoon has scored 275 points over the past three seasons at Notre Dame. He is averaging 91 points per season so far. If he hits that number once again, he will finish with 366 career and etch his name into the record book as the new all-time leading scorer in Notre Dame history.