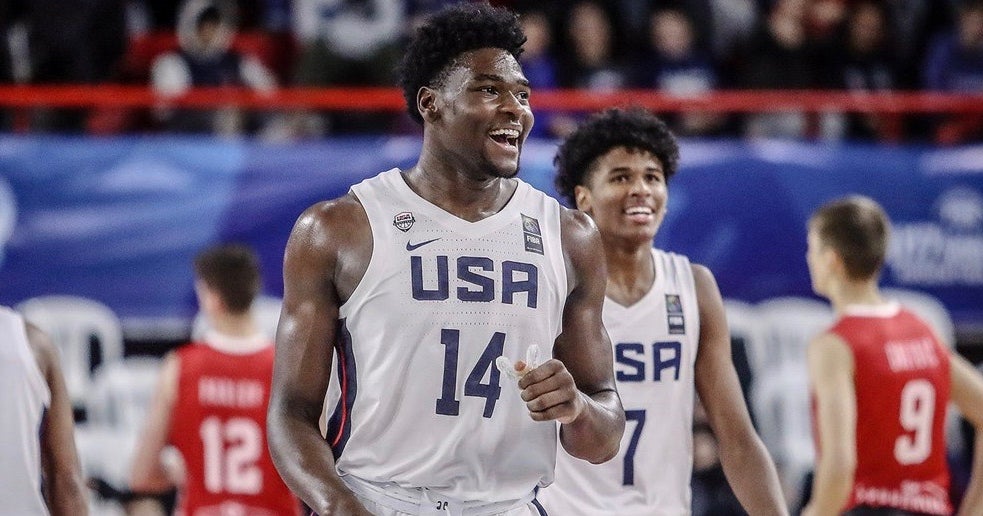 Notre Dame men's basketball suffered a tough blow Friday night when Rochester (N.Y.) La Lumiere School five-star center Isaiah Stewart, who is ranked as the No. 5 overall player according to the industry-generated 247Sports Composite Rankings, cut his recruitment down to six finalists and the Fighting Irish didn't make the cut. The 6-9, 245-pounder from the class of 2019 holds over 40 offers from the links of Connecticut, Duke, DePaul, Georgetown, Kansas, Indiana, Louisville, Michigan State, Notre Dame, Syracuse, Villanova, Washington and many others. However, only six remain.
On Friday, the elite talent trimmed his list to six finalists and the Fighting Irish were officially eliminated. Washington, Villanova, Syracuse, Duke, Indiana and Michigan State remain firmly in the mix to land Stewart, who is listed as the No. 3 center in the country and No. 1 prospect in the state of New York this cycle.
Earlier this year, while in Atlanta at the Nike EYBL event, Stewart averaged 20.3 points per game, 11.5 rebounds and 2.0 blocks, as his team, Albany City Rocks, went 4-0. He was named Most Valuable Player following the event. This is truly a special talent and one that will eventually be a massive get for one lucky coaching staff.
Very few can match Stewart's talent on the basketball court. His athleticism is on another level. He runs the floor well, has a strong mid-range game, and is a man among boys down-low in the paint. Dare him to shoot the three and he'll make you pay. He can truly do it all and he's just one of those players, who is extremely fun to watch.
Originally attending McQuaid Jesuit high school in New York, Stewart will finish his prep school in the Hoosier State at La Lumiere in LaPorte, Ind., which is roughly 25 miles from South Bend. Some felt as though his proximity to Notre Dame would help the Irish in this one, but to no avail.
Notre Dame is fresh off signing the nation's No. 14 overall class in 2018 according to the 247Sports Composite Team Rankings. In that class, the Fighting Irish landed Top100 four-star power forward Nate Laszewski of Northfields (Mass.) Northfields Mount Hermon, Top100 four-star shooting guard Robby Carmody of Mars (Pa.) Mars Area high school, Top100 four-star point guard Prentiss Hubb of Washington (DC) Gonzaga high school, Top100 four-star showing guard Dane Goodwin of Columbus (Ohio) Upper Arlington, as well as three-star power forward Chris Doherty of Marlborough (Mass.) high school.
***The Irish Illustrated team of Tom Loy, Tim Prister, Tim O'Malley, Jack Freeman and Kevin Sinclair is the most experienced group of journalists covering Notre Dame today. And that experience leads to coverage you can trust. We're not going to tell you that everything is all right with the program all the time or that your concerns about the program are unwarranted. We're also not going to dwell strictly on the negatives when there are positives to report. We are dedicated to providing you with the truth about Notre Dame football and recruiting. That is our job. Not all media outlets covering Notre Dame football do that. CLICK HERE to grab a FREE TRIAL to the No. 1 Notre Dame team and recruiting site around!