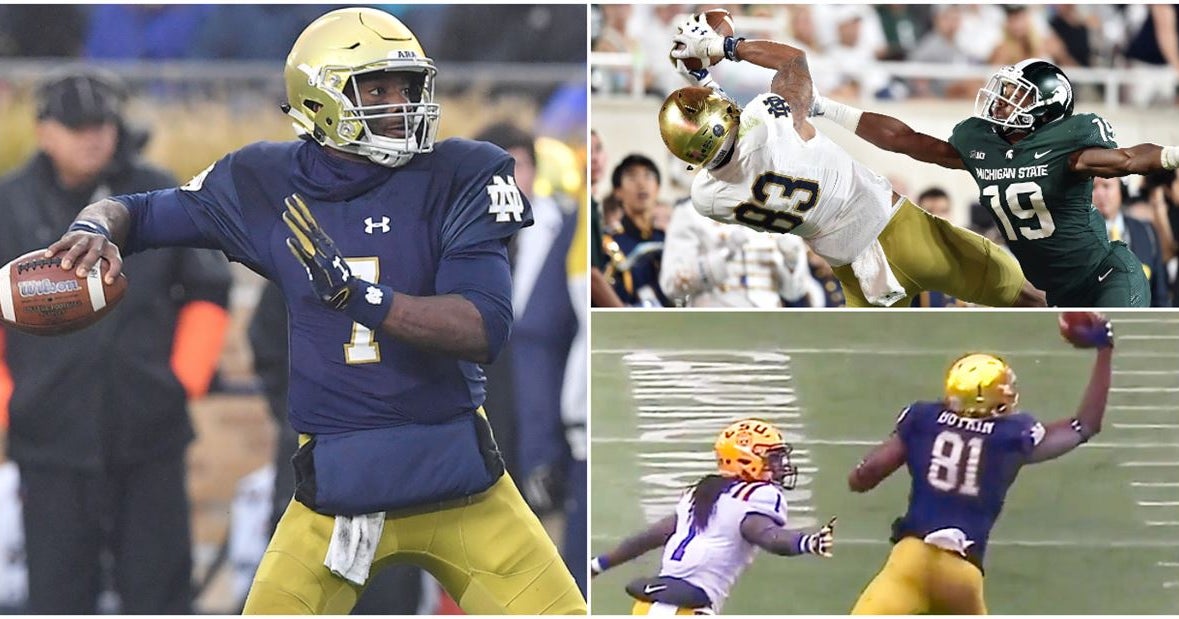 Sam Webb: Is there really a quarterback controversy heading into the season, and how much better do you expect Notre Dame's passing game to be this year?
Tim O'Malley: "Brandon Wimbush is the starter and Ian Book is his backup. But, and this is where it gets logical (good or bad, it's logical) Book is in the equation because his strengths – decisive read-option runner and passer, accurate passer in the short game – are Brandon Wimbush's weaknesses. And to be fair to Book, he can run, too. This isn't a running quarterback vs. Tommy Rees situation."
"Wimbush is a dynamic runner and when he's confident, he's a productive player overall. The first two months of the 2017 season – includes wins vs. Michigan State, USC, and N.C. State plus a one-point loss to Georgia – Wimbush produced 24 touchdowns vs. 5 interceptions. But when things went south (blowout loss at Miami, loss at Stanford in which he was highly culpable, and getting benched vs. LSU) he accounted for six scores vs. four turnovers, and hit on just 44 percent of his passes."
"So while Irish fans lament the possibility of a "two-QB system" it's likewise hard to criticize Brian Kelly for considering Book as a temporary replacement if things don't go according to plan for his starter."
Sam Webb: There is a lot of hype about the Irish receiving corps despite the loss of Equanimeous St. Brown. Are Miles Boykin and Chase Claypool really as good as the press as Irish fans are saying they are?
Tim O'Malley: "St. Brown is very talented and admittedly was a victim of Wimbush's errant throws last season (literally a victim at times due to some hits he took) but he also had one foot out the door with an eye to the NFL. The Irish staff in private did not mind losing him whereas conversely they were desperate for Josh Adams to return at running back."
"Claypool is a dynamite athlete but not a finished product at receiver – you're likely to see him covering kicks and blocking on special teams too because he's simply a really good player in space. Run, hit, block, catch. Nuance isn't there yet."
"The staff is extremely high on Boykin and there's no doubt he's improved exponentially since this time last year. Confidence is key in that regard and the game-winner vs. LSU launched that for him. They're both big playmakers but I'm not sold on consistency until I see it on the field."
"The real concern for me is: no matter how big and athletic you are, you can't use that size and speed if ball placement isn't decent and consistent. I'd be more confident in that duo with a more accurate passer involved."
Sam Webb: The Irish not only lost two first round draft picks from last year's offensive line, but they also lost their highly regarded offensive line Coach Harry Hiestand. Some of the talk out of South Bend makes it sound like this year's unit won't miss a beat. How good/effective do you expect this year's offensive line to be?
Tim O'Malley: "Well let me set one thing straight: they will miss a beat. Multiple beats."
"Mike McGlinchey was very, very good and Quenton Nelson was a once in a generation guard. (Google: "Quenton Nelson – Choke Slam" just for fun.)"
"The Irish offensive line (actually both offensive lines) is the biggest question mark for me entering this contest. Not necessarily "this season" because over 12 games they should be solid at worst, but the Michigan defense is a different animal."
"Center Sam Mustipher is very good. His fellow captain at left guard Alex Bars is supposed to be. (He was fine last year.) And right tackle Robert Hainsey is very good in pass protection. The real question is first-time starter Liam Eichenberg at left tackle. Put Mike McGlinchey there and you have an all-time battle to watch on the edge with Michigan's ends. Instead it's illogical to think Michigan doesn't now hold the obvious advantage. "
Sam Webb: Notre Dame is on its third defensive coordinator in three years. Do you expect any tangible differences in scheme/philosophy, and what do you expect the strength of this year's defense to be? 
Tim O'Malley: "While offensive line is 'wait-and-see' for me, I'd be stunned if the defense isn't better than last year's highly underrated group. (They had one down game at Miami and one down quarter at Stanford.)"
"Clark Lea is a Mike Elko protégé and I haven't found anyone that isn't impressed with his knowledge of the scheme, the game, and most importantly to date, his ability to teach it. (Now he has to call it, of course.)"
"The front seven's depth is the strength for the season – they can roll eight deep with confidence – while Saturday night I'd say it's the two linebackers, Te'von Coney and Drue Tranquill. Coney is, in my opinion, the best player on the football team while Tranquill is in the Top 3-4. (There's no depth behind them, that's why it's not a season-long strength.)"
"Notre Dame's three corners will play very, very well Saturday night with long-ago Michigan commit Shaun Crawford at Nickel and Julian Love on the boundary (23 passes defended, two touchdowns scored last year). Troy Pride is the breakout player of August and he's the field corner over Crawford."
"Questions remain at safety where the starting pair and their backups were worse than pedestrian last year. Let's put it this way: a Navy transfer, Alohi Gilman, walked in and took one of the jobs after sitting out last fall. (He's good, but consider the reality of a Navy freshman transferring to ND and easily winning a starting spot.)"
"Senior Nick Coleman is likely to start at the other spot – he started 13 games last year, made very few plays, and seemed to be third-string after the spring. Apparently he took the demotion to heart because suddenly he's making plays all over the field in August Camp. Again…we'll see."
Sam Webb: One of the big keys to the Michigan game is Notre Dame's ability to pressure the quarterback. What 's the word on the Irish pass rush this year and how do Michiganders Daelin Hayes and Khalid Kareem fit into the mix up front?
Tim O'Malley: "Defensive line coach Mike Elston – the former Michigan linebacker as you know – said it should be the best pass rush he's had, including the 2012 group led by Stephon Tuitt. My guess is that it instead ends up as the second-best, but I do think they'll get after it this year."
"Kareem was my pre-season pick to lead the team in sacks while I think his biggest support element there is Hayes' technical backup, Julian Okwara. The Nickel will include all three as Kareem will kick inside next to senior Jerry Tillery with Hayes and Okwara coming off the edge."
"I favor Notre Dame's Nickel vs. Michigan on third down (passing situations) but wonder how the Irish base defense will handle Michigan's play-action game on 1st and 10 and in those 2nd-and-6 situations that arise throughout the contest. That's where I think the Shea Patterson upgrade will be noticed most."
Sam Webb: Michigan wins if…? Notre Dame win if…?
Tim O'Malley: "Let's take turnovers out of the equation because neither team is likely to overcome a two-turnover differential, right?"
"I think the short field created by defensive stops (3-and-outs) is huge on both sides. Obviously special teams situations such as a bad punt or quality return contribute. Simply put, a bunch of 75-yard touchdown drives aren't happening Saturday night. In fact, I think the O/U of 48 is ludicrous – it's going to be a slugfest unless of course those short fields present for one team and not the other." 
"So I'm all in on a low-scoring game in the 22-20 range. Myriad field goals with defenses making red zone stops. Notre Dame wins if Brandon Wimbush can make two big plays (pass or run) that lead to touchdowns while Michigan wins if they can often force Wimbush into 3rd-and-7 situations because I don't think the Irish can prevail passing themselves out of such situations."
Sam Webb: Many college football observers thought Brian Kelly was on his way out in South Bend after a 4-8 season, but he responded by overhauling his staff and getting back to the 10-win plateau last season. Is Kelly back off of the hot seat or is this another make or break season for him?
Tim O'Malley: "I think his hot seat cooled considerably among those that make actual decisions, but if Notre Dame goes 8-4…or worse, falls then to 8-5… what are you really accomplishing by retaining him? (The Irish travel to Georgia, Michigan, and Stanford next year. Host USC, obviously, plus Va. Tech.)"
"My thought after the 4-8 season was: if you think Kelly can win 29 games in the next three seasons, then retain him. If you don't, it's time to move on. They're on the way with 10…but they have to win 10 again for the fan base to be excited about the future. (And I think they'll win 9 in the regular season.)"