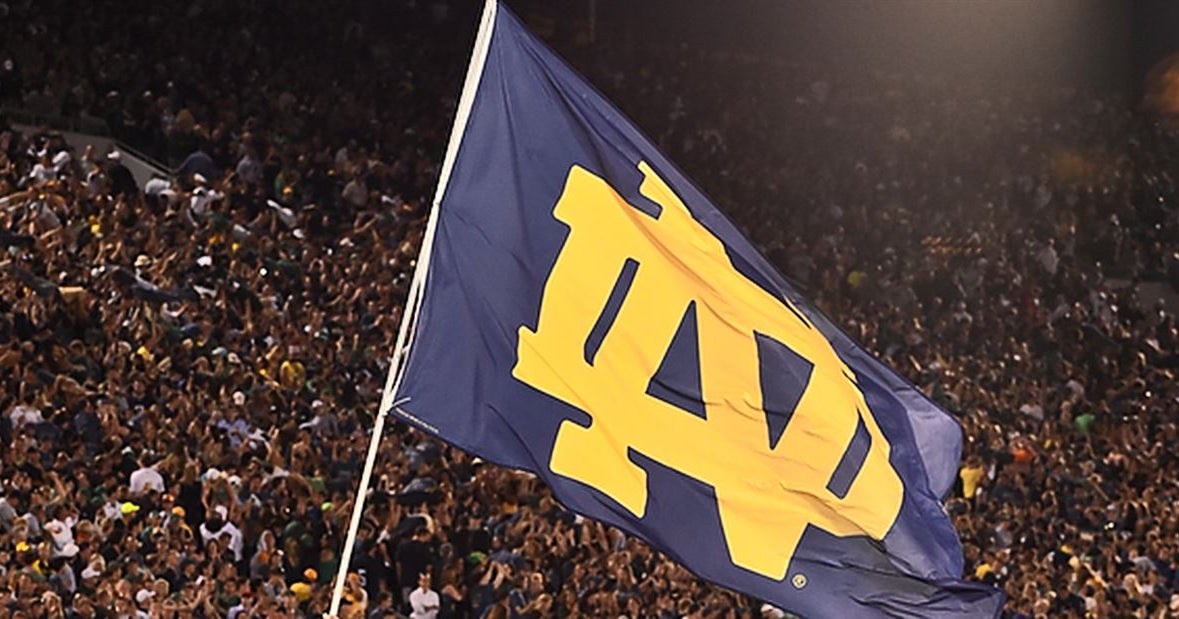 In anticipation of the Week 3 clash with Notre Dame, our friends at 247Sports' Irish Illustrated thought it would be a good idea to swap some intel on the Commodores and Fighting Irish.
We exchanged five questions that we'd each like answered about the other team's program going into the clash of unbeatens, which will be played at Notre Dame Stadium on Saturday at 1:30 p.m. central.
I went first in answering their five questions about the Commodores. You can check that out here.
Irish Illustrated's Tim O'Malley was kind enough to return the favor and give Vanderbilt fans some insight about what they may see from the Fighting Irish in South Bend. I asked him about the Notre Dame running game, the struggles against Ball State, quarterback Brandon Wimbush, their ability to handle Kyle Shurmur and the fan base's memory of Derek Mason's SEC Media Days comments.
Enjoy.
1- Vanderbilt had a terrible time stopping the run during its midseason collapse last season and after successfully defending a couple of Air Raid offenses, fans are rightfully nervous about what Notre Dame's running game might bring to the table. Just what are the Commodores up against here, and how do you expect the Fighting Irish to approach the Vanderbilt defense?

"No Quenton Nelson, no Mike McGlinchey, no Josh Adams – that was expected. But the running game is also without projected starter Dexter Williams (unannounced suspension that will hold through Game #4 – he averaged 9.2 yard per carry with 5 touchdowns on 39 touches last year as a backup), and as a result the Irish offense has struggled through two outings – understandable vs. Michigan's defensive front…less so against Ball State.
It's worth pointing out that Brandon Wimbush, on 18 read-option opportunities against Ball State, never kept the football. He was clearly protecting himself after 17 intentional carries (plus two sacks) vs. Michigan one week prior.
To be blunt, if Wimbush isn't running, he's not an effective quarterback and the Irish won't have a quality running game.
He'll run plenty vs. the Commodores; Vanderbilt doubtless has better front seven athletes than did Ball State. It's the matchup to watch Saturday afternoon in South Bend."
2- What can we (should we?) make of the Ball State game? I think most Vandy fans probably came away impressed with the win against Michigan, but the Ball State score — on the surface– has some of our readers scratching their heads.
"The offensive line stunk. Period. Wimbush played poorly due in part to that reality but also because he, for reasons known to no one, chose not to run.
The Cardinals 3-4 front penetrated, shot gaps, and generally stymied the Irish rushing attack. There's technically only one new starter up front as two of the current starters shared right tackle last year, but – and stop me if this seems a tad askew – for some reason an All American left tackle plus the best guard in the history of Notre Dame football next to him have proven difficult to replace.
This is a big game for the offensive line and first-year coach Jeff Quinn (replaced Harry Hiestand who coached Zack Martin, Ronnie Stanley, McGlinchey and Nelson among other pros from South Bend)."
3- I'm sure word of Derek Mason's comment from SEC Media Days about not being afraid of going to Notre Dame because Vandy plays in the SEC made its way up to South Bend. What has been the general reaction to that? Players, coaches, fans? Do you expect it to be "bulletin board material" or nah?

"It mattered to Notre Dame fans when he said it. I think that's dissipated quite a bit. I don't think the players or coaches have ever cared and you know players – most of them probably have no idea it occurred.
He's right about one thing: the Notre Dame crowd Mason gets won't impact this game. It did against Michigan, but the Irish fan base has become a spoiled lot that needs a reason to cheer – and it's usually brought out by vitriol for the opponent (Michigan, USC, Miami, Florida State, nowadays Stanford) – Vanderbilt doesn't fall under that category.
South Bend's fans will be the most welcoming and cordial Vanderbilt's fans have ever encountered. That's both good and bad, of course."
4 – Flip side to the Shurmur question: How has Notre Dame typically handled the experienced, veteran quarterback-type? Shurmur is over 30 consecutive starts now, and has seen it all as an underdog through the years.
"It's best to dissect this using the current players and scheme (so 2017 through present) and it's been a mixed bag
Lost to Georgia rookie Jake Fromm (handled him well)
Lost to Stanford rookie K.J. Costello (he lit them up late)
Lost to middling Miami QB Malik Rosier
Destroyed N.C. State veteran Ryan Finley and No. 3 draft pick Sam Darnold. Easily handled young but talented Brian Lewerke of Michigan State…Danny Etling of LSU played well statistically in the Citrus Bowl though the Tigers scored just 17 points
Had its hands full with cagey veteran John Woolford of Wake Forest. (Though the Irish led 41-16 by the time he got rolling.)
The most important number to remember for Notre Dame's defense is 2:
That is, two teams have scored more than two touchdowns against the Irish defense since the outset of 2017 – Miami and Stanford. Not Georgia, Michigan State, USC, NC State, or LSU, or anyone else.
It's a solid unit."
5- What's the general consensus on Brandon Wimbush after two games? Is there concern about that 1-to-4 TD-to-INT ratio going up against a Commodores defense that has been pretty opportunistic so far?

"He's a great runner. He's not a good passer. Sometimes when he's running exceptionally well, the downfield passing game thrives because it forces defenses to account for him with one safety and an extra defender in the box.
Wimbush's first eight games as a starter produced a 24-5 TD/turnover (fumbles/INT) ratio. He ended the 2017 season (final four games) at 6-4 and this year is 1-4. Backup Ian Book is currently the fan base's favorite because he won the Citrus Bowl and, well, he can complete "forward passes."
But it's relevant to note that Wimbush lit up Boston College (in Chestnut Hill) for four rushing touchdowns and more than 200 rushing yards. He torched USC. His best game as a collegian was at Michigan State. It's not as if he fails vs. quality competition – rather, he's simply inconsistent.
My educated guess: if Wimbush is off Saturday, you'll see Ian Book close out the contest."