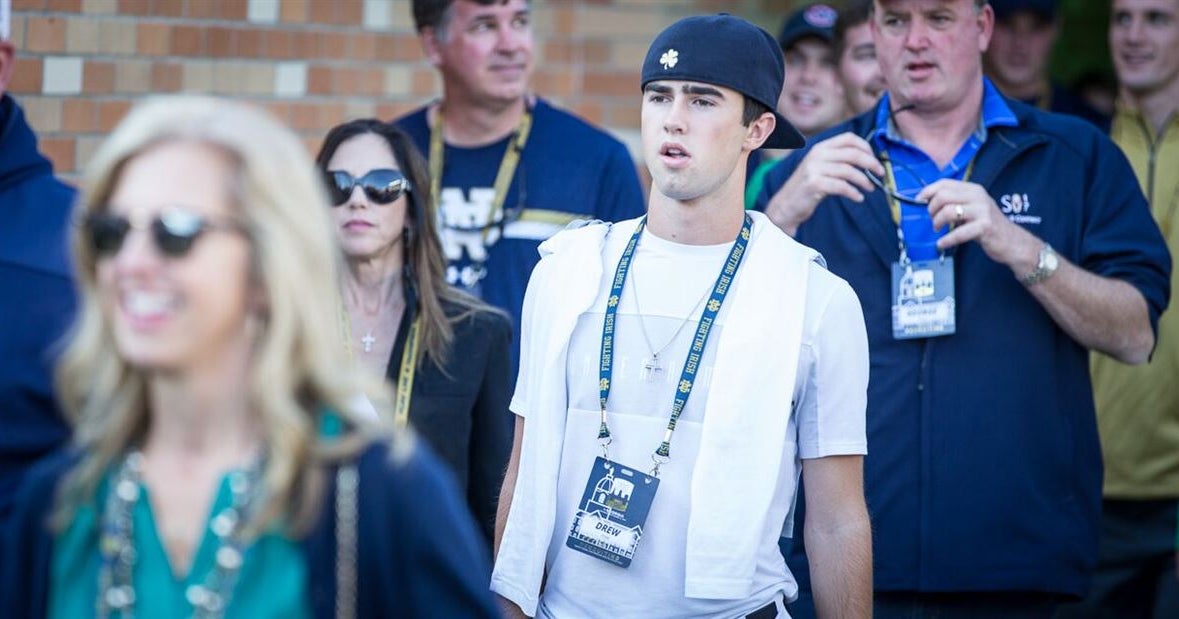 New Canaan (Conn.) high school four-star quarterback Drew Pyne, a Fighting Irish commit from the class of 2020, tells Irish Illustrated and 247Sports that he'll be in South Bend this weekend.
The 6-1, 172-pounder, who committed to Notre Dame back on Apr. 16, says he'll be in town for the matchup between the Fighting Irish and Vanderbilt Commodores. It will be his first trip to campus since making his commitment.
Pyne says he's "so hyped up" to be in South Bend and will be wearing his "recruiting hat" wherever possible. With a prospect like Round Rock (Texas) high school four-star wide receiver Collin Sullivan on campus, Pyne will surely get in his ear about Notre Dame.
The talented signal-caller chose the Fighting Irish over offers from Alabama, Florida State, LSU, Miami, Ohio State, Penn State and many others across the country. Since then, he's done nothing but prepare for his junior season and recruit his tail off for Notre Dame. He was extremely impactful in landing both four-star tight end commits in Michael Mayer and Kevin Bauman. In addition, he's working hard on securing a pledge from his cousin, five-star offensive tackle Kevin Pyne, four-star wide receiver A.J. Henning, four-star wide receiver Daniel Jackson, four-star wide receiver Gee Scott Jr., four-star linebacker Kalel Mullings and many others.
On the field, Pyne has the makings of a special talent. His quarterback coach, QB Country founder David Morris, couldn't agree more. Morris, a former quarterback for Ole Miss, has been around some extremely-talented quarterbacks including Eli Manning, AJ McCarron, Paxton Lynch, Matt Barkley, Jake Fromm, Daniel Jones and many others. He genuinely believes Pyne will have an incredible career in South Bend.
"I saw right away," said Morris, when asked when he knew Pyne had the chance to be a high-profile college football recruit. "He's a very skilled kid. Since the first time I saw him, he had differentiating twitch. He's a very quick athlete with a quick release. We've tried to get better there, grow there, tighten up motion, get more consistent, get stronger. You kind of knew early on that the kid was pretty darn good. Going into your 8th grade year, you can't tell if he's going to be a Power 5 kid necessarily because you don't know what is going to happen. You don't know what the situation is like at the high school, you don't know if he's going to grow a lot, you don't know all of these things. He hadn't even played in high school yet, but you knew from the beginning, right away, that Drew Pyne was pretty special."
Per the 247Sports Composite Rankings, Pyne is the No. 105 overall player in the country, No. 6 pro-style quarterback in the nation and No. 1 recruit in Connecticut from the class of 2020.
As a junior, Pyne completed 169 of 283 passes for 2,355 yards, 25 touchdowns and 11 interceptions. During his sophomore campaign, he completed 166 of 259 passes for 2,347 yards, 26 touchdowns and 11 interceptions.