Indiana  finishes off non-conference action and calendar year 2018 play later today when Jacksonville University comes to Simon Skjodt Assembly Hall.
The tip is at 6:00 p.m. ET and  the Big Ten Network will have the broadcast.
The Dolphins are 7-6 and had won seven of eight before falling at Notre Dame on Thursday night, 100-74. The Fighting Irish blitzed the Dolphins with 18 made 3-pointers.
Tony Jasick is in his fifth season as head coach of the Atlantic Sun program. He's a familiar name in Indiana since he coaches IPFW/Fort Wayne before leaving for Jacksonville after the 2013-14 season.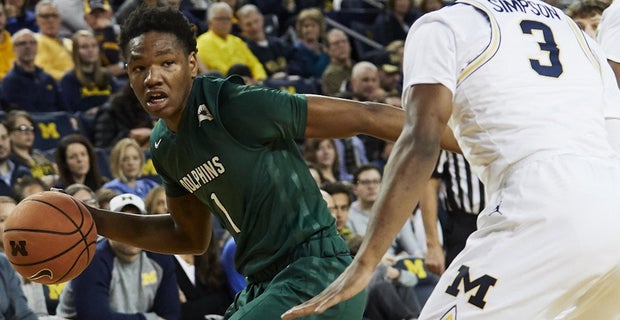 There are two main scoring weapons on this team. Senior Jace Hogan, a 6-foot-6, 235 pound forward, is averaging 14.1 points and 5.4 rebounds per game. That scoring number is down three points a game versus his junior output.
Last season JD Notae earned Atlantic Sun Freshman of the Year. This year he's leading the team in scoring ( 15.2) and assists (3.5), despite coming coming off the bench of late.  The 6-foot-3 guard has struggled taking care of it, turning it over more than three times per game. 
The Dolphins have some talented size this courtesy of Ohio State transfer David Bell. The 6-foot-9, 225 pound junior had 10 points off the bench in the Notre Dame loss. He started the first six games of the year but Jasick has gone with a more guard heavy lineup in the last six contests.
"They're going to present a number of challenges for us," IU coach Archie Miller said on Friday. "They have some guys that can really cause some problems with their ruggedness, their physicality. They play fast, and they can really drive the ball from five spots."
The Hoosiers will be without starting point guard Robert Phinisee. The freshman banged his head diving for a loose ball in Wednesday's home win over Central Arkansas.
"He's still in the concussion protocol. I don't think he feels great. He won't be available tomorrow," Miller said yesterday. "From that point forward moving on, how he recovers, we'll see, post-Christmas. But he's feeling better, I think. I think each day since the night of the game he's gotten a little better, but he's still in protocol."
Slow starts have plagued Indiana for most of the season. On Wednesday the Hoosiers were down 19-14 before going on a 19-0 run.
"There's some concerns there going into tomorrow's game just in terms of our guys being dialed in and ready to go," Miller said. "We were disappointed in the way we started the other night just taking care of the ball, and I think Jacksonville could take advantage of some of the same things. And we have to be prepared."
This will be just the third meeting between the two programs. The Hoosiers have won both contests, the most recent a 93-59 win at IU on December 28, 2012.
Here's a look at Jacksonville's projected starters and key reserves: