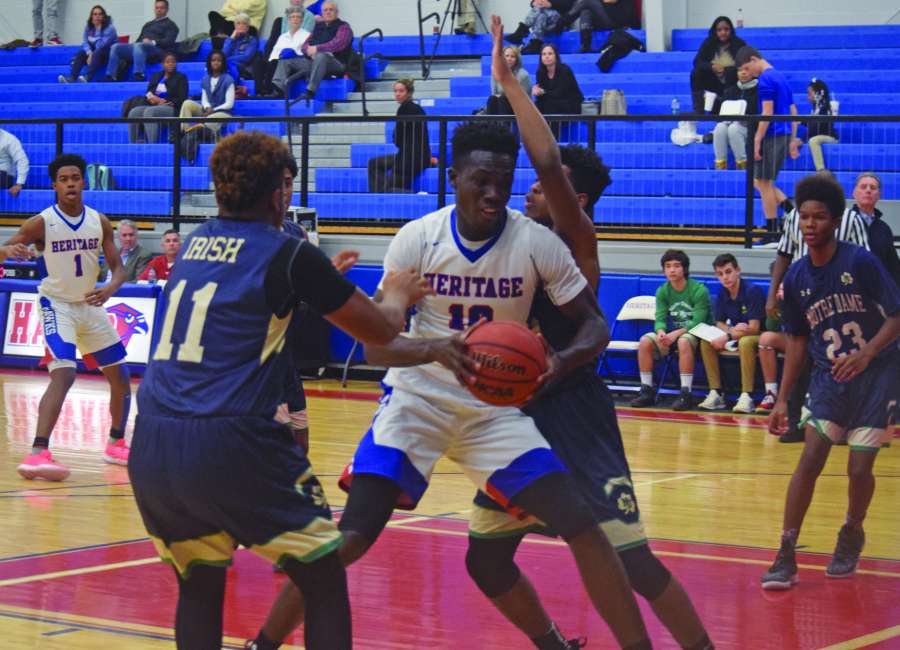 BY DOUG GORMAN
The Heritage Hawks scored from the outside and drove the ball into the lane for baskets Tuesday, and it translated into an easy 71-45 victory over Notre Dame in a GISA Region 1-AAA contest.
With the victory, Heritage improved its record to 6-2 overall and 2-0 in region play.
"It was really good to get some of our football players back and get them some quality playing time," said Heritage head coach Joab Jerome. "We are going to need them down the stretch as we get into some of those late game."
Heritage took control of the game early, spreading the scoring wealth between six players en route to an 18-7 lead at the end of the first quarter.
Dylan McLean's dunk set the tone early for the Hawks with a 6-2 lead.
The Hawks used stingy first-quarter defense and held Notre Dame to just three shots from the field.
Notre Dame's Michael Miller had the hot hand early, hitting two of his team's shots from the field, including a 3-pointer.
His trey cut the lead to 8-5, but the Hawks outscored Notre Dame 10-0 down the stretch.
Lance Terry sparked the late first-quarter surge with two baskets.
The Hawks increased the lead to 32-19 at the end of the first half. Ebe Dowuona had six second-quarter points including two dunks.
While Dowuona was taking over in the lane, Terry was draining long-range jumpers.
The senior, who just signed with Gardner-Webb, connected on two 3-point shots in the second quarter.
The Hawks increased the lead to 59-33  heading into the final quarter.
A dunk by Dowuona gave the Hawks a 47-28 lead midway through the third quarter.
"He is playing with a lot more confidence and authority," Jerome said. "You can see it in his game."
Kasen Jennings also caught fire in the third quarter, hitting three of the Hawks' baskets during the period.
Terry also also had a dunk in the third quarter to help seal the victory.
Mitchell and Miller each converted 3-point shots for the Fighting Irish in the third quarter, but it wasn't enough.
Henry Arnall helped keep the distance between the Hawks and the Fighting Irish in the fourth quarter with a couple of key buckets.
Terry finished with 17 points and Dowuona 13 for the Hawks.
Miller had 16 for Notre Dame, including four 3-pointers