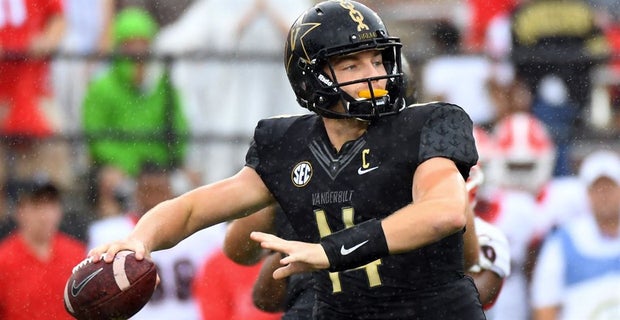 Vanderbilt head coach Derek Mason made a statement during SEC Media Days when he expressed his thoughts on playing a game in South Bend. While the purpose of Mason's comments about Notre Dame were more about a "one game at a time" philosophy for Vanderbilt, not everyone took it that way.
And now that the game is here, Vanderbilt continues to gather steam for a potential upset bid against Notre Dame. A three-interception performance for Brandon Wimbush last week against Ball State did not help the Fighting Irish, but Vanderbilt is still a two-touchdown underdog.
ESPN college football analyst Kirk Herbstreit is among the believers in Vanderbilt to put a scare into Notre Dame's College Football Playoff aspirations.
"I don't think there's this aura that intimidates the Vandy players," Herbstreit said on ESPN College GameDay. "I think Vandy is going to win this game. You've got a veteran quarterback in Kyle Shurmur who can dink and dunk, move the chains. It'll be close, but I think Vandy wins this game."
Under Mason, Shurmur has four years worth of experience with 44 career touchdowns, 23 interceptions and more than 6,000 passing yards. Notre Dame will be a challenging environment, but Shurmur should be ready with road experience against teams like Auburn, Florida and Georgia. Shurmer even helped lead Vandy to a 2016 win at Georgia, 17-16.
Mason's Notre Dame comments made for fun preseason conversation, but were primarily a statement about where the Commodores stand. Vanderbilt and Notre Dame are both 2-0 to begin the year.
In full, Mason said, "Yeah. We play in the SEC. I don't worry about going to South Bend. Right now, I am worried about MTSU. I looked at how we started last year, and the blueprint is there. If you want to be successful, stay in the moment. That's exactly what we're doing. We're staying in the moment. We're about Notre Dame when that game comes. Right now, it's about MTSU. It's about going to camp. It's about solidifying that depth. It's about making sure when we harden this team enough that when adversity comes, this team knows how to handle it."
Notre Dame coach Brian Kelly is not one to take any opponent lightly. He expects Vanderbilt to bring its A-game to the 2:30 p.m. kick in South Bend.
"I like the backs. Kyle Shurmur is efficient," Kelly said. "Throws the ball well. They have a cohesive offensive line. They've played together. That's a strength. That stands out to me. Kyle plays a lot of snaps in the SEC. He will be confident. The entire team will. Ke'Shawn Vaughn, he does a lot of really good things. Can catch it out of the backfield. The other two can go deep. The tight end is a pro prospect. Lipscomb is shifty. Not maybe a burner, but he runs great routes and gets the football."