THE FLATS  –  Georgia Tech continues its 40th season of Atlantic Coast Conference basketball Tuesday evening with a 7 p.m. regionally-televised contest against Notre Dame at McCamish Pavilion. It is the back end of a two-game homestand for the Yellow Jackets.
Tech (10-8, 2-3 ACC), in its third season under head coach Josh Pastner, has lost three of its last four games, including back-to-back defeats last week to Clemson (72-60) Wednesday on the road and Louisville (79-51) Saturday at home. The Yellow Jackets are 8-4 at home this season, including a 1-2 mark against ACC teams at McCamish Pavilion.
Notre Dame (11-7, 1-4 ACC), in its 19th season under head coach Mike Brey, lost two straight close games at North Carolina (73-69) and at home to NC State (77-73) last week. The Fighting Irish, 0-3 on the road this season, began their ACC schedule with losses to Virginia Tech and Syracuse before defeating Boston College at home.
Tuesday's game will be broadcast live on the ACC's Regional Sports Network (Fox Sports South in Georgia), and will be streamed live on ACC Network Extra, available through the ESPN app. Radio coverage is provided on the Georgia Tech IMG Sports Network, airing in Atlanta on 680 AM and 93.7 FM the Fan. The Tech broadcast is available on satellite radio (Sirius ch. 98, XM ch. 194, internet ch. 956).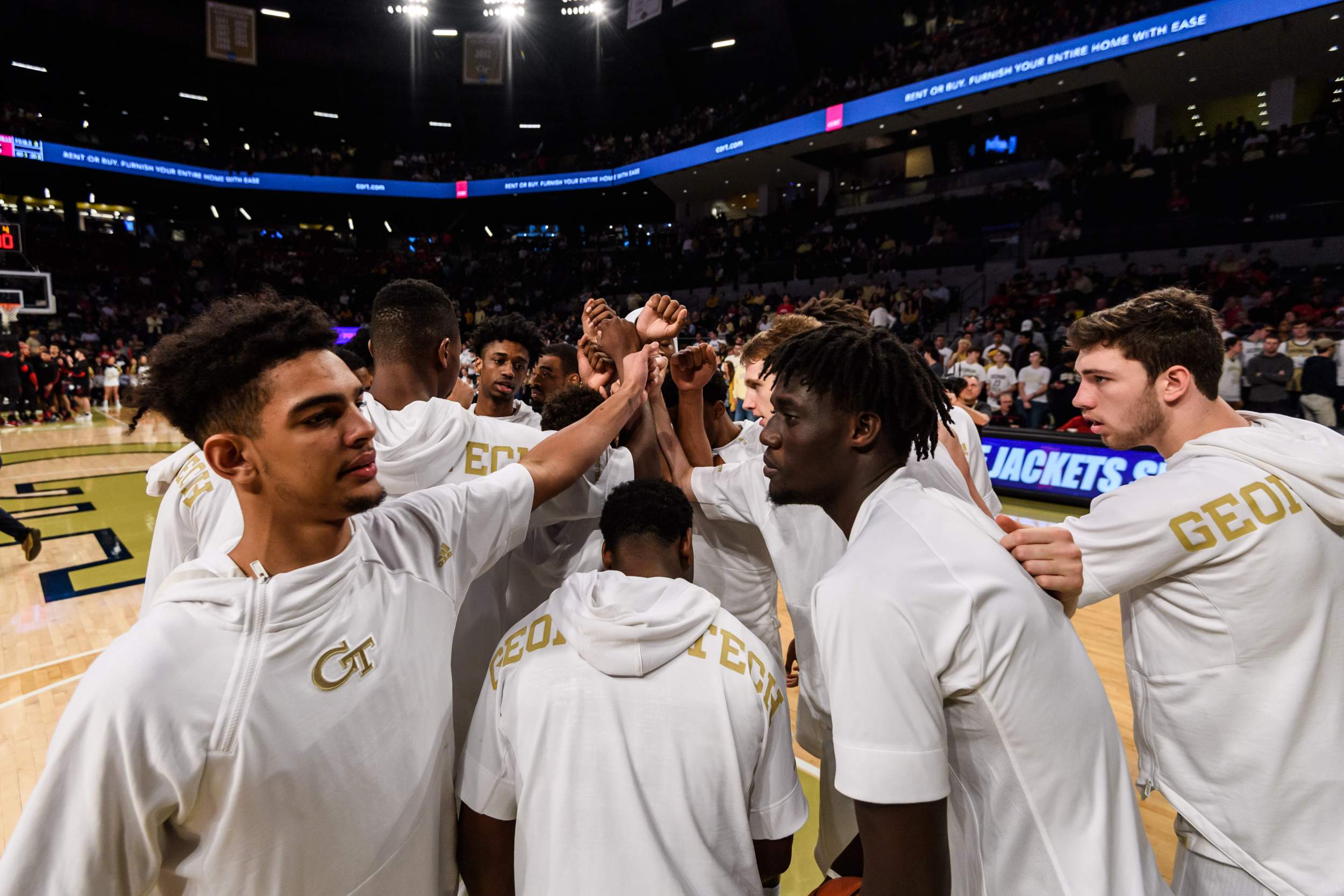 STARTING LINEUP
Georgia Tech athletics has offered federal government employees complimentary tickets to three upcoming men's and women's basketball games, including Tuesday night's men's game against Notre Dame. The offer also is good for next Sunday's women's game against NC State. Patrons can redeem the ticket offer on the day of the event by visiting the Georgia Tech Box Office at McCamish Pavilion.
Split decision – Georgia Tech and Notre Dame have split their season series, by each winning at home, four of the five seasons the Fighting Irish have been members of the ACC. Notre Dame swept the series in 2014-15.
Tech connection – Notre Dame assistant coach Rod Balanis, who has been a member of head coach Mike Brey's staff all 19 of his years with the Fighting Irish, was a member of Bobby Cremins' Georgia Tech basketball teams from 1990-94, redshirting in the Yellow Jackets' 1990 Final Four season.
Shorthanded – Georgia Tech has played its last two games without seniors Abdoulaye Gueye (medical condition) and Brandon Alston (personal matter). Tech played the last game against Louisville without three of its top seven scorers when sophomore guard Jose Alvarado sat with a groin injury suffered in the Clemson game.
Tough at home – Tech is 13-8 against ACC teams at home under Josh Pastner, 5-4 against top-25 ACC teams.
Tough slate – January shapes up as a rugged month as Virginia Tech, Syracuse, Clemson, Duke and North Carolina all made the NCAA Tournament field last season. Duke is currently No. 1 in the nation, while Virginia Tech and North Carolina are ninth and 13th, respectively. Clemson and Syracuse were ranked in the top 25 to begin the season.
Guard your yard – Georgia Tech ranks fourth in the ACC in scoring defense (No. 23 nationally), No. 3 in field goal percentage defense (No. 13 nationally) and No. 2 in three-point percentage defense (No. 7 nationally). The Jackets are also third in blocked shots and fourth in steals.
Below average – Wake Forest and Clemson are the only opponents to exceed their season scoring averages against Tech this season – breakdown by game: Lamar 81.8 (69), Tennessee 85.5 (66), East Carolina 71.1 (54), UTRGV 70.2 (44), Prairie View A&M 69.2 (54), Northwestern 73.5 (67), St. John's 83.9 (76), Florida A&M 63.2 (40), Gardner-Webb 82.9 (79), Arkansas 81.8 (69), Georgia 79.2 (70), Kennesaw State 62.5 (57), USC Upstate 70.9 (63), Virginia Tech 81.1 (52), Syracuse 70.9 (59).
50 (per) Cent – Georgia Tech has shot well above 50 percent four times in its last seven games. The Jackets have connected on a collective 51.8 percent on those six games, 33.6 percent from three-point range, and have assisted on 68 percent of their field goals.
Going deep – Georgia Tech has deployed eight different starting lineups this season, and 10 Yellow Jackets have started three or more games.
Longer bench – Tech has deployed at least eight players for significant minutes in each of its games so far, including nine or more in three of its ACC games to date. Tech's bench has played 33.9 percent of available minutes, 100th in the nation according to KenPom.com (national average is 30.9 pct.). Tech reserves are outscoring there opponents 24.6 to 16.1 per game).
SERIES VS. NOTRE DAME
Georgia Tech holds a 10-8 lead in the all-time series with Notre Dame that began in the 1940-41 season. Tech and Notre Dame split their two meetings the last three seasons, each team winning at home.
The Yellow Jackets are 4-6 against Notre Dame since the Fighting Irish joined the ACC, with the 10 meetings decided by a total of 49 points. Notre Dame's 68-59 win in South Bend on Dec. 30, 2017 is the widest margin.
At McCamish Pavilion, Tech is 4-1 against the Irish, and the games have been decided by a total of 18 points.
Tech is 7-1 all-time against Notre Dame in Atlanta, three of those wins at Alexander Memorial Coliseum and four at McCamish Pavilion.
Notre Dame has won all five meetings at South Bend since the Fighting Irish became a member of the Atlantic Coast Conference, including a 68-59 decision on Dec. 30.
The Yellow Jackets won five straight meetings between the two teams from 1972 through Tech's 74-69 victory in McCamish Pavilion on Jan. 11, 2014, the team's first meeting as ACC foes.
All but one game in the series has been played on the two campuses, the exception being a 2007 meeting in the third-place game of the Paradise Jam. The Yellow Jackets erased a 9-point deficit in the final 5:11 and won the game on a three-point basket by Matt Causey with two seconds remaining.
Tech is 2-7 in games played in South Bend, and 1-6 in Purcell Pavilion, including an 88-80 overtime win on Feb. 24, 1990, with the Jackets headed toward an ACC title and Final Four berth later that season.
That game and a 90-80 Tech victory in Atlanta a year earlier were the only two face-offs ever between legendary coaches Bobby Cremins and Digger Phelps.
Four of the five meetings before that were played with Whack Hyder as Tech's head coach, and the Jackets won three of those, including an 82-62 win in 1972 at Alexander Memorial Coliseum in Phelps' first season as the Fighting Irish head coach.
ABOUT GEORGIA TECH MEN'S BASKETBALL
Georgia Tech's men's basketball team is in its third year under head coach Josh Pastner. Tech has been a member of the Atlantic Coast Conference since 1979, won three ACC Championships (1985, 1990, 1993), played in the NCAA Tournament 16 times and played in two Final Fours (1990, 2004). Connect with Georgia Tech Men's Basketball on social media by liking their Facebook Page, or following on Twitter (@GTMBB) and Instagram.
For more information on Tech basketball, visit Ramblinwreck.com. Tickets for men's basketball can be purchased here.