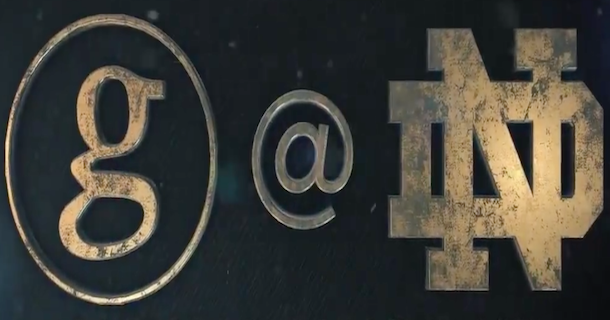 It was announced earlier this year that country music legend Garth Brooks was set to perform inside Notre Dame Stadium this fall. As of Monday morning, the date is officially locked in.
Brooks will perform on Saturday, Oct. 20. Tickets for the show will go on sale Sept. 14 at 10 am ET. That comes during the bye week for the Fighting Irish football season. It will be a week after Notre Dame takes on Pittsburgh at home and then a week before the Irish face Navy out west in San Diego. Brooks, the reigning Country Music Association entertainer of the year, will be the first artist to ever perform a concert inside the stadium.
"To get to go to Notre Dame, to get to play on that field, that's a childhood dream of mine and everybody else on this planet," said Brooks during a video posted on Twitter. "We're honored, flattered, and I hope when it's over, they look back and they say, 'Who was Notre Dame's first?' and they are proud to say Garth Brooks."
According to Notre Dame executive vice president John Affleck-Graves, Brooks was a no-brainer when they were looking at headliners.
"Right from the outset, I just felt that Garth represents Notre Dame's values," said Affleck-Graves. "And he is the perfect choice as the first artist to perform in concert in the stadium that Rockne built. This promises to be one of the biggest events in Notre Dame's history."
Vice president for campus safety and event management Mike Seamon also shared some thoughts on Brooks performing at Notre Dame.
"Tradition and memories are built in that stadium," said Seamon. "It's an iconic place. This is an important moment, and once we decided we were going to have a concert, Garth just jumped into our minds right away. And we knew that he had to be the one. That was it."
Lee Sicinski, Notre Dame's associate vice president for event management called the event "historic."
"It's never been done before, and it's our understanding that Garth loves to do things that haven't been done before," said Sicinski. "To bring a historic event like a Garth Brooks concert to the stadium, it just gives you goose bumps."  
Per a release, "Brooks has been named CMA entertainer of the year six times, the most for any artist. He is also the first artist in history to receive seven Diamond Awards for the now seven albums certified by the Recording Industry Association of America (RIAA) at more than 10 million album sales each, and he remains the No. 1-selling solo artist in U.S. history as certified by the RIAA with more than 148 million albums sold. He just finished the three-and-a-half-year Garth Brooks World Tour with Trisha Yearwood, breaking records previously held by such acts as The Beatles, Rolling Stones and, even, himself. The tour played 79 cities and 390 concerts, selling 6.3 million tickets, making it the biggest North American tour in history and the biggest tour in the world by an American artist. More information is available at www.garthbrooks.com."
***Quotes obtained by UND.edu***