YARDS PER PLAY (DEFENSE)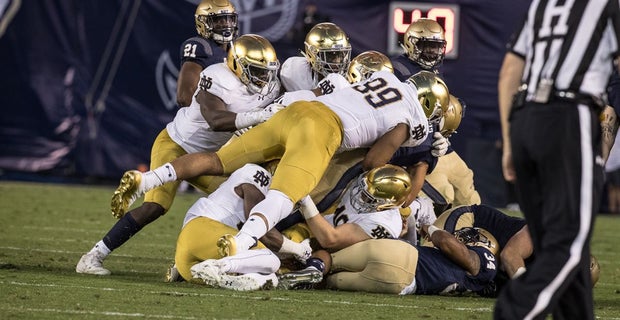 Notre Dame's defense was one gigantic "no-big-play" zone during its run to a 12-0 record. In addition to finishing the regular season tied for second in fewest yards allowed per pass attempt (5.4), the Irish were eighth in 20-yard plays allowed (35), fifth in 30-yard plays (12), tied for fourth in 40-yard plays (5) and tied for eighth in 50-yard plays (2).
Notre Dame was one of just 10 teams not to allow a play of 60 yards or more. Opponents had just three pass plays of 40 yards or more and one pass play of 50 yards or more. Opponents snapped the football 879 times against the Irish in 12 games, totaling 3,978 yards. That's an average of 4.53 yards per snap. Just seven teams allowed fewer than that per snap, including Alabama, Clemson, Michigan and Mississippi State.
Why did Notre Dame take such a conservative early-game approach against USC's passing game? Because if you had to put together long, sustained scoring drives against the Irish, you likely were going to fail, as the Trojans did over 60 minutes in Notre Dame's 24-17 victory.
IAN BOOK'S ACCURACY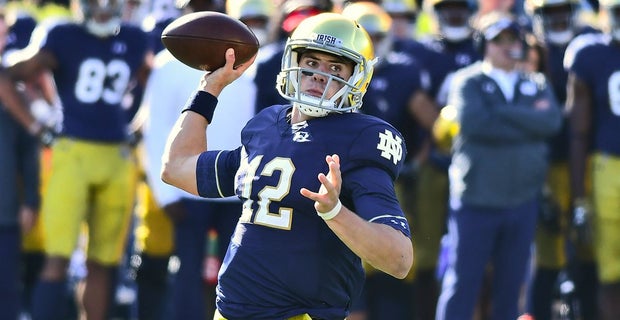 From 55.2 percent to the nation's leading completion percentage for several weeks, Ian Book's insertion into the starting lineup in place of Brandon Wimbush was the offensive move that propelled the Irish to one of the more unpredictable and lethal offenses in the country over the final three-quarters of the 2018 regular season.
Book completed 198-of-280 passes (70.7 percent) for 2,468 yards with 19 touchdown passes and six interceptions. Book had at least two passing touchdowns in each of his eight starts. He had just 82 incompletions in those eight starts. His completion percentage tapered off as the season progressed, although he did play two-and-a-half games with at least one broken rib.
Book turned Miles Boykin, Chase Claypool, Chris Finke and Alize Mack into weapons in the passing game that all had to be accounted for at various points of a 60-minute game.
Boykin had 54 receptions for 803 yards and eight touchdowns, seven of which came from Book throws. Claypool had 40 receptions from Book compared to 42 to Boykin, which made them a dangerous one-two big-receiver punch. All four of Claypool's touchdowns came from Book. Finke (47 receptions) caught 33 passes for an 11.7-yard average from Book. Mack scored two of his three touchdowns on passes from Wimbush but nearly three-quarters of his 34 receptions from Book.
Book's ability to throw the football on target and ahead of schedule gave the Irish receivers a chance to thrive while significantly opening up the playbook. Notre Dame went from 23.3 points and 365.3 yards per game through the first three to 36.6 points and 485.2 yards per Book's eight starts.
DEXTER WILLIAMS' PRODUCTIVITY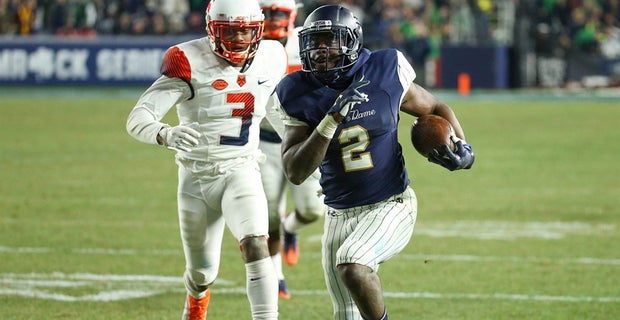 Jafar Armstrong was coming along nicely. Tony Jones Jr. had a role as a runner and a pass receiver. The coaching staff tried to force-feed Avery Davis into an offensive weapon.
But it wasn't until senior running back Dexter Williams emerged from his four-game suspension to start the season that the Irish rushing attack became a more consistent force. Williams' first touch was a 45-yard touchdown run against Stanford, an auspicious start to what would become a sensational eight-game stretch in which Williams carried 142 times for 941 yards and 12 touchdowns with a sparkling 6.6-yard average per carry.
The timing of Williams' return to the football field couldn't have been much better either with Armstrong going down the week of the Stanford game with a knee infection. Williams snapped off 161 yards against Stanford, 178 and three touchdowns versus Virginia Tech (including a 97-yard run), 142 yards and three scores against Navy, a career-high 202 yards and two touchdowns versus Florida State, and 97 yards in the regular-season finale against USC (including a 52-yard score).
Williams scored at least one touchdown in seven of his eight games while giving the Irish a chain-moving back that could strike from any part on the field. Williams had runs of 97, 58, 52, 45, 33, 32 (twice) and 31 yards, and another five carries of 17-to-26 yards.
PASS RUSH/PASS COVERAGE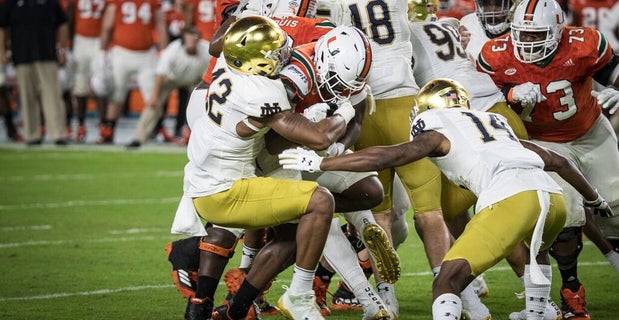 This is one category where the statistics do not accurately measure the overall effectiveness of Notre Dame's pressure on opposing quarterbacks. With 31 sacks, the Irish are tied for 35th. There are 32 teams in the country with more interceptions than Notre Dame's 12.
But the impact on the back end of the defense from the relentless pressure created by Julian Okwara, Khalid Kareem, Jerry Tillery, Daelin Hayes and Ade Ogundeji – with Te'von Coney and Drue Tranquill coming from the second level – paid other dividends in the secondary where the Irish are tied for second nationally in yards allowed per pass attempt.
Additionally, Notre Dame is tied for second in touchdown passes allowed (7). Only Mississippi State allowed fewer (5). The Irish also are 13th in passes broken up (56) and tied for 15th in passes defensed (68).
Jim Thorpe Award finalist Julian Love – who broke up a Notre Dame record 20 passes in 2017 – is tied for fifth in passes broken up this year with 15. Cornerback Troy Pride Jr., and safeties Alohi Gilman and Jalen Elliott have been ball hawks as well.
It all starts up front where the Irish haven't necessarily posted huge numbers in opposing backfields – they're tied for 60th in tackles for loss – but have had great synergy with the back end of the defense.
SCORING DEFENSE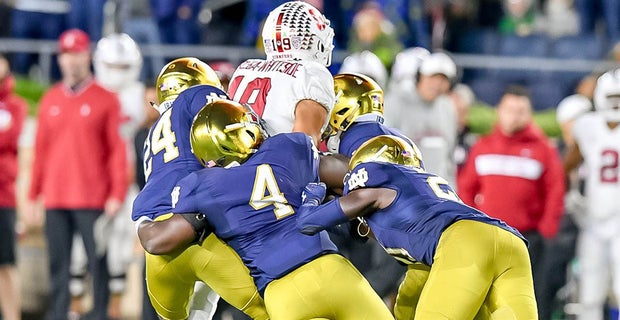 By holding Florida State to 13 points, Syracuse to three, and USC to 17 over the final one-fourth of the 2018 regular season, the Irish were able to limit their opponents to just 17.3 points per game, which ranks 11th heading into this weekend's conference championship games. That's 4.2 points per game better than a year ago when the Irish limited 10 of 13 opponents to 20 points or less.
The 17.3 points per game – with the post-season yet to go – is the best mark at Notre Dame since the 2012 team allowed 12.7. Since 1990, just four Irish defenses have limited opponents to fewer than 17.3 points per game.
The most points allowed in a game – 27 versus Wake Forest – would be the "lowest high-water mark" since the 1989 team allowed Air Force and Miami to each score 27 points (including bowl games). The last Notre Dame team to allow fewer than 27 points in every game was the 1977 national championship squad that surrendered 24 points to Purdue in game three.
With a offense averaging more than twice as many points as its opponent since Ian Book took over at quarterback – including 23 points or less in 11 of 12 games and each of the last eight – it became increasingly more difficult to out-score the Irish as the march to the playoffs continued through November.