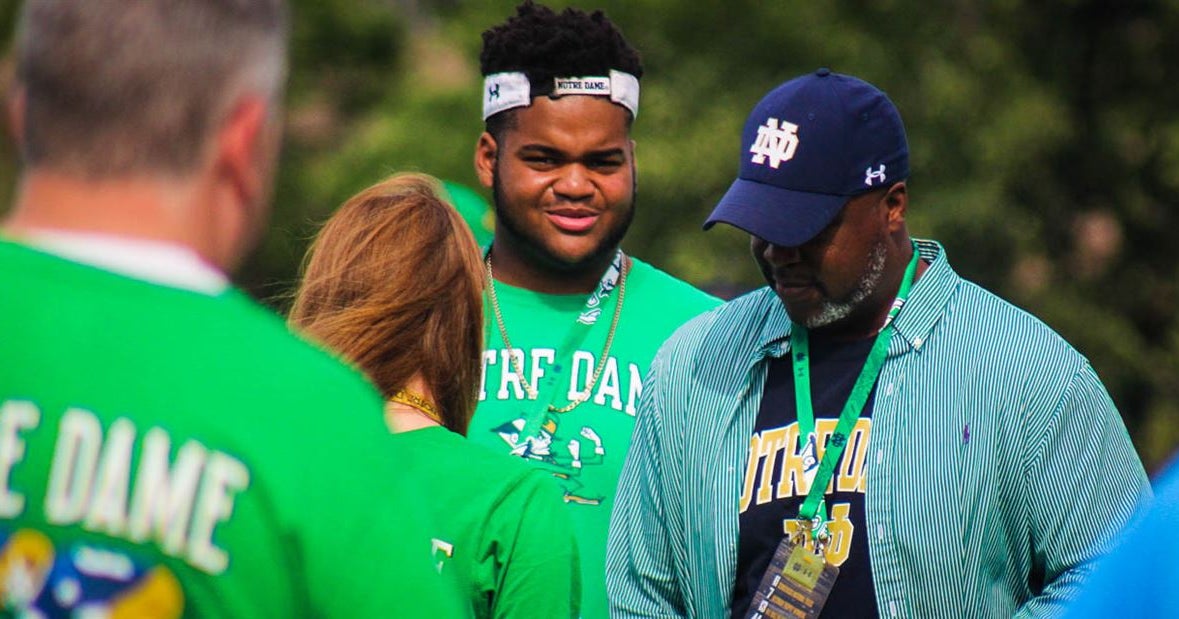 Bowling Green (Ky.) South Warren four-star defensive tackle Jacob Lacey, a longtime pledge to the Fighting Irish, tells Irish Illustrated and 247Sports that he'll be back in South Bend on Saturday for Notre Dame's matchup with Vanderbilt. The 6-2, 290-pounder from the class of 2019 will be in town for the second time this fall, as he first made the trip for the season-opening win over the Michigan Wolverines.
Lacey committed to Notre Dame way back on July 29, 2017 and has been rock solid ever since. He hasn't even flinched about his pledge and has shutdown all interest from other programs. At the time of his commitment, Lacey held offers from Cincinnati, Clemson, Kentucky, Louisville, Michigan, Michigan State, Penn State, Purdue, Tennessee, Vanderbilt and others. He was also closing in on offers from Florida State, Ohio State and Oregon, among others, at the time of his initial pledge
One of the top players at his position nationally, Lacey is off to a terrific start as a senior. Through four games, and despite not playing a single down in the second half yet due to his team's dominance, Lacey has put on a show. On film, Lacey is showing his quickness, athleticism, incredible strength and power, ability to play both the tackle and end positions along the defensive line, and outstanding effort as both a pass-rusher and run-stopper in the middle. He is constantly wreaking havoc in the backfield and it's very clear that defensive line coach Mike Elston landed a great talent for the future of Notre Dame's defense. When you looks at the committed group along the line for the Fighting Irish including Lacey, four-star defensive tackle Hunter Spears, four-star defensive end Howard Cross and four-star defensive end NaNa Osafo-Mensah, as well as a potential addition off the edge, it's hard to top Notre Dame's loaded defensive line class this cycle.
Per the 247Sports Composite Rankings, Lacey is the No. 146 overall player in the country, No. 9 defensive tackle nationally and No. 2 prospect in Kentucky from the class of 2019. 247Sports has him rated even higher as the No. 119 overall prospect this cycle, No. 7 player at his position and No. 1 talent in the Bluegrass State.
***The Irish Illustrated team of Tom Loy, Tim Prister, Tim O'Malley, Jack Freeman and Kevin Sinclair is the most experienced group of journalists covering Notre Dame today. And that experience leads to coverage you can trust. We're not going to tell you that everything is all right with the program all the time or that your concerns about the program are unwarranted. We're also not going to dwell strictly on the negatives when there are positives to report. We are dedicated to providing you with the truth about Notre Dame football and recruiting. That is our job. Not all media outlets covering Notre Dame football do that. CLICK HERE to grab a FREE TRIAL to the No. 1 Notre Dame team and recruiting site around!