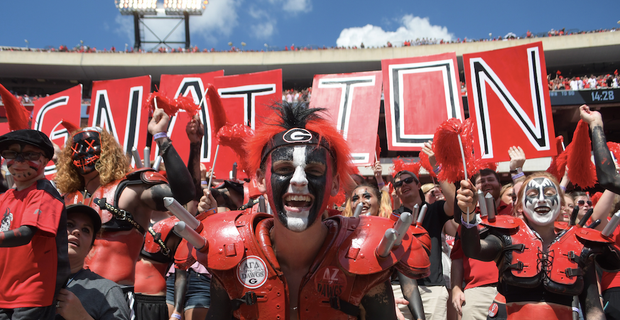 It's never too early to start talking about the upcoming College Football season, right? We've had a National Championship for less than a week but some are already looking ahead to the 2019 season where, according to ESPN, Georgia will be involved in one of the most intriguing matchups of the year. In fact, ESPN thinks Georgia vs. Notre Dame in week four (September 21) will be the sport's most interesting non-conference clash of the season.
Let's be real. The trash-talk coming from Georgia players via Twitter as they watched Notre Dame get trucked by Clemson in the College Football Playoff semifinal makes this Week 4 matchup between the Irish and Bulldogs must-see TV. And considering both teams should be in the top 5 and playoff contenders again at that point, this one is already circled 50 times on the calendar, though it's eight months out. This will be Notre Dame's first trip to Athens, Georgia, and a return game after the two played in South Bend in 2017 (Georgia won 20-19). It will be hard to ignore the playoff implications in this one, especially considering the Irish must once again — in all likelihood — be perfect to have any shot at the top four.
The tweets referenced by ESPN were directed at the College Football Playoff committee for leaving the Bulldogs out of the four-team field. It certainly created an interesting dynamic for Georgia in the Sugar Bowl. The Bulldogs looked uninspired as Texas jumped out to a 17 point lead and Kirby Smart's crew never had a chance to take the lead after that.
UGA's players were forced to face the music after that showing where some players who didn't tweet during the playoffs said that they didn't necessarily think it was a good idea. Those who did the tweeting, however, knew that the toothpaste was out of the tube and there was nothing they could do about it after the fact.
"They out there so we said what we said and we meant what we said, we just didn't come out here and prove it tonight," senior wide receiver Terry Godwin said.
The last contest between these two teams, a 21-19 Georgia in South Bend, was one Bulldog fans won't soon forget. The UGA faithful invaded Chicago and Indianapolis in the days prior to the game and composed 50 percent of the crowd as Smart and company grabbed a signature win. It was Jake Fromm's first start after being inserted into the game a week earlier against Appalachian State when Jacob Eason went down with a knee injury.
UGA's defense dominated with nine tackles for a loss, three sacks, and three forced fumbles, paving the way for the Bulldogs to make a College Football Playoff run. Notre Dame went on to go 10-3 with a win over LSU in the Citrus Bowl.