Five of the six major College Football Playoff contenders were in action today, playing in conference championship games. Notre Dame football was, of course, not.
The Fighting Irish likely have their ticket punched to the four-team field, with a 12-0 record on the season.
It doesn't seem very likely at all that a two-loss Georgia could steal Notre Dame's bid either, so the SEC Championship is likely a good result for Brian Kelly's team, if it matters much at all. If Kirby Smart's team crashes the party on the strength of the eye test, it will be in the fourth spot, in all likelihood.
There is one predictive model that is not so sure about Notre Dame football's College Football Playoff destiny.
Nate Silver's FiveThirtyEight has a College Football Playoff model that has been operating for weeks, and it has continually downplayed Notre Dame's chances, even as others assume the Fighting Irish are certain to make it in.
The peril for the Fighting Irish stems from the fact that both Oklahoma and Ohio State are pretty strong contenders. This is probably the strongest 1-through-6 teams that we've had since the dramatic first year of the Playoff, when those same Buckeyes jumped both TCU and Baylor in the final week to crash the field.
They, of course, went on to capture the national championship.
Oklahoma has already won its match-up, and looked pretty good doing it. Ohio State is up 14-7 on Northwestern as of this writing. The Buckeyes will probably win, and style points definitely matter based on 2014, something the FiveThirtyEight model doesn't allow users to factor in themselves.
If the Buckeyes win, the model gives Ohio State a 64-percent chance of making the field, just one-percent less than Notre Dame, with Oklahoma having a better shot than both.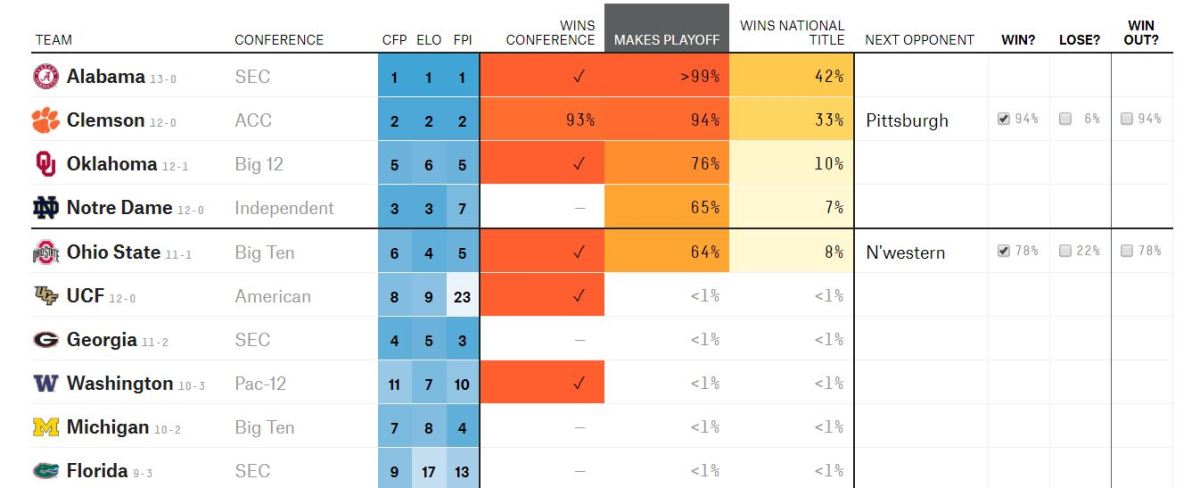 The numbers here don't really square with what we all assume about the race. Of course, the thing to remember is that the selection committee can wipe things clean week to week, and the only true goal is to get the "four best teams."
Right now, that almost definitely includes Alabama and Clemson. It could even include a two-loss Georgia. Oklahoma has a great case. Ohio State is a classic power, and they've been on both sides of the cut line in fairly controversial fashion. And, of course, Notre Dame is undefeated, but if the committee wants to find an argument to leave them out, it can find one.
The best argument against Notre Dame: a schedule that largely underperformed.
The Fighting Irish opened the season with a very nice win over Michigan. After that, however, many of the teams that projected to be strong opponents didn't turn out that way.
Stanford, Virginia Tech, Navy, Florida State, and USC all performed below expectation this year, some woefully so. The only team that definitely exceeded expectation was Syracuse, which Notre Dame blasted. The Orange are 9-3. Pitt and Northwestern each won their divisions, but the Panthers and Wildcats are 7-5 and 8-4 respectively, right in line with what you expect of them. Two of the teams remaining, the MAC's Ball State and SEC also-ran Vanderbilt, lost by single-digits each in South Bend.
An important thing to remember in trying to figure out the top four is that the committee is just going to say what it wants to justify their four.

There's no formula, there's no checkbox, it's just who they want.

— The Solid Verbal (@SolidVerbal) December 2, 2018
So yes, it is exceedingly likely that Notre Dame makes the College Football Playoff, but as Baylor and TCU fans learned a few years ago, nothing is official until Selection Sunday.